Olympics 2012: Team USA Still Gold Medal Favorites Without Chris Bosh, D-Wade
July 1, 2012

Streeter Lecka/Getty Images
Team USA basketball's status as gold medal favorites took two serious blows within the past week, when Miami Heat stars Dwyane Wade and Chris Bosh both announced that they'll be sitting out of this summer's Olympics to rehab injuries.
Without Wade and Bosh, the USA preliminary roster is already down to 16 players. Twelve will make the final team.
Barring further injuries, it's still not quite time to panic for Team USA.
There's no question both Wade and Bosh played critical roles on the 2008 gold medal team. Wade led the Americans in points per game, while Bosh provided Team USA a defensive low-post backbone for when Dwight Howard rested.
And yes, Team USA suddenly looks desperate for talented big men, with Howard, LaMarcus Aldridge  and now Bosh already out before the start of training camp.
There's a few things to keep in mind before reverting to The Walking Dead panic mode, though.
Going into the Olympics, no team will have a more impressive collection of talent, even without two of the three Heatles.
Which other team can match a potential starting lineup of Chris Paul, Kobe Bryant, Kevin Durant, LeBron James and Tyson Chandler? Which other country has NBA All-Stars like Deron Williams, Russell Westbrook, Kevin Love and Carmelo Anthony coming off the bench?
Oh, that's right. Absolutely no one.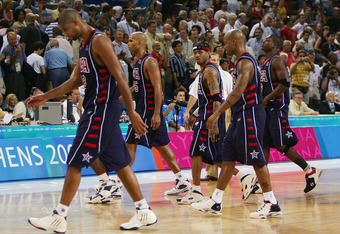 Scott Barbour/Getty Images
Of course, talent alone hasn't guaranteed a gold medal for Team USA. Just ask the 2004 Olympians, who finished with a bronze medal despite touting Tim Duncan, Allen Iverson, and a young LeBron, D-Wade and 'Melo.
Cohesion will be the key for this year's squad, just like in years past.
This year's squad, unlike that 2004 team, won't feature nearly as many ball-stoppers. Replacing A.I. and Stephon Marbury with CP3 and D-Will couldn't be much more of a night and day transformation.
Better yet, the 2008 Olympic veterans can draw upon their gold medal experience from four years ago to motivate and inspire their younger teammates.
Anyone on Team USA who gets out of line will have James, Paul and Bryant to answer to. Good luck with that one.
It's also not as though Team USA will be the only team this summer dealing with injuries. France could be without star point guard Tony Parker after he "almost lost [his] eye" in the Chris Brown-Drake nightclub fight in June.
Britain will be without the services of both Byron Mullens (injury) and Ben Gordon, who chose not to play after recently being traded to the Charlotte Bobcats.
Spain, the team that nearly toppled Team USA in the 2008 gold medal game, will be without star point guard Ricky Rubio, due to an ACL tear suffered in March.
Streeter Lecka/Getty Images
Spain's projected front line of the Gasol brothers and Serge Ibaka should send shivers down the spine of Team USA loyalists, but a backcourt of Jose Calderon, Juan Carlos Navarro and Rudy Fernandez won't have the same effect.
The dearth of legitimate USA big men could have been a much greater issue had Spain been entering the Olympics at full strength this summer.
Instead, Team USA now has that much more of a license to construct the most versatile, pliable lineup they can muster.
Size isn't as much of a necessity in international competitions as in the NBA. That's not to say that Team USA should trot out a starting lineup with no player above 6'6", but their bigs will need to be able to operate outside the paint for Team USA to have any chance at the gold.
The concept of a stretch-four largely originated with the international game (hi, Dirk Nowitzki). That's where Bosh would have proven most valuable for Team USA.
Still, Love has proven more than capable of knocking down outside jumpers, having averaged over 37 percent on three-pointers in his NBA career. Team USA can ask Durant, Anthony and James to play spot minutes at the four, too.
Durant against Pau Gasol likely won't be a matchup Team USA would pursue, but no other team besides Spain will be able to trot out a pair of talented seven-footers against the Americans.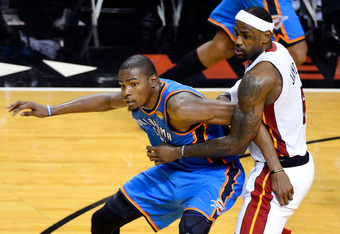 Ronald Martinez/Getty Images
With the leadership of James, Bryant and Paul, the international experience from the 2008 Olympic and 2010 FIBA gold medal squads, and the most talented roster in the world, Team USA shouldn't be sweating bullets due to these latest injuries.
Just imagine if Team USA went along with its original plan to not add anyone else to the preliminary roster back at the end of April.
Team USA will still enter these Olympics as gold medal favorites, folks. It's on them to remain hungry and not become complacent with that status.
If the Miami Heat's recent championship run has taught us anything, adversity tends to either make or break a squad.
At this point, one can only hope that it's the former, and not the latter, for Team USA.