Undrafted Free Agents 2012: Big Name College Stars Who'll Find Success in Europe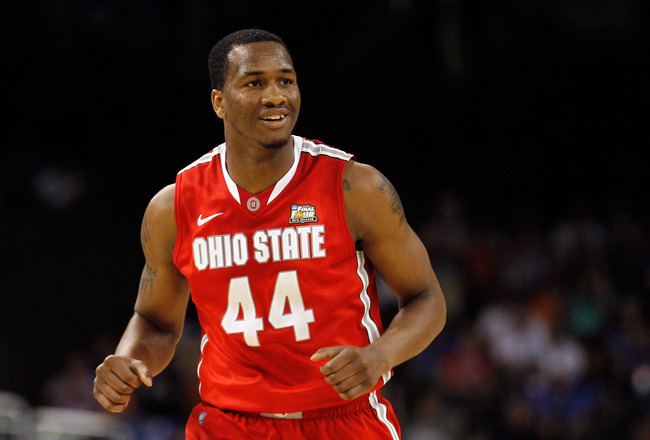 Chris Graythen/Getty Images
Every season there are some very notable college players who, despite their previous success, find themselves without an NBA team after draft night ends.
Some of the lucky ones find themselves still signing with an NBA team, or at least receiving an invitation to a summer league squad.
One of the best options outside of the NBA is the Euroleague, where players usually make $100,000 a year to start.
While this is nowhere near what an NBA team pays, it is still a good amount of money for playing basketball for a living.
Here are five of the most famous college basketball players who didn't get drafted, but could thrive playing in Europe.
5. Jordan Taylor, PG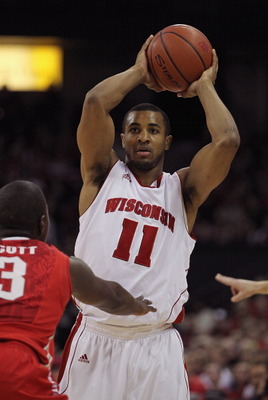 Jonathan Daniel/Getty Images
College: Wisconsin

Height/Weight: 6'1", 195 pounds

Age: 22

Senior Stats: 14.7 points, 3.7 rebounds, 4.0 assists, .402 FG%
Taylor had an outstanding four-year career with the Badgers, but surprisingly didn't get to hear his name called on draft night.
The NCAA's all-time assists-to-turnover ratio leader (3.01), he can do a little bit of everything on the court and helped lead Wisconsin to back-to-back Sweet 16 appearances in the NCAA tournament.
Right now Taylor has an offer to play in the summer league for the Milwaukee Bucks but has no contract offer from the team. Expect Taylor to get a nice offer overseas, even if he accepts the summer league deal.
4. Kevin Jones, PF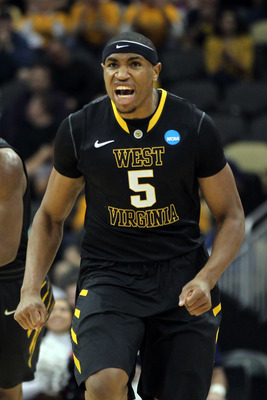 Gregory Shamus/Getty Images
College: West Virginia

Height/Weight: 6'8", 260

Age: 22

Senior Stats: 20.1 points, 11.1 rebounds, 1.0 block, .509 FG%
Update: Jones signed a partially guaranteed deal with the Cleveland Cavaliers on June 30th.
Jones was definitely a college star, earning second team All-American honors during his senior season at West Virginia.
What hurt Jones the most was his lack of height and speed coupled with a less than ideal post game; something he'll have to improve on to play in the NBA.
A talented rebounder and defender, Jones will almost certainly latch on and possibly become the star of a European team if his tenure with the Cavaliers doesn't work out.
3. JaMychal Green, PF
Mike Ehrmann/Getty Images
College: Alabama

Height/Weight: 6'8", 240 pounds

Age: 22

Senior Stats: 14.0 points, 7.4 rebounds, 1.5 blocks, .546 FG%
The 2008 Alabama "Mr. Basketball" was a four-year standout for the Crimson Tide and was thought by many to go in the mid-to-late second round.
Ranking fifth in Alabama history in blocked shots with 212, Green was a solid defender who is perhaps a little small to play the 4 in the NBA.
Having interviewed with the Oklahoma City Thunder, Minnesota Timberwolves, New York Knicks, Milwaukee Bucks, Toronto Raptors, Dallas Mavericks, San Antonio Spurs and Sacramento Kings, Green could very well find himself getting a call from a Euro team.
2. William Buford, SG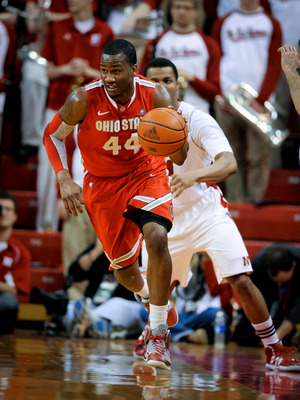 Eric Francis/Getty Images
College: Ohio State

Height/Weight: 6'6", 220 pounds

Age: 22

Senior Stats: 14.7 points, 4.9 rebounds, 2.7 assists, .419 FG%
Buford was a four-year starter at Ohio State who enjoyed a great career as a go-to shooter and has the size to play a solid NBA shooting guard.
With those talents, it may be his body and shooting that kept him out of the draft after all.
While connecting on 44 percent of his three-pointers during his junior season at OSU, that number dropped down to 36 percent his senior year.
Physically there were some concerns with Buford, as he measured in with 11.3 percent body fat at the draft combine, third highest of the 60 players there.
It may be best for Buford to play overseas for a while to get back into shape and correct his shot that went somewhat sour his senior season.
1. Tu Holloway, PG
Streeter Lecka/Getty Images
College: Xavier

Height/Weight: 6'0", 190 pounds

Age: 22

Senior Stats: 17.0 points, 3.7 rebounds, 5.1 assists, .429 FG%
Holloway is a big-time scorer and playmaker who lacks certain qualities to be an NBA star.
For one, his size is pretty small, even for a point guard. Secondly, his shooting has always been very, very poor. The low 42.9 percent he put up his senior year was actually the highest of his four-year career.
The infamous brawl between his Xavier team and Cincinnati certainly didn't help his image either, nor did it after he described his locker room as having "a bunch of gangsters."
With a few years in Europe to prove he can play against higher competition and help repair his image, we could see Holloway in the NBA before too long.
Keep Reading