Lakers Rumors: L.A. Must Make a Hard Push to Land Magic's Dwight Howard
June 30, 2012

Chris Trotman/Getty Images
Landing Dwight Howard via trade must happen for the Los Angeles Lakers. It doesn't matter if it takes Andrew Bynum to get the deal done, it must happen for the Lakers to have a chance to win another NBA title.
According to Sam Amico of FOX Sports, the Lakers are still in contention for his services.
Source close to situation says if Dwight Howard isn't dealt to Rockets today or tomorrow, Lakers fans may have ... sulia.com/c/basketball/f…

— Sam Amico (@SamAmicoFSO) June 28, 2012
With Kobe Bryant's legs getting up there in age, the Lakers' depth at the position and the overall need for Howard to be in the spotlight, the move for Howard and Los Angeles makes sense from all angles.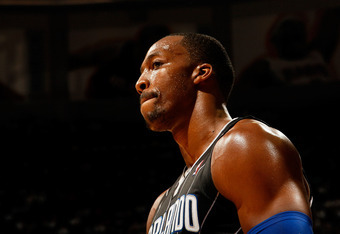 Kevin C. Cox/Getty Images
Orlando would get Bynum, a 24-year-old legitimate big man with a soft touch and great rebounding ability. Los Angeles would get a superstar who can block/alter shots, rebound and his offensive game is continuously improving. 
Oh yeah, and he's only 26 years old. 
Obviously Los Angeles would have to piece another player in the mix, but I can't see Houston's deal being much better than Bynum and a future pick or another quality player.
Houston doesn't have a legitimate, potential future superstar like Bynum on its roster. Los Angeles does. Now it's time to load the bullet and make it happen. 
Bottom line: Los Angeles needs to add Howard to compete for another NBA trophy. You can forget about Los Angeles being a threat in the Western Conference with their current makeup in the backcourt. They need help there, too.
But adding Howard would significantly bring in another big-time weapon down low on both offense and defense. Nobody in the NBA impacts a game more defensively than Howard.
Also, his ability to post on the block, take up double teams and eat space would provide multiple opportunities for guys on the perimeter.
Who knows, maybe Los Angeles could go get Ray Allen to accompany Bryant and Howard to make a real push for another trophy.
If they did get Howard and Allen, I would make the Lakers my favorite in the Western Conference. 
Los Angeles should trade for Howard, find some suitable guards that are worth something in the backcourt, run the game plan and continue to churn out victories like we were accustomed to seeing Los Angeles provide three years ago. 
We could be talking about yet another trophy for Bryant is this came to fruition. Only time will tell.