NBA Draft 2013: Breaking Down the Top 5 Prospects in Next Year's Crop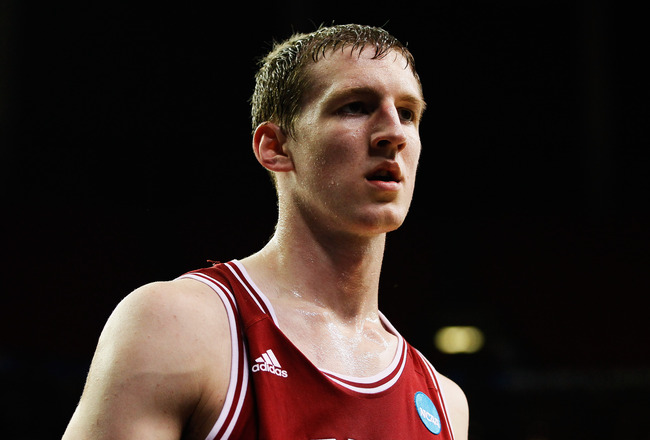 Kevin C. Cox/Getty Images
Now that the 2012 NBA draft has come and gone, it's time for draft junkies, like myself, to look ahead to 2013. While this year's draft pool was full of talented players, next year's could be even better!
Next year's big night will surely see the selection of Indiana forward Cody Zeller (pictured), who impressed many during his freshman season at Indiana and was projected as a lottery pick this year before he decided to stay at school. If he can improve his sophomore year, he could very well be a candidate for the first overall pick.
Yet, Zeller won't be alone in the lottery pool. Let's have a look at some other prospects who could join him.
No. 5: Myck Kabongo, PG, Texas
Myck Kabongo's greatest strength is his footwork, as his crossover dribbling is borderline eye-popping. In his freshman season, however, it was unclear just what kind of point guard he was trying to be. Was he going for the pass-first defensive wizard, or did he want to be the Steve Nash-type, who also scores well along with passing effectively?
Needless to say, the Canadian's numbers showed his indecision. He shot just 39 percent from the floor and posted just 9.8 points in spite of averaging 5.2 assists per contest.
Also potentially hurting Kabongo's draft stock is his slight frame of 6'1", 169 pounds, way too skinny for the NBA.
However, a new season is upon him and something tells me Kabongo will greatly improve. He'll have a better understanding of his opponents this time around, as well as what is expected of him. His numbers should balance out a bit more. More importantly, he has a great amount of determination and passion and to NBA scouts, that can go a long way.
No. 4: Otto Porter, F, Georgetown
Otter Porter is a 6'8", 205 pound forward playing on a Georgetown team that has traditionally designed its offense around a dominant center and two scoring guards.
However, Porter could be someone to break that custom.
In his freshman season with the Hoyas, Porter managed to play just under 30 minutes a game and averaged 9.5 points and 6.7 rebounds, while shooting an impressive 52 percent from the floor.
In terms of style, I see a player who could become an effective defensive forward a la Tayshaun Prince, or maybe even better if he puts on some muscle.
However, if Porter is to be a first round pick, he has some work to do. Yes, he works the inside well, but his jump shot needs improvement, as does his movement with the ball. If he can look like a more complete player his sophomore year, it could open up a lot of doors for him.
No. 3: James Michael McAdoo, F, North Carolina
If there's one thing James Michael McAdoo proved in just 15.6 minutes per game last year, it's that that he can dunk. He has a great vertical leap at 6'9", 220 pounds and averaged 5.4 points his freshman season.
However, I am partial to great dunkers. McAdoo's jump shot isn't what it should be if he is indeed set to enter the draft next year. He shot just 43 percent from the field last season, with his 3.9 rebounds per game showing how much attention his defense needs.
That shouldn't be a problem at all for this young man, who has a great coach in Roy Williams and good NBA genes in being a distant cousin of Hall of Famer Bob McAdoo.
More importantly, he'll have the opportunity to get solid minutes this year now that Kendall Marshall, John Henson, and Tyler Zeller have all turned pro, so fans will get an even closer look into his true potential.
No. 2: Cody Zeller, F, Indiana
Cody Zeller's older brother Tyler just got drafted Thursday, and his impressive freshman season for the Hoosiers has scouts putting his draft stock through the roof for next year.
He has good size at 6'11", 230 pounds and averaged 15.5 points and 6.4 rebounds last year, impressive for a first season.
However, there are some glaring holes in Zeller's game. He has virtually no shot outside of the paint and for a power forward, he doesn't crash the boards nearly enough.
Still, the man shows no fear driving hard to the basket and putting his body on the line. If he improves his defense, he could be a prime candidate to go Top 5 next year.
No. 1: Shabazz Muhammad, SF, UCLA
A highly-hyped high school prospect, 6'6" Shabazz Muhammad could easily inject some life into a long-suffering UCLA program. He drives hard to the basket, is a great perimeter shooter and the kid's dunking ability is great as well.
However, let's not forget that Muhammad is still 18-years-old and still has a lot to learn. First off, he's a left-handed shooter and can do virtually nothing with his right hand, at least not consistently. Also, if he is a scoring forward, a la Carmelo Anthony, and he needs to improve his long-range shot as well as his defense.
Still, despite his flaws, Muhammad still has a tremendous basketball IQ. As long as he lets himself be coached and takes advice from coach Ben Howland, then he could easily become next year's Anthony Davis.
Keep Reading