NBA Draft 2012 Grades: Handing out Marks for the Good, the Bad and the Desperate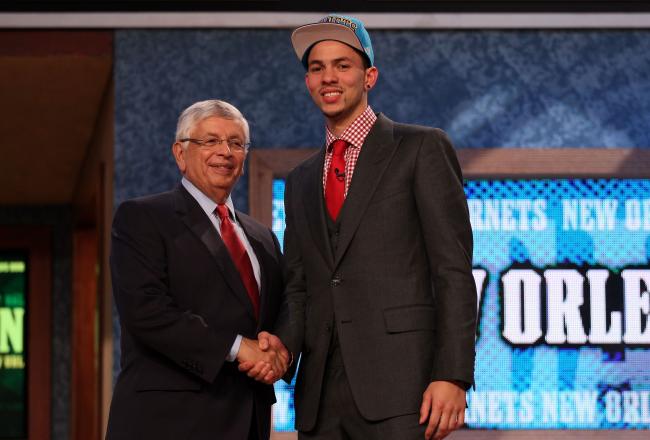 Elsa/Getty Images
You've heard of the good, the bad and the ugly; this is the good, the bad and the desperate of the 2012 NBA draft.
Some teams excelled when selecting their prospects, finding steals, hidden gems and perfect fits for their respective organizations that will propel them to new heights.
Some did the opposite, swinging and completely missing with their draft picks.
Some still were even worse. Those are the ones that seemed truly desperate. Desperation is never a good thing.
I've picked three entrants for each category, so read on to find out who they are.
The Good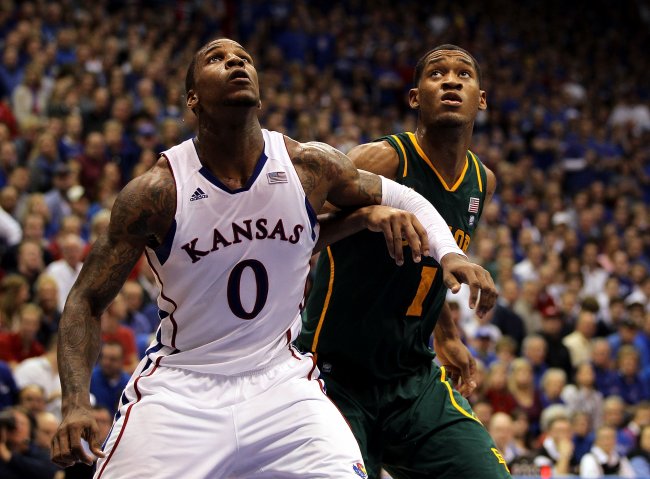 Jamie Squire/Getty Images
Thomas Robinson to the Sacramento Kings at No. 5
The Sacramento Kings didn't trade out of the No. 5 slot for a reason. Maybe they knew that Thomas Robinson would slide to them all along.
Sacramento has collected guards through the years and needed to avoid picking one at the top of the 2012 NBA draft. The fact that they did that was single-handedly enough to get them a good mark.
On top of that, though, the Kings added the most NBA-ready player in the class, a potential Rookie of the Year who should throw up double-double after double-double while playing alongside DeMarcus Cousins.
Between Robinson's physical tools and Cousins' tenacity on the glass, no one is going to beat the Kings when it comes to rebounding margin.
Harrison Barnes to the Golden State Warriors at No. 7
With a potential starting lineup of Stephen Curry, Klay Thompson, Dorell Wright, David Lee and Andrew Bogut, health pending, it was fairly clear where the Golden State Warriors needed to improve.
When Harrison Barnes fell to the Dubs at No. 7, it gave the team the potential to become a playoff squad. That is unless Stephen Curry's ankles wreck Barnes' ankles through osmosis.
Barnes isn't the perfect prospect, but he's an immediate upgrade over Wright, thanks to his shooting touch and athleticism. He's also a solid defender who could bring about a shift in mentality out on the west coast.
All Barnes needs to be a superstar is better court vision and the ability to create his own shot. Now he'll get the opportunity to develop in those areas on the fly.
Perry Jones III to the Oklahoma City Thunder at No. 28
Teams that lost in the NBA Finals aren't supposed to have the opportunity to draft top-five talents at No. 28, especially when they don't have to make a single move to land the pick.
Perry Jones III has the potential to be one of the true standouts in this above-average draft class, but only if he remains motivated and his medically-flagged knee stays healthy.
While the latter is no guarantee, the former is a guarantee now that he's on the Thunder. If there's any team that can keep him working hard and trying his best to succeed, it's Oklahoma City.
Scott Brooks is a motivational coach first and foremost, and there's no way that Kevin Durant and Russell Westbrook will accept anything less than the forward's best after tasting bitter defeat in the 2012 NBA Finals.
The Bad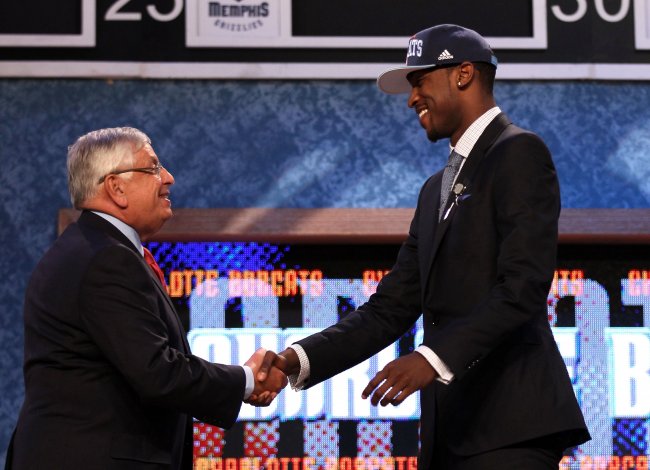 Elsa/Getty Images
Michael Kidd-Gilchrist to the Charlotte Bobcats at No. 2
I'm a huge fan of Michael Kidd-Gilchrist, enough so that I had him as the second-best prospect in this draft class, but he wasn't the right fit for the Charlotte Bobcats at No. 2.
MKG is a defender and an intangibles guy before all else. While that makes him a valuable asset, he'd be even more valuable on a team that could actually score points. Even after landing Ben Gordon in a pre-draft trade, the Bobcats needing scoring more than anything.
The small forward will still be a great player, but Michael Jordan's team needed more than just him to turn around the franchise. Charlotte had to use the No. 2 pick to acquire more veterans or more first-round draft picks, but the Bobcats were unable to do either and then settled for a player that they should have had behind Thomas Robinson and Bradley Beal on the draft board.
Then, they compounded the mistake by drafting another defensive small forward—Vanderbilt's Jeffery Taylor—in the second round.
Jared Cunningham to the Dallas Mavericks at No. 24
Jared Cunningham may be a solid player, but he was a fringe first-round talent at best and not the player the Dallas Mavericks should have taken at No. 24 with some solid options left on the board.
This is doubly true because Dallas may have been able to land Cunningham with a later pick. With Tony Wroten and Marquis Teague both on the board, the Mavericks should have gone point guard here as an insurance policy in case they don't acquire Deron Williams in free agency.
Or, the Mavs should have taken Perry Jones III at this point.
Cunningham may become a good player, but he won't be as good as a number of players drafted after him.
Robert Sacre to the Los Angeles Lakers at No. 60
The Los Angeles Lakers needed a point guard, and one of the best in the class was still available, despite the fact that it was pick No. 60. That's right, Scott Machado from Iona went undrafted and is already drawing attention from a number of teams, according to Adrian Wojnarowski:
Undrafted Iona guard Scott Machado has Bobcats, Cavaliers, Hawks, Hornets, Raptors, Rockets calling for summer league, sources tell Y!

— Adrian Wojnarowski (@WojYahooNBA) June 29, 2012
Robert Sacre may be seven-feet tall, but he's not a very good basketball player. He plays solid defense, but is soft on the boards and lacks an offensive game. Taking a flyer on Machado and making it back-to-back years that a Mr. Irrelevant became a starting point guard would have been a better option.
Even though Machado went undrafted, I still think he could become the second-best point guard from this class.
The Desperate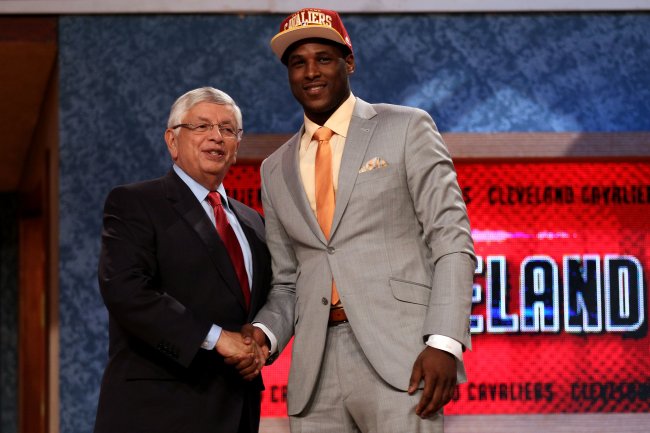 Elsa/Getty Images
Dion Waiters to the Cleveland Cavaliers at No. 4
The shooting guard from Syracuse rose faster than Anthony Davis can elevate off the ground during the weeks leading up to the NBA draft, but no one imagined him going this high.
I'd like to bring back something I previously wrote when discussing prospects with red flags:
Dion Waiters began his sophomore season with Syracuse as a draft afterthought. He steadily rose up the boards as teams began to realize just how dominant he was in transition and how skilled he was at slashing to the basket.

After the Orange's season ended, Waiters will thought of us a fringe first-round pick. Then, his popularity exploded and he's now being talked about as a single-digit pick.

It's an unorthodox red flag, but the excessive hype is a red flag in itself. Teams must not get caught up in the talk about Waiters and must instead evaluate the game film and the prospect himself.

Everyone discusses the Dwyane Wade comparisons now and neglects to mention that this is a combo guard who only averaged 12.6 points per game last year. It's not like he's a safe bet to be a superstar.

Waiters isn't a great facilitator and he's not overly quick or athletic, which hurts his ability to be effective in half-court sets. He could still turn into a great player, but don't get caught up in groupthink with Waiters.

Like I said, it's an unorthodox red flag. It should still make GMs stop and think first.
Waiters can and will become a solid player, but the Cavs became desperate to find a shooting guard and neglected any other options in the draft. They'll regret this pick, the second time in a row they've made a major reach at No. 4.
Miles Plumlee to the Indiana Pacers at No. 26
Here's how my top-100 big board looked when it came to centers in the 2012 NBA draft, in order from best to worst: Andre Drummond, Meyers Leonard, Tyler Zeller, Fab Melo, Festus Ezeli, Bernard James, Ognjen Kuzmic, Dusan Cantekin, Henry Sims, Miles Plumlee, Justin Hamilton, Robert Sacre, Garrett Stutz and Xavier Gibson.
The Indiana Pacers' board obviously looked a bit different as Plumlee jumped ahead of Ezeli, James Kuzmic, Cantekin and Sims to go at No. 26.
What could have possibly convinced the Pacers, who don't even need a center, that Plumlee was worth a first-round pick? He never contributed much at Duke, even if he was athletic and skilled.
The Pacers could have used a backup point guard, and Marquis Teague and Tyshawn Taylor were both on the board at this point.
This is my pick for the single worst pick of the draft.
Austin Rivers' Goatee
As long as we're talking about desperation, Austin Rivers' goatee has to be mentioned. Here's what Grantland's Bill Simmons had to say on the subject:
Biggest loser of the draft so far: Austin's goatee. He connected on 37 percent of his 3s and 3 percent of his whiskers. House calls for a "MUST IMPROVE: PUBERTY" graphic.
I know 12-year-olds who can grow more facial hair than Rivers. Then again, I also have a friend who would be insanely jealous of the growth on Rivers' face.
If James Harden's beard is a follicular forest, then Rivers' goatee attempt is a forest after about three wildfires in quick succession.
Just shave already.
This article is
What is the duplicate article?
Why is this article offensive?
Where is this article plagiarized from?
Why is this article poorly edited?