NBA Podcast: 2012 NBA Mock Draft, Latest League News and Buzz
June 27, 2012
Kevin C. Cox/Getty Images
With two just-completed trades and rumors of more, there is a lot of news to discuss leading up to the 2012 NBA draft.
It's an NBA-draft special on this episode of Basketball by Association!
NBA featured columnist Joel C. Cordes and NBA assistant editor Ethan Norof dish on the latest Dwight Howard rumors, which other stars will be moved before the draft and which prospects are rising and falling on the board.
(If the embedded player fails to load, you can find the episode here.)
Also on tap, the guys bust out their "Quick Pick" NBA Mock Draft 2.0. There are quite a few areas of disagreement, especially in the Top 10, where the Michael Kidd-Gilchrist versus Harrison Barnes debate heats up one last time.
Where should an enigmatic big man like Andre Drummond land? Just how much should injury status affect guys like Jeremy Lamb and Jared Sullinger, both of whom were recently considered Top 10 picks?
The guys discuss the head-scratching move by the Minnesota Timberwolves, as they traded their No. 18 pick to the Houston Rockets for Chase Budinger.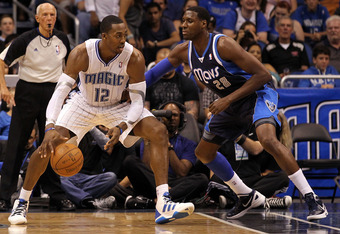 Sam Greenwood/Getty Images
Also, do the Orlando Magic really believe they'll land a major free agent and keep Dwight Howard, even though he apparently doesn't want to play for any team in the NBA?
Why are we giving Joe Dumars praise for getting out from under Ben Gordon's bad contract? Trading him and a future first-round draft pick for Corey Maggette's equally stupid (but expiring) contract is just congratulating him for undoing his own mistake!
Join the conversation on Bleacher Report's Basketball by Association, your final destination for all things NBA.