2013 NBA Mock Draft: Early Projections for Next Year's Star Prospects
June 27, 2012

Kevin C. Cox/Getty Images
It's never too early to start looking at next year's NBA prospects.
The 2012 NBA draft may boast one of the deepest classes in years, but there is plenty to look forward to in 2013, with some potential first-year collegiate players going on to become lottery picks.
Nerlens Noel (Kentucky) and Shabazz Muhammad (UCLA) are just two incoming freshmen who have the potential to take college basketball by force en route to next year's NBA draft.
Here's my first 2013 NBA draft, complete with the probable stars of the class.
1. Charlotte Bobcats: Cody Zeller, C, Indiana
Nerlens Noel has the potential to be an Anthony Davis-like prospect, but given Cody Zeller will have another year under his belt, he'll be the more polished prospect at this point. He'll also fill out a bit more. Zeller has a great feel for the game and could become a star in the NBA.
2. Washington Wizards: Nerlens Noel, PF/C, Kentucky
The Wizards need someone to pair up with center Nene Hilario, and Nerlens Noel, with his defensive potential and explosiveness, would be a great fit. 
3. Brooklyn Nets: Shabazz Muhammad, SF, UCLA
With Gerald Wallace likely headed out of town, the Nets will want to find their next small forward of the future. Shabazz Muhammad has outstanding athleticism and explosiveness and plays above the rim. He's dangerous driving to the hoop and his length could make him a good defensive player.
4. Sacramento Kings: Steven Adams, C, Pittsburgh
Steven Adams is coming out of high school, and he's already 7'1", 245 pounds. He's not only strong, he's incredibly fluid for his size, with the ability to run the floor. He would look nice next to DeMarcus Cousins.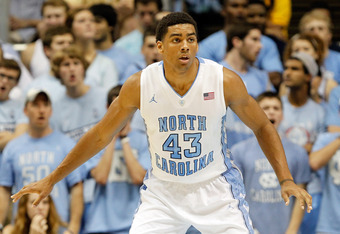 Streeter Lecka/Getty Images
5. Cleveland Cavaliers: James McAdoo, F, North Carolina
James McAdoo could have been a lottery pick if he declared for the NBA draft this year. With some more experience under his belt, it's very likely that he'll be a top-10 pick. Athletic, strong and quick, with a developing jump shot, he could be the complete package.
6. Minnesota Timberwolves: Isaiah Austin, C, Baylor
Isaiah Austin could be a scary player. He's an explosive big man who plays like a guard, and what do you know, he's going to play for Baylor (see: Perry Jones III). His potential as an elite defensive player is off the charts. The Timberwolves need an impact player at center.
7. Detroit Pistons: B.J. Young, G, Arkansas
The 2013 draft doesn't figure to have many top-tier shooting guard prospects, but B.J. Young of Arkansas has the potential to be one. He's a scoring combo guard who can get into the paint and swing the ball to the outside. He averaged 15.3 points while shooting 50 percent from the floor in his freshman season with the Razorbacks.
8. Toronto Raptors: Tony Mitchell, SF, Alabama
Although Tony Mitchell plays shooting guard at Alabama, given his rebounding ability, he has the potential to be a small forward in the NBA. He's a long, athletic player who can defend multiple positions.
9. New Orleans Hornets: Myck Kabongo, PG, Texas
I expect the Hornets to add two post players in 2012. In that regard, adding an impact point guard would be the next step. Myck Kabongo is a pure point guard reminiscent of Kendall Marshall. But he may be better than Marshall. He's a committed defender and has a nice perimeter game, unlike Marshall.
10. Utah Jazz (via GS): Anthony Bennett, F, UNLV
Anthony Bennett has the ability to guard both forward positions, he has an inside-outside offensive game and he's a great rebounder. The Jazz wouldn't mind some depth, as there likely won't be any top-tier point guards at this spot.
11. Milwaukee Bucks: Kyle Anderson, SF, UCLA
Another one of UCLA's promising recruits, Kyle Anderson is a length, versatile wing player who can act as a point-forward. He also has a nice midrange game. 
Jamie Squire/Getty Images
12. Orlando Magic: Patric Young, C, Florida
I think it's going to be difficult for the Magic to land a big-time center in the 2012 draft. In that case, Patric Young—given his NBA size and defensive ability—would be a nice pick here.
13. Houston Rockets: Lorenzo Brown, G, N.C. State
With some likely needs in the backcourt in 2013, I expect the Rockets to look at Lorenzo Brown, a scoring point guard who can attack the hoop and rebound the basketball.
14. Portland Trail Blazers: C.J. McCollum, G, Lehigh
C.J. McCollum showed his worth in the 2012 NCAA tournament. He has the potential to be a dangerous scorer with electric ball-handling skills, and nobody seems to scare this kid. The Trail Blazers may need a point guard or shooting guard by 2013.
15. Phoenix Suns: Adonis Thomas, F, Memphis
A freak athlete, Adonis Thomas can either explode into the paint and hammer it home or knock it down from mid-range if you give him space. He has a great motor and would be welcome on any NBA team.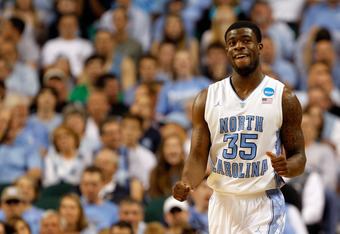 Streeter Lecka/Getty Images
16. New York Knicks: Reggie Bullock, SG, North Carolina
Reggie Bullock is long and athletic, has deep range on his shot, finishes well and has the versatility to be a nice backcourt complement for New York.
17. Utah Jazz: Ryan Harrow, PG, Kentucky
N.C. State transfer Ryan Harrow should benefit tremendously under John Calipari's wing. His quickness allows him to penetrate into the interior and he has the ability to score in bunches.
18. Boston Celtics: Jamaal Franklin, SG, San Diego State
Jamaal Franklin burst onto the scene last season for SDSU, going on to average 17.4 points and 7.9 rebounds. Avery Bradley is next in line at shooting guard for Boston, but Franklin could provide nice depth.
19. Dallas Mavericks: Alex Poythress, SF, Kentucky
Another one of Kentucky's star recruits this year, Alex Poythress has the ability to be a lottery pick, but given other teams' potential needs, he may slip a bit. Poythress, with his slashing ability and ability to crash the boards, would add more talented youth to the Mavericks' aging roster. 
20. Philadelphia 76ers: C.J. Leslie, SF, N.C. State
C.J. Leslie could have been a late first-round pick if he declared this year. With another year under his belt, he could enter the Top 20. If the 76ers grab a big man in this year's draft, I expect them to add a small forward in 2013. Leslie, with his explosiveness, emerging perimeter game and ability to be a disruptive defender, would be a nice pick here. 
21. Minnesota Timberwolves (via MEM): Kentavious Caldwell-Pope, SG, Georgia
With deep range and a fluid shooting stroke, KCP has the potential to break out next season. Given he's already a very good defender, I could see him making the first round. The Timberwolves need someone to pair up with Ricky Rubio.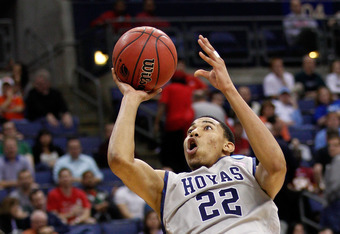 Rob Carr/Getty Images
22. Los Angeles Lakers: Otto Porter, SF, Georgetown
It's no secret that the Lakers need help at small forward. Otto Porter has a nice mid-range game, and his length translates nicely to the NBA. He began to emerge for Georgetown last season and appears ready to take his game to the next level.
23. Atlanta Hawks: Isaiah Canaan, PG, Murray State
Isaiah Canaan may be a little undersized, but his strength makes up for it. He's a scoring threat with the quickness to penetrate to the hoop, and he has incredible desire and character out on the hardwood.
24. Los Angeles Clippers: Mike Moser, SF, UNLV
The Clippers could use another threat on the wing, and Mike Moser—with his inside-outside scoring ability and eye-opening rebounding—would be a nice addition to a team on the rise.
25. Denver Nuggets: Mason Plumlee, PF, Duke
An athletic, explosive big man who crashes the glass and can run the floor, Mason Plumlee would provide nice depth for George Karl in Denver.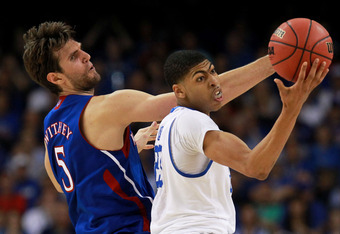 Ronald Martinez/Getty Images
26. San Antonio Spurs: Jeff Withey, C, Kansas
Jeff Withey made a name for himself in the NCAA tournament this year as an excellent shot-blocker and post defender. You can't tell me Gregg Popovich wouldn't want some defense in the post as Tim Duncan gets closer to the end of his career. 
27. Indiana Pacers: Dario Saric, SF, Croatia
I expect the Pacers to pick up Kentucky point guard Marquis Teague this year. If that's the case, they'll need to add depth behind Danny Granger in the future. Dario Saric has great size, has displayed offensive skills beyond his years (he's only 17 years old), and he's a good passer. 
28. Cleveland Cavaliers (via MIA): Le'Bryan Nash, SF, Oklahoma State
Le'Bryan Nash comes with character concerns and has taken plays off at OSU, but he's a terrific athlete, physical defender (at times) and has an NBA body. His sheer athleticism and hops makes it hard to see him landing outside the first round. The Cavaliers will likely take the best player available at this spot.
29. Oklahoma City Thunder: Tim Hardaway Jr., SG, Michigan
Tim Hardaway, Jr. is still learning the game. His shot selection was spotty in his sophomore season at Michigan, and he needs to take care of the ball. But Hardaway does have the athleticism and scoring ability to be a first-round pick in 2013.
30. Chicago Bulls: DeShaun Thomas, SF, Ohio State
DeShaun Thomas was a big player for Ohio State last season. He has the size, strength and athleticism to make a difference at small forward in the NBA, not to mention the scoring and rebounding ability, but questions about his defense and desire may push him down the board a bit. 
Follow me on Twitter. We can talk about the NBA together.