NBA Rumors: Houston Rockets Would Be Contenders with Dwight Howard at Center
June 25, 2012

Chris Trotman/Getty Images
The Houston Rockets would become contenders if they acquired Dwight Howard. It really is as simple as that.
Howard could make any team a contender, and if the Rockets can put together a package for him that the Orlando Magic approve, they will immediately join the elite ranks of the Western Conference.
Rumors that the Rockets are trading up in the draft to put together a package for Howard (per ESPN) are spreading. Seeing D-12 in a Rockets uniform is looking like a real possibility:
Upon hearing of Sunday night's developments, one rival general manager told ESPN.com that he believes Houston's real aim is acquiring two top-10 picks this week to turn around quickly and offer both to the Orlando Magic as part of a considerable trade offer for Dwight Howard.
If this is Houston's true goal, then they are going about it in the right way.
The Magic will look to rebuild without Howard, and having two top-10 picks in such a talented draft class would certainly help them. Realistically, they could get both Andre Drummond and Harrison Barnes with the picks that the Rockets are rumored to be trading for.
The Rockets want to gain Howard with minimal losses of current players. The team went 34-32 last season and just missed the playoffs. Adding the best center in the game without having to trade any starters would immediately put the Rockets into contention in the West.
The Rockets currently own the No. 14 and No. 16 picks in this year's draft. These will be used in order to enter the top 10.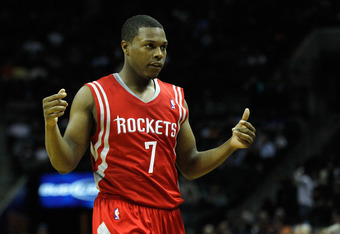 Streeter Lecka/Getty Images
Kyle Lowry should also be moving if the Rockets can get two top-10 picks. He was mentioned specifically in the aforementioned ESPN report:
Sources say that the Rockets, in turn, have made both of their first-round picks available (No. 14 and No. 16), but the key to any trade going through could be point guard Kyle Lowry.

The Raptors have been especially fond of Lowry, who has been regarded for months as a borderline untouchable in Houston but more recently has publicly expressed his dissatisfaction with Rockets coach Kevin McHale.
Lowry is most likely going to be traded, which would probably mean that Goran Dragic would be immediately resigned by Houston, seeing as Dragic played well when Lowry was out during the season.
If the Rockets do make this push for Howard, there would be no point in resigning 38-year-old center Marcus Camby. We could also see them trade backup center Samuel Dalembert, who is on a partially-guaranteed deal.
The way that this scenario looks as of now is that the Rockets will lose their two picks (No. 14 and No. 16), Lowry, Dalembert and possibly another piece in order to gain Howard. As long as the team resigns Dragic, they will be in great shape to compete in the West.
Returning four of five starters and adding Howard into the mix would help Houston move up to No. 4 or No. 5 in the Western Conference. That would give them a good chance of winning a first-round playoff series, which would be the second time they did so since 1997.