NBA Rumors: Ray Allen Would Ensure Another Championship for Miami Heat
June 25, 2012
Jim Rogash/Getty Images
Now that Ray Allen has had surgery to free his ankles from the dreaded bone spurs, there is mutual interest between the all-time leading three-point shooter and the Miami Heat. 
If the Heat hope to repeat as NBA champions, there isn't a better shooting guard for them to go out and grab. 
While LeBron James was absolutely dominant during the 2012 NBA Finals and rightfully was named Finals MVP, the Heat would not have won the final game of the season if it weren't for the incredible performances of the team's role players. 
Shane Battier set all kinds of records with his performance from behind the three-point line, while Mike Miller caught fire in the decisive Game 5. With Battier a year older and Miller potentially retiring, Miami needs to find a replacement for their contributions. 
Who better to add than the greatest three-point shooter that the NBA has ever thrown out on the court?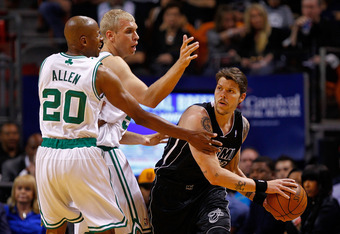 Mike Ehrmann/Getty Images
Allen looked like a shell of himself during the playoffs, but he was also dealing with those aforementioned bone spurs and the constant pain associated with them. He'd look a lot more like his old self while fully healthy and playing more limited minutes in a smaller role. 
As long as Dwyane Wade is on the team, a smaller role is exactly what's in store for the free-agent shooting guard. Allen is by no means going to start over Wade. 
Miami's success is predicated first and foremost upon the toil of the Big Three. When James, Wade and Chris Bosh are playing at elite levels, the Heat catch fire and can't be stopped. When one of the three struggles, things get tougher. No surprises there.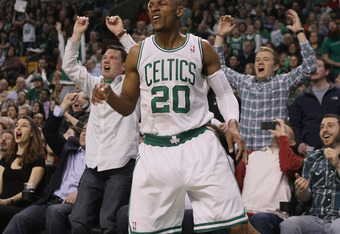 Elsa/Getty Images
However, the role players are what pushes the team over the top. James and Wade command so much attention when they drive that easy kick-outs for three-point shots are generally easy to come by. 
Having a deadly threat from downtown like Ray Allen standing in the corner makes the defense less likely to collapse around those driving. Respect has to be given to his shot. 
The Miami Heat already have to be an overwhelming favorite for the 2013 title. Potentially upgrading from Miller to Allen would only make it more of a sure thing.