Selecting the First and Second NBA All-Hipster Team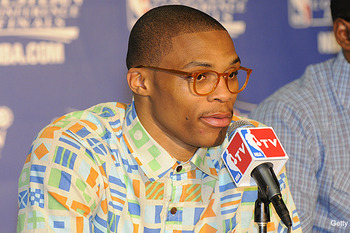 Source: http://theonba.wordpress.com/2012/06/13/nba-pics-f-d-day-westbrooks-wacky-clothings-isnt-as-bad-as-one-nba-players/
Throughout these playoffs, we have seen players donning many types of wardrobes. Some of them clean up well, while others look absolutely ridiculous. Not that any of these guys actually care how ridiculous they look, or even realize it to begin with.
This year more than ever, we have seen a "hipster" movement in the NBA, and I'm sure just about all of you can think of a couple of players right off the top of your head who are leading this "awakening."
Let's take a look at the first and second NBA All-Hipster teams.
First Team: James Harden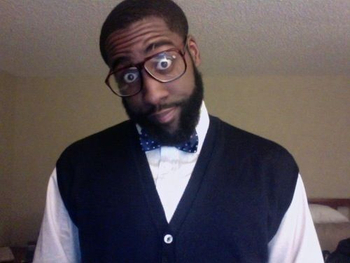 Source: http://tropicopolitan.wordpress.com/2011/04/20/hipster-of-the-year/
I mean, when players and fans vote you the biggest hipster in the league, I think a spot on the first team is pretty much a given.
Harden's legendary beard is enough in and of itself to crown the Oklahoma City Thunder guard the NBA's biggest hipster, and the glasses that he is wearing in the featured photo help his case, too. Still, at least his glasses actually have lenses.
Also, chances Harden shaves his beard this summer?
First Team: Russell Westbrook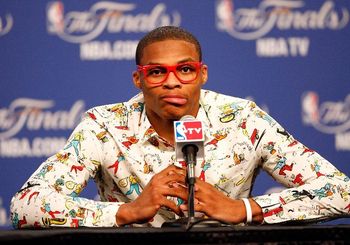 Source: Getty Images
Funny how arguably the two biggest hipsters in the NBA reside on the same team.
Honestly, if it weren't for the animal hanging from Harden's chin, Westbrook would easily take the crown for the league's most proverbial hipster. I think a lot of people looked forward to the Thunder's post-game pressers more than their actual games just so they can see what Westbrook was wearing.
I remember after one of Oklahoma City's playoff games on TNT, Charles Barkley said something along the lines of, "Hold on. Now we get to see what Russell Westbrook is wearing," as they were preparing to show the press conference.
As if his shirts aren't wild enough, those red, thick-rimmed glasses (without lenses, mind you) are the cherry on top.
As Barkley likes to say, "I'd hate to see the shirt he didn't buy."
First Team: Dwyane Wade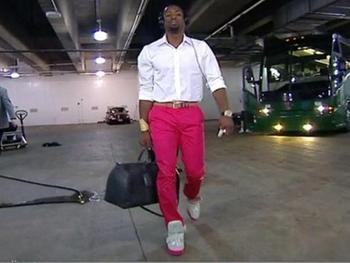 Source: http://theurbandaily.com/1924431/dwyane-wade-pink-pants-photo/
OK, so Westbrook might make some poor choices in terms of what shirts he wears, but can someone please explain to me what in the world Wade was thinking when he picked out those pink pants? I mean, really?
Funny thing is, many used to consider Wade one of the most well-dressed players in the NBA. Now, he is going with the lenseless glasses (something I still cannot for the life of me comprehend) and wearing pants that would make the Pink Panther scratch his head.
Well, D-Wade has two rings now, so I guess I can sort of give him a pass...
First Team: Rajon Rondo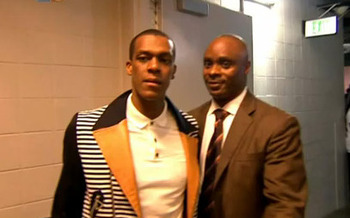 Source: http://headblitz.com/this-is-why-you-never-want-to-catch-rajon-rondo-on-a-bad-jacket-day/
When Rajon Rondo went after that camera man after the Boston Celtics' Game 5 loss to the Atlanta Hawks in the first round of the playoffs, tell me: Were you paying much attention to the actual confrontation, or were you too busy wondering why Rondo would choose to be seen in public wearing that jacket?
As I'm sure many of you already know, that jacket wasn't the first nor the last mistake Rondo made when selecting his wardrobe. I imagine the star point guard takes Craig Sager with him whenever he goes shopping.
First Team: Amar'e Stoudemire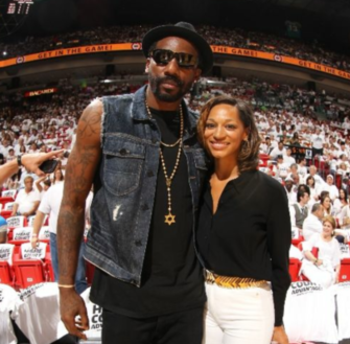 Source: http://nbahipsters.tumblr.com/
If Amar'e Stoudemire isn't punching fire extinguishers, he's wearing outfits that just make you scratch your head.
I know he got heat from a lot of people for going with cornrows, but whatever look he was attempting to go for when he attended Game 5 of the Eastern Conference Finals (pictured) easily tops that.
But hey, if he likes it, who cares, right?
Second Team: Dwight Howard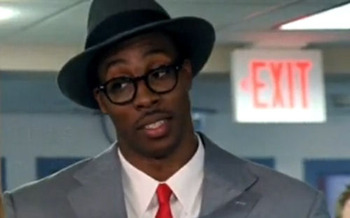 Source: http://twoguysandasportsblog.wordpress.com/2011/04/12/a-brief-note-on-basketball-hipster-culture/
And that brings us to the second team, starting with Dwight Howard.
Howard doesn't usually look as ridiculous as some of the other members of the first team, but that Clark Kent look alone gets him a spot on this squad.
Also, heaven forbid you give him a compliment every once in a while.
Second Team: Kevin Durant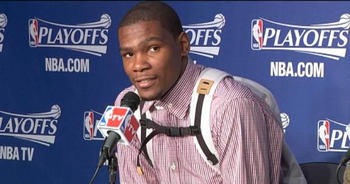 Source: http://www.news9.com/story/14731287/kevin-durants-unique-fashion-statement
Durant likes to wear those ridiculous looking glasses, too, but I think it's pretty obvious what he is most known for: that backpack. I can't think of any other athlete wearing a backpack into a post-game interview. But hey, he's Kevin Durant, so we'll let it slide.
He had a decent shot at making the first team, but he was upstaged (big time) by his two teammates, Harden and Westbrook. Those two make Durant look like he's dressing up for a major job interview.
Second Team: LeBron James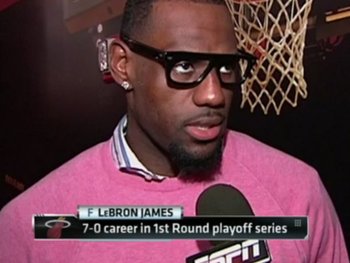 Source: http://articles.businessinsider.com/2012-05-10/sports/31648583_1_lebron-james-big-game-brooklyn-nets
Well, we can't make fun of James for not having a ring anymore, but we can still get on his case for some of his wardrobe choices. He's not as terrible as some of his counterparts, but anyone who wears those no-lenses glasses deserves a spot on this list.
The funniest part about all of this? LeBron firing back at Westbrook for saying he "started" the lenseless glasses trend, stating that he himself has been wearing them for the past two years.
Are we really going to argue about this, guys?
Second Team: Joakim Noah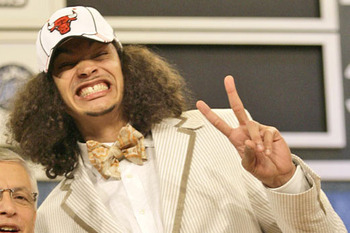 Source: http://my.nba.com/go/article/view/77281/the_center_of_attention
I mean, I think that picture of Noah at the draft speaks for itself. Not much else to see here. Gotta love the energy, though.
Second Team: Baron Davis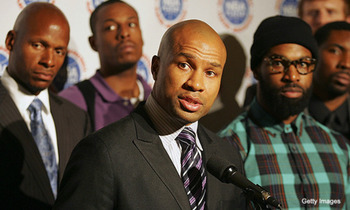 Source: Getty Images
All you need to do is look at this photo from the NBA lockout earlier in the season to understand that Davis belongs on this list. The picture is something out of Where's Waldo?.
Also, Davis might be the only player I've seeing wearing the hipster glasses with rounded frames. Anyone else wear those that I'm not thinking of?
Anyway, here's to wishing Davis a speedy recovery from that gruesome knee injury in the first round of the playoffs.
Keep Reading