The New Orleans Hornets sent Emeka Okafor packing on Wednesday as they prepare for the 2012 NBA draft.
Anthony Davis is coming to town, and the team had no choice but to make some room to rebuild around their future big man.
Emeka Okafor and Trevor Ariza were dealt to the Washington Wizards in exchange for Rashard Lewis and the No. 46 pick of the 2012 draft.
The New Orleans Hornets now own the No. 10 and No. 46 picks of the draft, in addition to their first overall selection.
The team has some options now in regards to what to do with Rashard Lewis.
If they keep him, they'll owe him $24 million next season but add a long-range threat to accompany Anthony Davis' presence down-low.
But according to ESPN, there is a strong likelihood that the Hornets will waive Rashard Lewis before July 1 in order to cut $10 million off of the $24 million he is owed in 2012-13.
All signs indicate that the main purpose of this trade was to help clear up some cap room for the hopeful re-signing of Eric Gordon.
The Hornets acquired Gordon in the deal for Chris Paul last year. He played in all of nine games last season due to a knee injury he sustained after just his second game in a Hornets uniform.
In 2010-11, he averaged 22.3 PPG and over four assists for the Los Angeles Clippers, numbers that the Hornets expect him to replicate if he returns to the team healthy next season.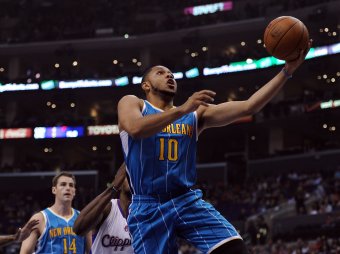 Harry How/Getty Images
New Orleans' major focus over the next week, however, will be who to select with the No. 10 pick of the 2012 draft.
Ideally, they would re-sign Eric Gordon and draft Damian Lillard to run the point with the No. 10 overall pick.
However, there is a chance that Lillard may fall of the board before then, and there is also a chance that Gordon's asking price may be a bit high for the Hornets' liking.
If that ends up being the case, then Duke's Austin Rivers would be an excellent selection with the No. 10 overall pick.
He would provide Eric Gordon-like qualities as an all-around solid shooter who should transition nicely to the NBA.
Dion Waiters would be another excellent selection if he's still on the board at No. 10; he was a consistent long-range threat and electric scorer for Syracuse all of last year.
Should they decide to go a different route, which is very likely, they could also look toward the acquisition of a bigger player to assist Davis under the basket.
Jared Sullinger was a top choice initially, but recent reports about injury potential have caused some teams to worry.
Depending on their desire to re-sign Chris Kaman, which I suspect isn't strong, they could also look toward taking a risk on a big center like Illinois' 7'1" Meyers Leonard.
According to scouts, Leonard has a lot of upside, but is still unpolished and comes with some risk this early in the draft.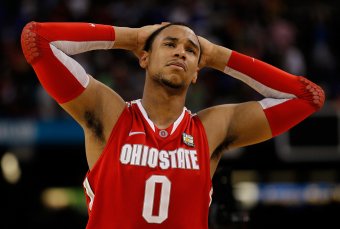 Chris Graythen/Getty Images
Not to mention that the Hornets are likely to go for the best available player at No. 10.
According to recent reports from John Reid at the Times Picayune, Tyler Zeller, the 7'0" center from North Carolina, may fit that description.
Clearly, they will have a lot of talented options available at No. 10.
But that doesn't mean that the No. 46 spot won't be equally as important to their rebuilding process.
At this point in the draft, they'll likely look for a small forward.
Kentucky's Darius Miller could fit the bill, as could Syracuse's Kris Joseph.
Both players come from top-tier programs and proved themselves to be effective scorers last season.
One player that they could potentially take a chance on is the 6'6" Jae Crowder from Marquette.
The Big East Player of the Year last season is a very hard worker and excellent team player. He attacks the hoop with authority and can shoot the long-range shot, but some scouts worry about his size and ability to play defense at the NBA level.
One thing is for certain though, this 2012 NBA draft will determine the future of the New Orleans Hornets organization.
Anthony Davis is a sure thing at No. 1, but they'll need to play their cards right with their next two picks to assert themselves as a contender in the near future.
Trading Emeka Okafor was the first right move of the offseason.
Selecting Anthony Davis will be the next.
But the ball is still in their court and the time will be ticking away come draft day.