Game 5 NBA Finals 2012: Underrated X-Factors in Pivotal Battle
June 21, 2012

Pool/Getty Images
Role players will once again decide Game 5 of the NBA Finals. 
Sure, LeBron James, Kevin Durant, Dwyane Wade and Russell Westbrook will unsurprisingly carry their teams, but they essentially will cancel each other out. It is going to come down to whose role players have big games.
Just look at the first four games of the series.
In Game 1, the Thunder got an unexpected eight points and 10 rebounds from Nick Collison. He was plus-13. In Game 2, it was Shane Battier stepping up for the Heat and in Game 4, Mario Chalmers became the hero. 
So who's going to surprise in Game 5?
Nick Collison, Oklahoma City Thunder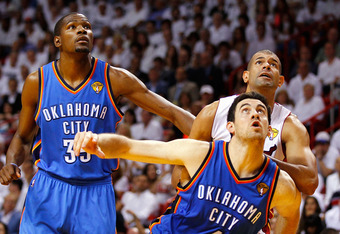 Mike Ehrmann/Getty Images
I've written about Collison in this aspect before, and I'm going to continue to do it until Scott Brooks reads my stuff and puts the big man from Kansas in the starting lineup. 
Or at least until he gives some of Kendrick Perkins' minutes to Collison. 
Collison is the prototypical blue-collar big man. He hustles for loose balls, he's virtually un-box-outable because he's so crafty down low, he sets hard screens and he just always knows where to be on the court. 
Not only does he give the Thunder the effort and toughness they need, he eliminates the Kendrick Perkins on Chris Bosh matchup that can hurt OKC so much. 
Mario Chalmers, Miami Heat
Chalmers doesn't have to pour in 25 points like he did in Game 4, he just has to do better than the 2.5 he averaged in Games 2 and 3. 
LeBron and Wade don't need an All-Star point guard running the show, they just need someone who can be average and can knock down the open shots when defenses collapse. 
Chalmers, in addition to showing some impressive penetration, did that in Game 4, just like Shane Battier has done for most of the series. 
If he just does the little things and plays within himself, Chalmers will do enough to help the Heat grab another ring. 
Cole Aldrich, Oklahoma City Thunder
Just kidding.
Serge Ibaka, Oklahoma City Thunder
Ibaka isn't really underrated as a whole, but it's his offensive game that needs to take a step up. 
We all know how well the big man can block shots and defend the rim, but he can be incredibly important in Oklahoma City's pick-and-roll game. 
Ibaka has a very good mid-range game, and he showed that against San Antonio, but during this series he is averaging just 6.5 points per game on 46 percent shooting.
Against the Spurs he averaged 12.0 points on 58 percent shooting. 
If Ibaka starts hitting his open shots, it opens up so much for the Thunder. It opens up things for him to roll to the basket instead of popping, and most importantly, it draws his defender out and opens up the lane for Russell "I'm getting to the hoop no matter what" Westbrook.