Dwyane Wade, Kobe Bryant and Other NBA Superstars in Decline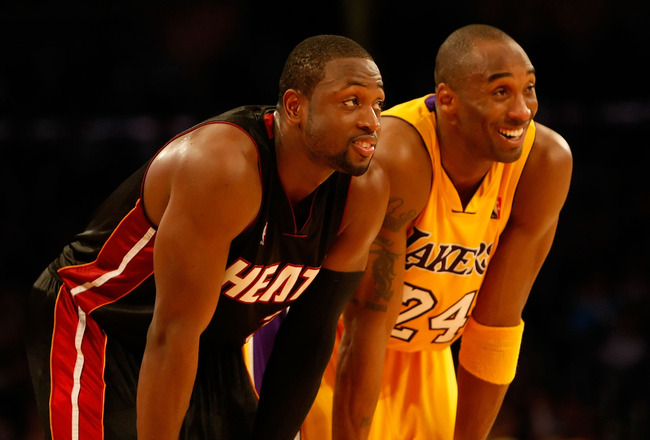 Jeff Gross/Getty Images
In the NBA, the stars of yesterday are slowly becoming the memories of tomorrow. The players we know and love will soon join the ranks of retirees we reminisce over.
For a group of players ranging from future Hall of Famers to fringe All-Stars, the glory days are a thing of the past. Their ability to produce remains unquestioned, but the fact that they are in decline can no longer be denied.
Lamar Odom, Dallas Mavericks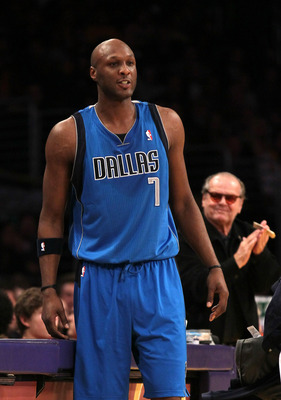 Stephen Dunn/Getty Images
If we're basing this off quality of play alone, Lamar Odom is no superstar. Even with the 2011-12 Sixth Man of the Year title, it's hard to define him as such.
But due to his global fame from a high-publicity marriage, superstar is the only way to describe the master of versatility.
While some may view Odom's 2012 season as a fluke in which his situation hindered his abilities, it's not hard to imagine him struggling to overcome the disappointment of this past season.
A tragic ending to a very good career, but the beginning of the end nonetheless.
Andrew Bogut, Golden State Warriors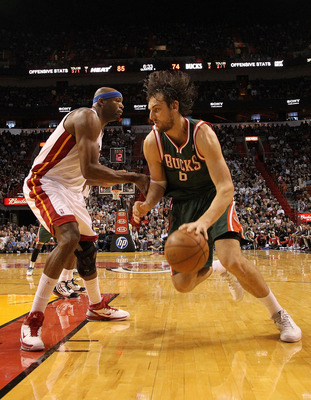 Mike Ehrmann/Getty Images
You could argue against Bogut's status as a superstar, but how else would you classify a former first overall draft choice whose career highlights include leading the NBA in blocked shots in 2011 and ranking second in 2010? The Aussie was also named to the All-NBA third team in 2010.
Unfortunately for Bogut, a long history of injuries is likely to have taken a serious toll.
The Warriors traded for Bogut under the impression that he would lead them to the postseason, making the likelihood that he is eased into the lineup slim to none. Expect the pressure on his shaky legs to be far too much for the elite interior defender to handle.
The absence of another respectable defender in Golden State's starting lineup certainly doesn't help, either.
Joe Johnson, Atlanta Hawks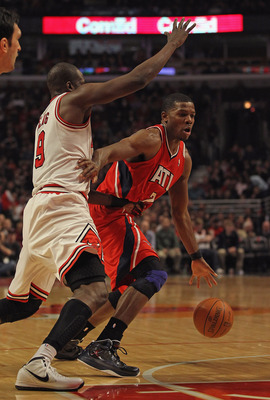 Jonathan Daniel/Getty Images
Joe Johnson was once the fastest rising 2-guard in the NBA, pairing unmatched size for his position with jaw-dropping athleticism and a smooth mid-range jump shot.
But after averaging 25 points per game in 2007, Johnson has yet to top 22 in any of the following years, including scoring less than 19 in two consecutive seasons.
This season saw Johnson post his lowest assist per game averages since 2005, lowest rebound per game averages since 2003 and just his second sub-1.0 steal per game average since 2003.
In 2013, the drop is likely to continue. As Johnson has gotten older, he has failed to adapt his abilities to remain at an All-Star level.
With Josh Smith now emerging as the star in Atlanta and Al Horford solidifying himself as the second option, Johnson now becomes something he has never been since joining Atlanta in 2006: a complementary piece.
A very high-paid complementary piece, might I add.
Pau Gasol, Los Angeles Lakers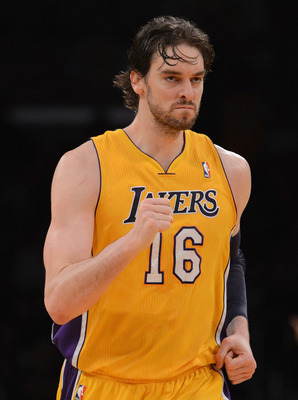 Harry How/Getty Images
Pau Gasol may be one of the best finesse power forwards this game has ever seen, but there comes a time when every player is figured out by most of his opponents. For Gasol, that time came in 2012 when his numbers and all-around production took a dive.
Going from 17.4 points and 10.4 rebounds in the regular season to 12.5 points and 9.5 rebounds in the playoffs, where the Spaniard was matching up with young athletes like Kenneth Faried and Serge Ibaka, is evidence enough.
Gasol is vulnerable to physical opponents who bang in the paint, particularly the new breed of athletic 4s. On offense, he often falls victim to blocked shots and forced mid-range jump shots.
While Gasol could potentially expand his game, it is unlikely that a player of his age and style will be able to adapt to what the NBA has become. In all likelihood, the 13-year veteran will continue to struggle and fail to reach his past level of production.
Ray Allen, Boston Celtics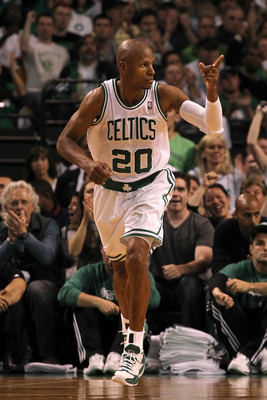 Jim Rogash/Getty Images
Ray Allen will always be an outstanding jump shooter. He will continue to move well without the basketball, maintain his perfect shooting form and further distance himself from the active competition on the all-time three-point field goals list.
Just don't think that the Ray Allen of 2013 will resemble the Ray Allen of old.
It's important that we do not overemphasize Allen's 2012 postseason performance, as he suffered from bone spurs in his ankle that severely affected his shooting ability.
It's also important, however, that we remember that Allen will be a 37-year-old player with 16 years of NBA wear-and-tear entering the 2012-13 season. He will also be coming off of surgery to one of the most important parts of a shooter's body.
Allen will remain a respectable option to stretch the floor but will suffer a serious drop-off in production and overall ability.
Tim Duncan, San Antonio Spurs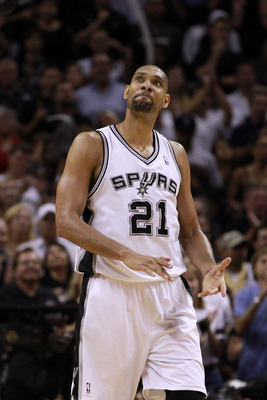 Ronald Martinez/Getty Images
In his prime, Tim Duncan was a talented enough player to lead the San Antonio Spurs to four NBA titles. Today, he is used sparingly during the regular season and leads a team that just can't compete with the young legs that have taken over the Western Conference.
He may remain one the game's most efficient big men, but the 1997 first overall draft choice is indeed on the decline.
This season marked the second consecutive season that Duncan played less than 30 minutes per game, something he had never done in his previous 13 seasons. It was also the second consecutive season in which Duncan's field-goal and free-throw percentages dropped.
Tack on the fact that Duncan posted less than 10 rebounds for just the second time in his career, and you have yourself a player in the twilight of his career.
Jason Kidd, Dallas Mavericks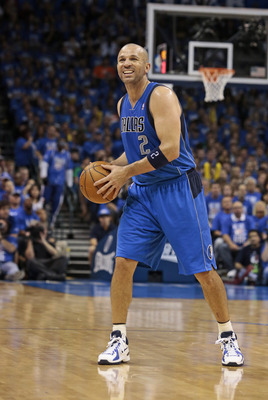 Brett Deering/Getty Images
The stage was set for a cruise into the sunset.
Jason Kidd had just come off of a season in which, at age 38, he had posted 8.2 assists and 1.7 steals per game. Kidd followed that up by fulfilling his lifelong dream of winning an NBA championship, playing a pivotal role in the Mavericks' magical title run.
Then he announced he was coming back for another season.
In 2012, Jason Kidd was beyond disappointing. For those who have followed Kidd's career, it was actually rather painful to see the future Hall of Famer laboring around the court in discomfort.
The 18-year veteran posted averages of 6.2 points, 5.5 assists and 36 percent shooting from the floor—all career-lows. Factor in his career-worst 13.11 Player Efficiency Rating, and it becomes clear that J-Kidd needs to hang it up.
Amar'e Stoudemire, New York Knicks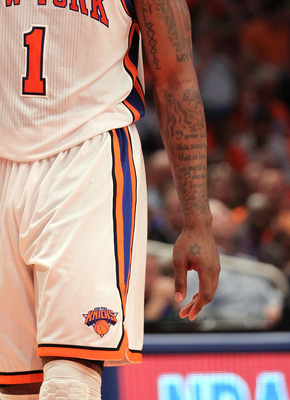 Nick Laham/Getty Images
The 2012 NBA regular season was none too kind to Amar'e Stoudemire. The Knicks' $100 million man posted his lowest averages in points per game (17.5) and field-goal percentage (48.3) since his rookie season in 2003, not to mention the lowest rebounding average (7.8) of his career.
Talk about taking some major steps backwards.
Should Stoudemire find himself in a new uniform at some point in the the near future, his decline could be reversed. Should the big man remain a member of the Knicks, however, his numbers will continue to take a hit.
Amar'e still has All-Star abilities, but he will not maximize his remaining potential in New York.
Kobe Bryant, Los Angeles Lakers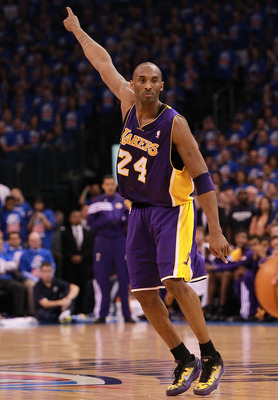 Ronald Martinez/Getty Images
Will Kobe Bryant continue to set records and score points as well as anyone in the NBA? Without question.
Will the Lakers' inability to add a quality point guard lead to a serious taxing on Bryant's body, as he continues to play the role of facilitator? Unfortunately so.
Kobe Bryant is a prolific scorer whose field-goal percentage reflects a weak system, but he's not a point guard.
As long as Los Angeles has a void at the point, Kobe Bryant will be on the decline. Ramon Sessions made sure of that.
Dwyane Wade, Miami Heat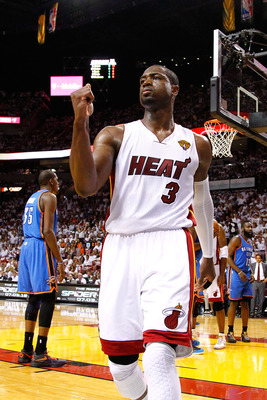 Mike Ehrmann/Getty Images
I've said it before and I'll say it again: as long as Dwyane Wade continues to help build the legacy of LeBron James, his own will take a hit. Unfortunately, that trend has no end in sight.
Wade has taken the backseat to James this postseason, which isn't necessarily a bad thing when it comes to winning.
What it means, however, is that Wade is not developing a rhythm of his own and will continue to hit rough patches on offense.
While championship rings represent the ultimate prize, Wade's career will continue to be in decline, as we have already seen in the 2012 postseason.
Keep Reading