NBA Finals 2012: Who Has Played Better in Series, LeBron James or Kevin Durant?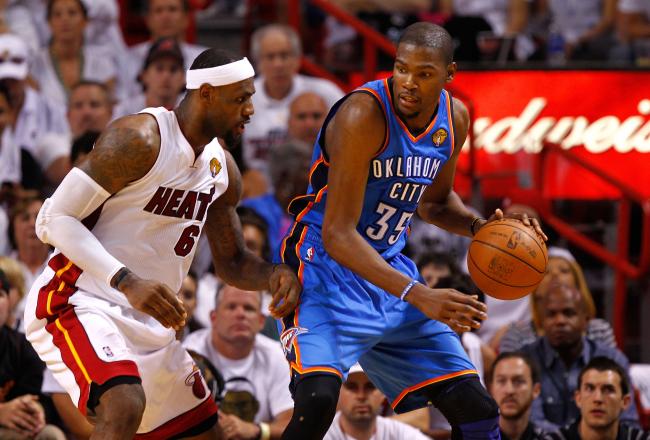 Mike Ehrmann/Getty Images
LeBron James and Kevin Durant have drawn much of the attention during the 2012 NBA Finals and for good reason, as they've been the two best players on the court and continue to look like the two best in the world.
LeBron's Miami Heat have jumped ahead to a 2-1 lead in the series, but Durant has by no means performed poorly.
So, which of the two superstars has been better during the Finals: LeBron or Durant?
To answer the question, I've broken down their performances into four categories. First, we'll look at their scoring before diving into facilitating, rebounding and defending.
This article will use plenty of advanced statistics (via Basketball-Reference.com). If you are unfamiliar with any of the metrics, check out the following series of articles, which fully explains them all. This link will take you to the explanations of comprehensive stats and you can find links to the offensive and defensive breakdowns on the title slide.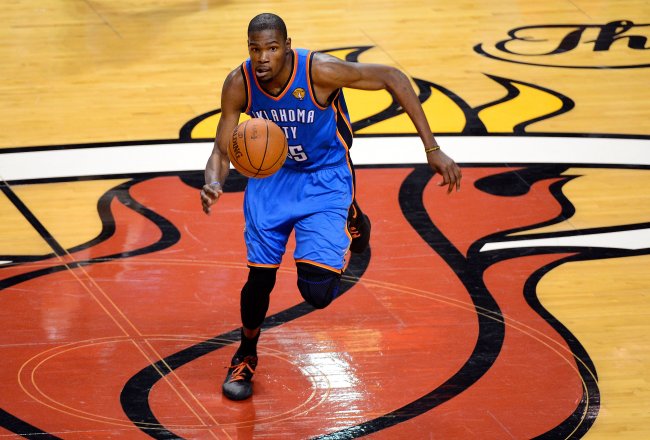 Ronald Martinez/Getty Images
Scoring
| | | | | | | | | |
| --- | --- | --- | --- | --- | --- | --- | --- | --- |
| | Points | FG% | 3P% | FT% | TS% | eFG% | ORtg | USG% |
| LeBron James | 30.3 | 46.4 | 22.2 | 86.2 | 55.7 | 47.8 | 113 | 33.7 |
| Kevin Durant | 31.0 | 57.4 | 40.9 | 73.7 | 67.0 | 64.8 | 123 | 30.6 |
Let's start off the breakdown with the most glamorous part of basketball—the part that chicks dig, that SportsCenter fills up highlight reels with and that little kids practice in their driveways.
This is the one area in which Kevin Durant has truly blown LeBron James out of the water. As impressive as the Miami Heat superstar has been, he's been completely one-upped by Durant, who is setting all kinds of first-time Finals records.
Highlighted by his 16- and 17-point fourth quarters in Game 1 and 2, Durant has averaged 1.7 more points per game than LeBron, but he's done so in much more efficient fashion. Between his increased effectiveness from downtown and his overall scoring percentages, Durant has clearly been the better scorer.
Don't get me wrong though. LeBron has been a fantastic scorer, shattering his streak of eight-straight Finals games without hitting 25 points in epic fashion. Although his jumper has disappeared, James has been knocking down tons of shots in the paint and dazzling with his post moves.
Neither player's scoring has faded down the stretch either, which makes them both all the more impressive.
Advantage: Durant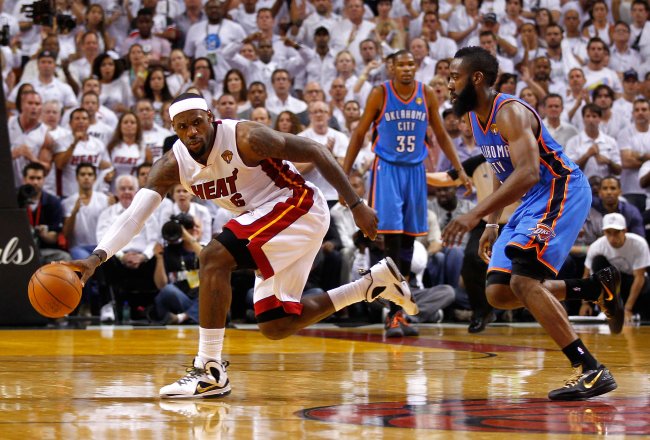 Mike Ehrmann/Getty Images
Facilitating
| | | | | |
| --- | --- | --- | --- | --- |
| | Assists | Turnovers | AST% | TO% |
| LeBron James | 4.0 | 3.3 | 20.2 | 10.9 |
| Kevin Durant | 1.7 | 3.0 | 7.7 | 11.5 |
Whatever ground that LeBron James lost in the scoring category, he makes up for it here.
While LeBron is one of the best facilitating forwards not just in the current NBA landscape but really of all time, Kevin Durant is one of the worst at directly getting his teammates involved. The disparity is apparent while watching them play and just as apparent when looking at the pure numbers.
James is averaging four assists per contest with an assist percentage of 20.2, easily beating his fellow small forward in both categories. The amazing part is how many open shots the Miami Heat have missed after LeBron found them with a perfect pass.
LeBron could easily be averaging seven or eight assists per game if he was playing with Durant's teammates.
I've also included turnovers in this section as well, even though turnovers can result both from mistakes while facilitating and from mishandles while calling one's own number.
Both players turn the ball over a lot, but both have built in excuses because they have the ball in their hands so often.
Even though LeBron averages more turnovers per game, the increased role in the offense he fills (see usage rates in the scoring section) makes up for that, and his turnover percentage is actually slightly better than Durant's.
Advantage: LeBron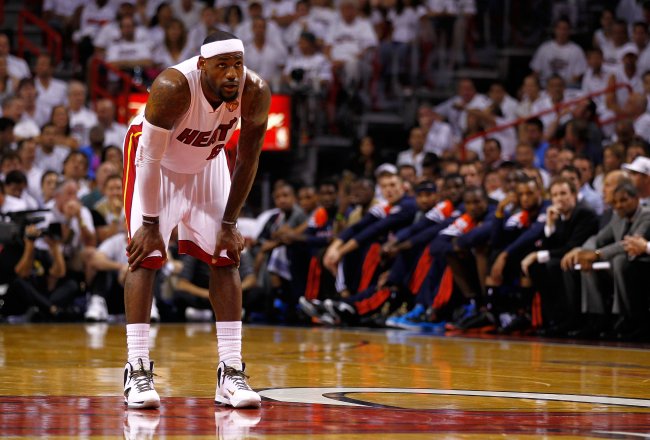 Mike Ehrmann/Getty Images
Rebounding
| | | | | |
| --- | --- | --- | --- | --- |
| | Rebounds | ORB% | DRB% | TRB% |
| LeBron James | 10.3 | 7.3 | 21.0 | 14.2 |
| Kevin Durant | 5.7 | 2.9 | 13.7 | 8.3 |
Kevin Durant is normally a solid rebounder, but he's struggled on the boards throughout the 2012 NBA Finals. LeBron James, on the other hand, has stepped up the intensity and provided the Miami Heat with a huge boost on the glass.
Despite standing a few inches shorter (we all know that Durant isn't actually 6'9" and is closer to 7'0"), LeBron has been a terror on the boards and almost doubled Durant's rebounding numbers.
James has crashed the offensive glass with particular effectiveness and has provided the Heat with a number of extra offensive possessions. The same cannot be said about Durant.
This is another area that isn't even close as Durant's numbers pale in comparison to his growing rival's.
Advantage: LeBron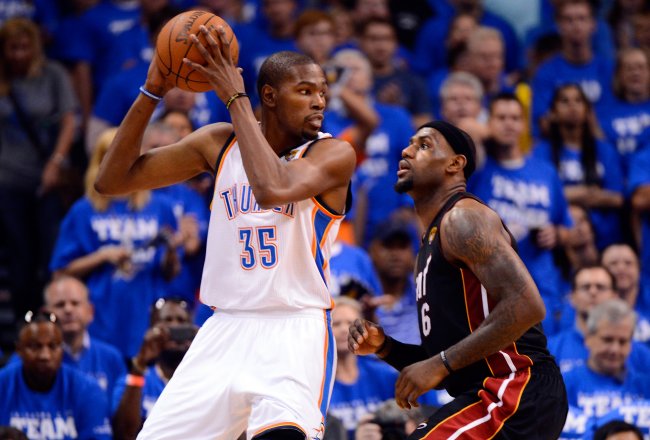 Ronald Martinez/Getty Images
Defending
| | | | | | |
| --- | --- | --- | --- | --- | --- |
| | Blocks | Steals | BLK% | STL% | DRtg |
| LeBron James | 0.0 | 1.7 | 0.0 | 2.1 | 108 |
| Kevin Durant | 1.3 | 1.0 | 2.6 | 1.4 | 112 |
While LeBron James hasn't been able to block shots at all during the NBA Finals, his stifling perimeter defense has still allowed him to one-up Kevin Durant in this category.
Durant has a reputation as a lackluster defender who focuses his energy on the offensive end of the floor. While that was true in the past, he's put an end to that this season and played with an increased focus on defense.
Throughout the regular season, the lanky forward shut down offensive players much more often and that has carried over into the postseason. Even if he'll never be the Defensive Player of the Year candidate that LeBron is, he's still done well on that end.
LeBron's defense has predictably suffered when he's guarding the unstoppable force that is Durant, but he's still done a solid job of slowing both Durant and the other players he's been asked to guard.
This matchup has been closer than expected, but it's James' defensive versatility that puts him ahead in the fourth and final category, giving him three of four and easily winning the overall debate.
Advantage: LeBron
This article is
What is the duplicate article?
Why is this article offensive?
Where is this article plagiarized from?
Why is this article poorly edited?

Miami Heat: Like this team?