Metta World Peace Crazy to Call out Thunder Star James Harden
June 18, 2012

Ronald Martinez/Getty Images
Don't act shocked, appalled or the least bit surprised—because Metta World Peace calling out James Harden on Twitter is classic, crazy MWP. 
The sane route for a man who once elbowed James Harden on his way to a seven-game suspension would be to sit back, watch the NBA Finals and not say a word of criticism to the Thunder star. 
That just wouldn't be World Peace's style. 
He went on Twitter Sunday night to sound off on Harden and a silly foul he made late in the game. With the Thunder down three and just 16 seconds on the clock, Harden drew a blocking foul on LeBron James, and then came this from World Peace via Twitter.
No brain All beard

— Metta WorldPeace (@MettaWorldPeace) June 18, 2012
If that were truly the case, it might have something to do with an elbow knocking said brains all over the Staples Center floor. 
Where many see a tweet filled with hate, I see classic MWP not knowing how his views will be taken. America, say hello to fun-awkward Metta World Peace, a man who shows up from time to time in place of fun-crazy Metta World Peace or fun-violent Metta World Peace. 
The Lakers' forward quickly tweeted this mere moments later.
Harden will hit a big shot right now Watch out

— Metta WorldPeace (@MettaWorldPeace) June 18, 2012
On Monday morning, he solidified his position as a Thunder enthusiast, as much as these NBA Finals go. He may be pulling for LeBron James, but he thinks the Thunder take this title. 
I had okc winning finals because of the Durant , harden and Westbrook are always sure about themselves. They play fearless.

— Metta WorldPeace (@MettaWorldPeace) June 18, 2012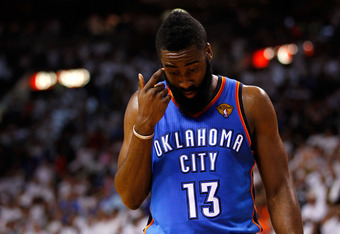 Mike Ehrmann/Getty Images
Fearless? As long as they are away from errant elbows, I could see how you can classify them as fearless. 
By now, your head should hurt and you may even have a nose bleed. Such are the symptoms of a person trying to understand the enigma known as World Peace. 
Forget trying and just accept. The man is just trying to be funny, even if it comes off as crazy and out of touch. 
Hooray for fun-awkward Metta World Peace. 
Follow me on Twitter for updated awesome. Follow @gabezal