Heat vs. Thunder: James Harden Must Find Redemption in Game 4 to Defeat Miami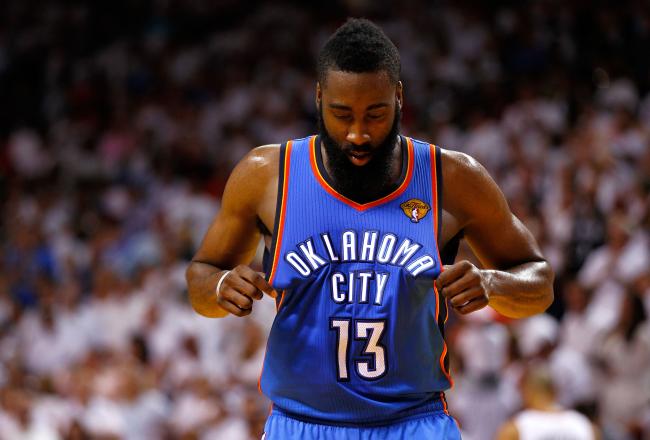 Mike Ehrmann/Getty Images
Miami Heat star LeBron James had a monster game in Game 3. James Harden did the exact opposite for the Oklahoma City Thunder.
LeBron James came out to score 29 points on only 23 field goal attempts. He added 14 rebounds and three assists. James Harden shot 2-for-10 on all field-goal attempts, including 0-for-4 from the three-point line. His plus/minus was minus-four; he turned the ball over twice, and he also recorded four fouls. This was the statistical evidence that did not align in Harden's favor.
It was the empirical evidence, observed by the human eye, that was even more damaging to Harden's reputation.
His poor play was no more clear and exemplary of the botchy and youthful mishaps of the Thunder than in the final 20 seconds, in which Harden miscalculated the time on the clock where there was an eight second differential between the play clock and the shot clock. Harden, hoping for a charging foul, inadvertently committed a blocking foul himself and allowed the Miami Heat to take to the free-throw line one more time.
This made the momentum move out of the Thunder's favor and back into the home crowd of Miami.
Fans and media pundits across the NBA gasped in disbelief on Twitter at Harden's poor showing.
Says Brian Philips, from Grantland.com: "Can't remember ever seeing Harden play worse than this."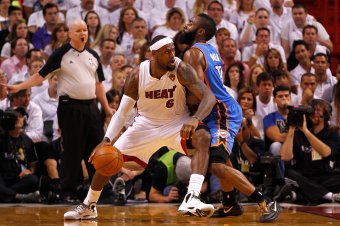 Mike Ehrmann/Getty Images
Or Elliott Pohnl, of BleacherReport.com: "Time to shave the beard, Mr. Harden."
Even more embarrassing were the other NBA players across the league that gripped at Harden.
Metta World Peace was the first to take a swipe at the bearded Harden. "No Brain All Beard." World Peace has already had his fair share of controversy regarding James Harden, considering he gave Harden a concussion earlier in the season that caused Harden to miss playing time to close the season.
Even Kris Humphrises threw his punches at Harden.
"Wow," he wrote. "Don't foul with an eight second differential."
Hope, however, is not lost for the Thunder. There are easy changes that the Oklahoma City Thunder must make to pull out a series-tying victory on the road in Game 4.
From top to bottom, in fact, the Thunder arguably looked better than the Miami Heat. The difference was in simple mistakes and poor decisions in big-time moments.
According to ESPN Stats & Info, the Miami Heat won despite having the "worst shooting percentage" and "fewest number of made field goals outside the paint" in 15 years of NBA Finals history.
As in, every time a team shoots as poorly as Miami does while in the NBA Finals, they lose. Miami was entirely beatable this game, but the Thunder were unable to pull out a victory.
There's something terribly wrong with this picture. Clearly, not all of the blame must be put on James Harden.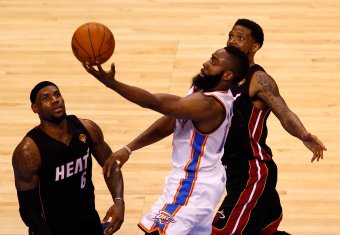 Mike Ehrmann/Getty Images
Another telling statistic was that Serge Ibaka, who was having a stellar game and posted a plus/minus score of eight while recording five defensive rebounds and two blocks, only played for 22 minutes.
Derek Fisher, on the other hand, recorded 28. His plus/minus was a lowly minus-nine as he shot 3-for-8 from the field with only nine points scored.
Ibaka requires more playing time if he wishes to take the Oklahoma City Thunder farther in the playoffs.
But much of the Oklahoma City trouble comes back to James Harden.
Harden was entrusted with 34 minutes of play in Game 3 of the NBA Finals, yet showed an entirely lackluster performance on his way to potentially playing his way onto the London 2012 Olympics team.
Certainly, Harden didn't do much to help his case in this showing.
Nor did he do much to help his case for the upcoming contract battle between him and Serge Ibaka. Ibaka played less minutes, meaning the Thunder were likely leaning towards keeping Harden when both contracts need to be renewed for numbers much higher than what the Thunder will be able to afford, but Ibaka entirely outplayed Harden all game long.
I criticize James Harden because I love James Harden. I think he has the best beard in professional sports right now besides maybe Brian Wilson's, and I think he's the most valuable sixth man that I've seen in the last generation of NBA players. I think he's the X-factor not named Russell Westbrook, and I think that he will be a large force in determining who wins this year's NBA Finals.
I also recognize that Harden can be a bit of a wild card.
Coming into Game 4, Harden will need a redemption game if the Oklahoma City Thunder have any chance of beating the Miami Heat.
This article is
What is the duplicate article?
Why is this article offensive?
Where is this article plagiarized from?
Why is this article poorly edited?