NBA
'The Dream Team Documentary': A Unique Documentary for a Unique Team

Scottie Pippen, Michael Jordan and Clyde Drexler were among 11 Hall-of-Famers on the 1992 Dream Team.
Mike Powell/Getty Images
June 14, 2012
Twenty years after The Dream Team dominated unlike any other sports team in Olympic history, NBA TV's behind the scenes look at the squad brought back many moments of nostalgia. 
Nearly two months after Ray Allen and Dwyane Wade talked about Olympians being compensated (via ESPN), and four years after the 2008 Olympic team was actually compared by some to the 1992 team, the documentary made it clear that there has been and will likely only be one Dream Team. It also made clear how playing for the US Olympic team meant a lot to each of the players and how it should mean a lot to all players in today's NBA.
The documentary entitled The Dream Team, narrated by Edward Burns, began by looking at the history of Olympic basketball, including how the Soviet Union team won the gold in 1972 and 1988 just when it seemed like the Americans' amateur players were good enough to win the gold every year.
In fact, were it not for FIBA and the NBA getting together to change the rules to allow NBA players to play on the Olympic team, there would be no dream team. 
It then detailed how each player made their decision to join the Olympic squad, as 11 future Hall-of-Famers and one of the NCAA's most well-known players, Christian Laettner, made up the roster. One story that was addressed very quickly was that of Isiah Thomas not being selected on the team thanks to a rocky relationship between Thomas and Michael Jordan.
That being said, there were many other rivalries and story-lines that dominated this team. Magic Johnson was retired from the NBA after contracting the HIV virus, while Larry Bird couldn't play in four of seven Eastern Conference semifinal games against the Cleveland Cavaliers leading up to the Olympics due to chronic back issues.
This meant that both individuals of arguably the biggest player rivalry of the 1980s was ending, as both were teammates on maybe the greatest team ever assembled.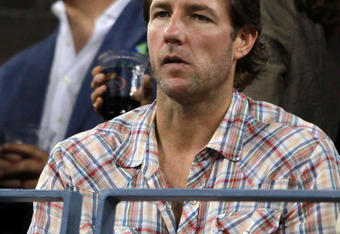 Actor Edward Burns narrates NBA TV's The Dream Team.
Nick Laham/Getty Images
Meanwhile, after two consecutive titles, Jordan was ready to officially take over the mantel of the best player in basketball from these two legends. Though Magic and Larry, who were the team's captains, did their best to prevent him to do so in a team-friendly way, even they admitted their reign was over during the Dream Team experience. 
Another potential issue was the relationship between Jordan and the late Chuck Daly, who had beaten Jordan for a few years as coach of the Bad Boy Pistons. But this documentary showed that these two became great friends, and the Pistons-Bulls intensity never seemed to come up.
Finally, the battle of the best power forwards in the game happened in practices between Karl Malone and Charles Barkley, but the individual matchups in practice led to healthy competition. 
While this team was nicknamed The Dream Team, the Olympians had a lot of issues in practice and in playing the U.S. Select College Team in scrimmages. Humbling experiences let this team know that they always had to play to win, and they learned those lessons after early struggles. This goes to show that not only it wasn't always perfect for the squad, but that all these athletes fed off adversity and competition unlike any Olympic team before and after. 
Despite Chuck Daly not being interviewed for this documentary due to his death in 2009, his personality and methods were explained extremely well through player interviews, and even by then assistant coach and current USA coach Mike Krzyzewski. Daly handled massive personalities in Detroit and was the perfect coach to motivate this band of competitors and rivals, who all were about winning. 
MJ's physical and mental endurance was so much on full display that interviews of fellow players showed that they were even in awe of not only his basketball ability, but how he conducted himself on a minute-to-minute basis. They were amazed at his stamina.
For young basketball fans, NBA TV's The Dream Team is a great look into Jordan and all of the greats from a generation earlier, as they will grow an appreciation for the type of effort and charisma each of these players showed on a daily basis.
Plus, the documentary makes it clear that The Dream Team changed the game of basketball not just in the NBA, but on a global scale, as international players took pictures and shook hands of NBA players during games. The international growth of the game of basketball led to the influx of foreign players in the NBA.
This documentary of the 1992 Men's Olympic Basketball Team rivals the best of ESPN's 30-for-30 series, including my personal favorites Pony Excess and The Announcement. On a scale of 1-10, NBA TV's The Dream Team was a 9. 
Comment below, contribute to the poll and tell us what you thought of the Dream Team documentary.
Like the new article format? Send us feedback!