2012 NBA Finals: Why LeBron James' Legacy Is at Stake Against the Thunder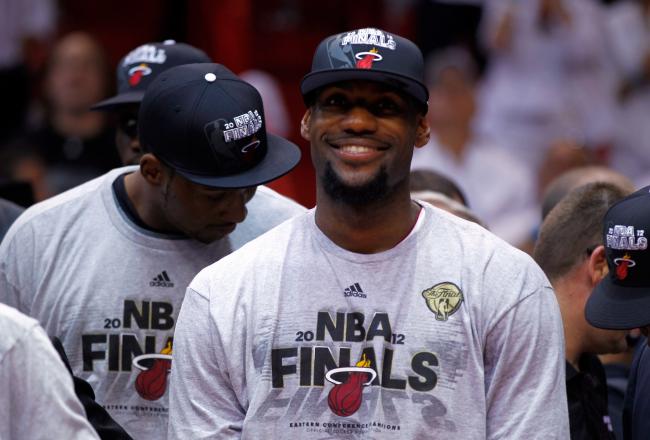 Mike Ehrmann/Getty Images
My least favorite trend in our 24-hour news cycle is how overwrought the concept of legacy has become.
Legacy used to be something spoken about long after a player retired, once he etched his mark on the sport.
Now, the legacies of our favorite stars are supposedly fluid, moving as talking heads across the country condemn every failure as a catastrophe and deify every success as a coronation. We'll do things like glorify "hero ball" when the shot goes in and point out its glaring statistical shortcomings when the shot clangs off the rim.
It's all ridiculously inane, but also incredibly hard to not get caught up in. It's natural to watch LeBron James' disappearing act in the 2011 NBA Finals and ponder its long-term implications. But it's equally important that we recognize that the implications are negligible.
In life, your legacy doesn't refer to how many unsuspecting freshmen coeds you bagged in college. It is your first sentence in your obituary. Legacy is your spouse, your children, your friends and your career.
Sports legacies work as an eerie parallel to obituaries because an athlete's retirement is (in most cases) his death in the public consciousness.
For some, that's a good thing. We remember Aunt Tina's warm smile before her alcoholic and sociopathic tendencies, just like we remember Muhammad Ali's style, grace and sweet talking before his rash of infidelities and controversial behavior.
Even current athletes get similar treatment. Will we even mention Kobe Bryant's sexual assault case or Ray Lewis' murder charge in the first few paragraphs of their narrative? Probably not.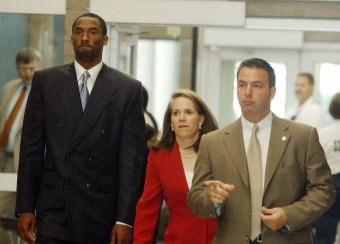 Pool/Getty Images
This phenomenon is human nature at its finest. Given the choice between carrying bad baggage or remembering the happy times, humans choose happy. Good legacy over bad legacy. All the time, every time.
That's why this NBA Finals is so unique because it's one of those rare instances where hyperbole meets reality. LeBron James' legacy is on the line from the moment Game 1 tips off in Oklahoma City Tuesday night until the Larry O'Brien Trophy is presented to the league's champion.
Don't get me wrong, about 80 percent of the LeBron James narrative is already cemented. He's already one of the five most physically gifted players in NBA history, a transcendent star with the best all-around game since Magic Johnson and the first superstar whose career was entirely during the digital age.
That part of James' legacy will never change.
And LeBron doesn't need Michael's six championships or Kobe's five to have a "complete" legacy. But he needs at least one as an alpha dog, and this championship needs to be the first.
This is James' third NBA Finals appearance. He's facing Kevin Durant, the supposed heir apparent to King James' throne, the deified anti-LeBron who stayed a big-time star in a small town. And, for lack of a more tactful way to put it, the Heat finally feel like LeBron's team.
Last season, some still thought (semi-rightfully) the Heat were Dwyane Wade's team. With no hierarchy in place, both James and Wade looked lost in games' final minutes.
We know the pecking order now. LeBron propelled an injured Wade and Chris Bosh and a Charlotte Bobcat-ian supporting cast to the Finals.
Is LeBron James' legacy on the line in the 2012 NBA Finals?
Also, the public seems more ready to embrace LeBron James, NBA champion, following an almost two-year backlash from "The Decision."
Winning against the Mavericks last season would have been written off as a Yankees championship, the evil empire of basketball taking the easy way to a title. This season Miami is facing an even more formidable foe in Oklahoma City and may even be the on-paper underdog.
The Thunder are healthier, looked better all postseason and don't have to overcome overwhelming public pressure to win it all.
And the dirty little secret of this whole situation is that this will probably be the best chance James has of being the best player on an NBA champion in his career.
While Miami is already the prohibitive favorite to win a weakened Eastern Conference next season, the Thunder will come back next season a year older, with their entire core still only on the precipice of hitting their primes.
Every member of Miami's Big Three is either at the apex of their peak, or on the downside.
Dwyane Wade is a 30-year-old shooting guard with chronic knee problems who relies on quickness and athleticism. If you want to know how well similar players age, just take a look at Tracy McGrady's precipitous fall from superstardom.
Chris Bosh, while vastly underrated at this point, averaged fewer than eight rebounds per game this season for the first time since his rookie year and seemingly gets lost in a vortex at times.
That makes this season LeBron's best opportunity to take advantage of Oklahoma City's inexperience. To exert physical dominance over Durant, making him the Drexler to LeBron's Jordan. To cement his place among the NBA's top 15-20 of all-time.
Or it could be a story of Durant's ascension to the throne, relegating LeBron to a 27-year-old afterthought and ushering in an era of Thunder dominance.
This time...it's actually about legacy.
This article is
What is the duplicate article?
Why is this article offensive?
Where is this article plagiarized from?
Why is this article poorly edited?

Miami Heat: Like this team?