James Harden and the All-NBA Bench Team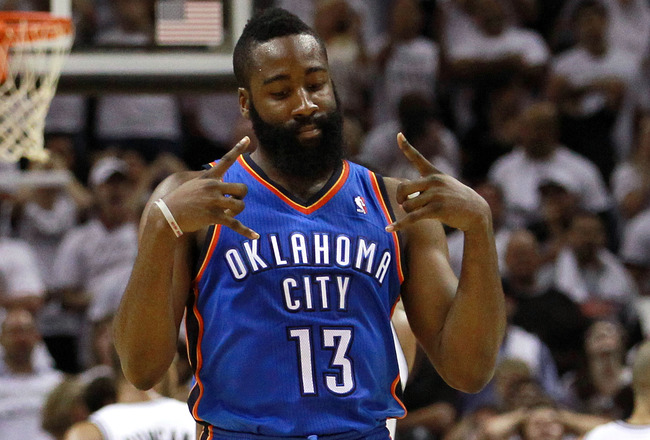 Ronald Martinez/Getty Images
James Harden won the NBA's Sixth Man of the Year award this season, and he proved he deserved it by helping lead the Oklahoma City Thunder to an NBA Finals berth. But what other bench players deserve recognition for their play this past season?
Although they get overlooked on many teams, any knowledgeable NBA fan knows how important a good bench is for every NBA team. Just one good player can make a bench into one of the NBA's best, and that's why the men on this list deserve special recognition.
Here, I'll give you a first team and second team of All-NBA bench players. Players had to play at least 50 games to be eligible, and players have been chosen without regard to position.
Second Team All-Bench: Brandon Rush, SG Golden State Warriors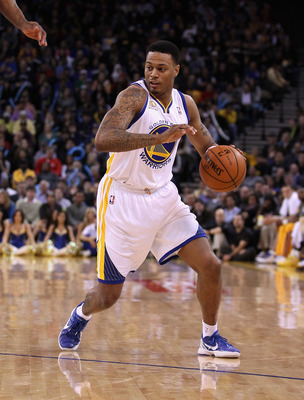 Ezra Shaw/Getty Images
Former Kansas Jayhawk Brandon Rush appears to finally have found a place in the NBA with the Golden State Warriors. Rush averaged 9.8 points on 50 percent shooting from the field this season.
His efficiency didn't end there though, as he shot over 45 percent from three-point range and averaged 3.9 rebounds and 1.4 assists per game.
It might be a surprise to see Rush on this list, but he really has been one of the most efficient bench players in the game this season.
Second Team All-Bench: Avery Bradley, SG Boston Celtics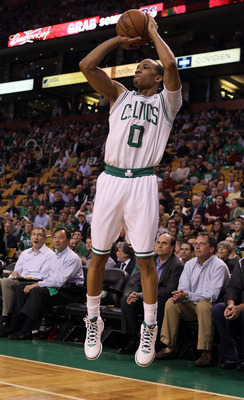 Elsa/Getty Images
Avery Bradley became a huge spark for the Boston Celtics late in the year, but that's only one of the reasons he made this team. While he did start quite a few games for Boston, he only did so due to an injury to Ray Allen.
Bradley has become one of the best perimeter defenders in the NBA in just his second season in the league, and he coupled that ability with his long range shooting (over 40 percent from three). Despite their success after his injury, the Boston Celtics are still greatly missing this guy.
Second Team All-Bench: Taj Gibson, PF Chicago Bulls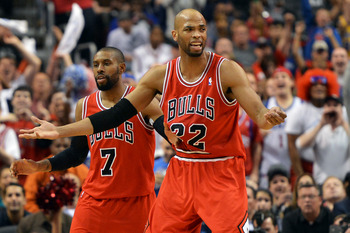 Drew Hallowell/Getty Images
Taj Gibson is the only player on either of these teams that did not start in a single game for his team this season. In fact, Gibson played just 20 minutes per game, which was far too few.
In those 20 minutes per game, Gibson averaged 7.7 points and 5.3 rebounds on 49.5 percent field goal shooting. His player efficiency rating of 16.90 is also among the best of bench players.
However, Gibson's contribution goes beyond stats. The energy he brings off the bench and just giving it all he has is what really powers the Bulls' second unit, and was a big part of why they had the best record in the Eastern Conference.
Second Team All-Bench: Thaddeus Young, SF Philadelphia 76ers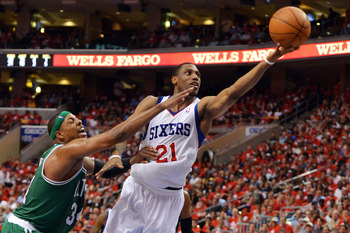 Drew Hallowell/Getty Images
Thaddeus Young does a little bit of everything coming off the bench for the Philadelphia 76ers. The 23-year-old forward averaged 12.8 points, 5.2 rebounds, 1.2 assists and one steal per game during the regular season.
If that's not enough, he also shot over 50 percent from the field and a career-high 77 percent from the free throw line.
A truly unsung hero, Young was a big part of the supporting cast for a Sixers team that surprised many with a postseason run.
Second Team All-Bench: OJ Mayo, SG Memphis Grizzlies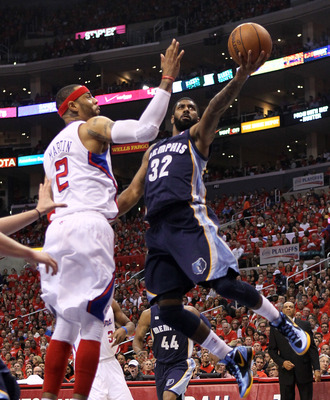 Stephen Dunn/Getty Images
Another bench spark plug for a playoff team, O.J. Mayo has settled into his role off the bench for the Memphis Grizzlies nicely. Mayo's shooting percentages haven't been great, but he did average 12.6 points off the bench as the Grizzlies best all-around scorer of the past season.
His averages of 3.2 rebounds, 2.6 assists and 1.1 steals were also impressive, and Mayo played a big part in filling in while star power forward Zach Randolph was out due to injury this season.
First Team All-Bench: Mo Williams, PG Los Angeles Clippers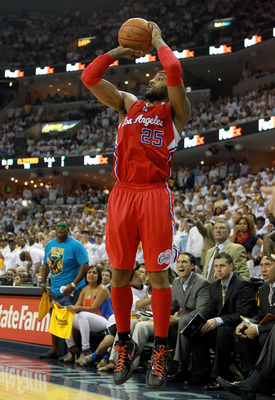 Andy Lyons/Getty Images
For a team that really needed a bench, Mo Williams was a huge boost for the Los Angeles Clippers.
The 29-year-old point guard averaged 13.2 points and 3.1 assists per game with a player efficiency rating of 15.02. He also shot 90 percent from the free throw line and 39 percent from three-point land.
Williams has proven himself to be a great wing man in the past, particularly during his time with LeBron James in Cleveland, and he's now proving that he can still provide that type of play for the Clippers.
First Team All-Bench: Al Harrington, PF Denver Nuggets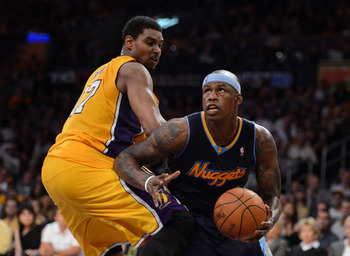 Harry How/Getty Images
Al Harrington has been in the league a long time, but he never really separated himself. While he was always a very talented player, that talent rarely ever translated into winning for his team.
This year, Harrington has changed that. Helping the star-less Denver Nuggets make the playoffs, the former New York Knick averaged 14.2 points and 6.1 rebounds per game on 45 percent field goal shooting.
Harrington accepted his role on the team and has blossomed because of it. That's what elite bench players do.
First Team All-Bench: Lou Williams, PG Philadelphia 76ers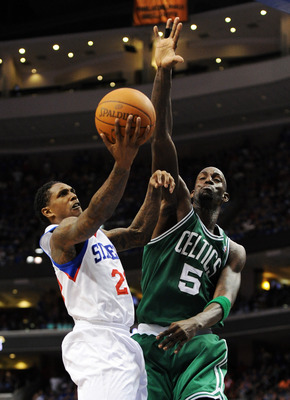 Drew Hallowell/Getty Images
The biggest competitor for James Harden for Sixth Man of the Year all season long was Lou Williams. The 25-year-old backup point guard averaged 14.9 points, 3.5 assists and 2.4 rebounds per game with a player efficiency rating of 20.22.
The second player on this list for the Sixers, Williams struggled down the stretch in the season, but was still able to lead his team in scoring for the entire season. That is something that few bench players in NBA history have done.
First Team All-Bench: Jason Terry, SG Dallas Mavericks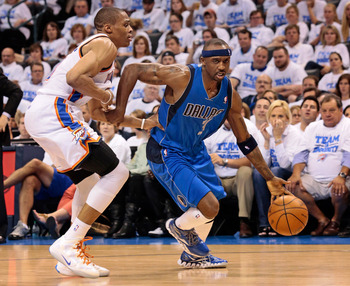 Brett Deering/Getty Images
A former Sixth Man of the Year award winner, 34-year-old Jason Terry still has what it takes to compete as a bench player in the NBA.
In his 13th NBA season, Terry averaged 15.1 points per game on 43 percent field goal shooting. Even more impressively, the bench guard also improved his shooting percentages from the field and long range in the playoffs this season.
Despite his big role on the team, there's no way you can blame the Dallas Mavericks' early playoff exit on Terry. If anything, you can credit him for the fact that they made the playoffs at all.
First Team All-Bench: James Harden, G Oklahoma City Thunder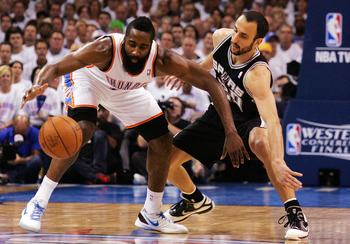 Brett Deering/Getty Images
What more can be said about this guy that hasn't already been said over the past few months?
James Harden has made and is still making the case that he is one of the best shooting guards in the NBA, let alone one of the best bench players. He's one of the most efficient players in the NBA, shooting a slick 49 percent from the field on just 10 attempts per game. His percentages at the free throw line (85 percent) and from three (39 percent) are also huge.
The biggest question about Harden isn't whether he is one of the best bench players. He obviously is. The biggest question is whether he'll stay a bench player or become a legit superstar. I'd bet on the latter.
Keep Reading