2012 NBA Mock Draft: How the Entire 1st Round Will Shake out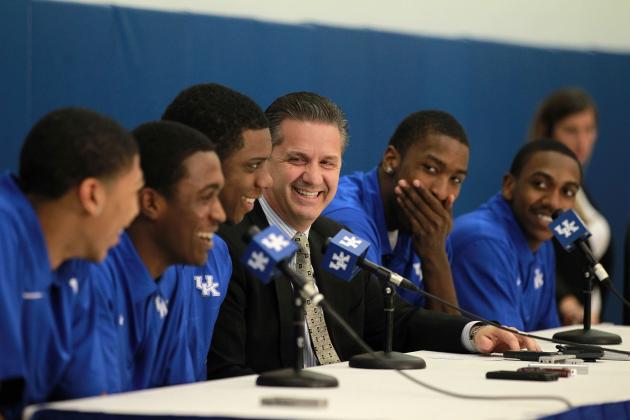 Andy Lyons/Getty Images

Now that the 2012 NBA Draft order is set, teams around the league can start targeting specific players who could be available at their respective picks. It's an exciting time for management as they attempt to find the next star player and better their teams.
Read on for a first-round mock draft to see where players like Thomas Robinson and Perry Jones III will continue their basketball careers next season in the NBA.
Begin Slideshow

»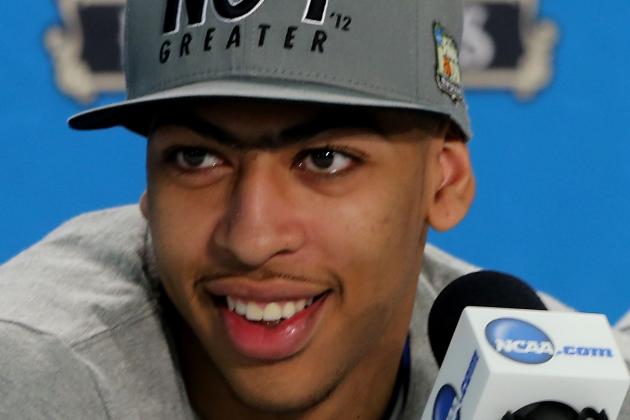 Jeff Gross/Getty Images

Anthony Davis will be the first overall draft pick, mainly because of his incredible defensive skills and length. Davis blocked almost five shots a game during his only season with the Kentucky Wildcats and altered many more.
Davis needs to put on muscle to bang down low with NBA post players, but until then, his physical tools will allow him to instantly become a defensive force. Add his defensive prowess to a building offensive game, and Davis is a franchise cornerstone down low.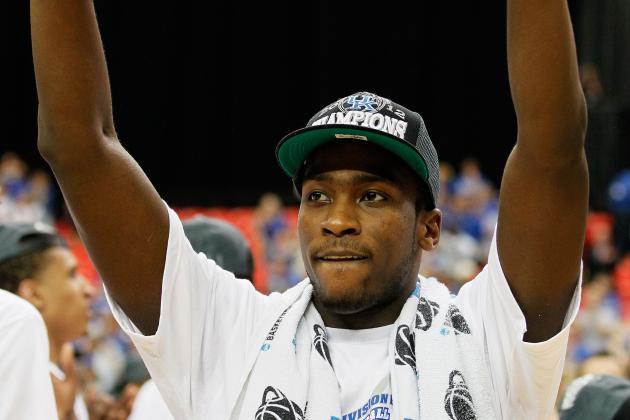 Kevin C. Cox/Getty Images

Michael Kidd-Gilchrist is one of my favorite players in this class because of his non-stop motor and willingness to do the dirty work. He will relentlessly guard the best wing player on the opposing team and will rebound at an above-average rate for a shooting guard.
However, MKG does need to work on his shot so he doesn't get the "Rondo treatment" and have guys completely back off him. Once he develops a decent shot, he will be a force to be reckoned with.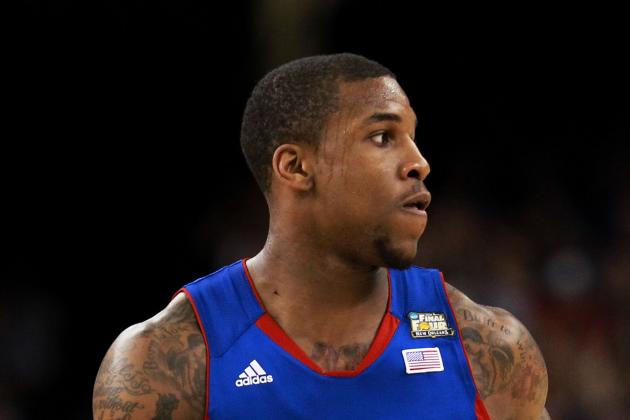 Ronald Martinez/Getty Images

Thomas Robinson is an absolute physical freak and easily the best power forward in this draft class. Robinson's athleticism and agility, mixed with his knack for outworking the opposition, make him a deadly force in the paint.
Robinson has the potential to immediately contribute in the NBA and should be a front-runner for the Rookie of the Year award.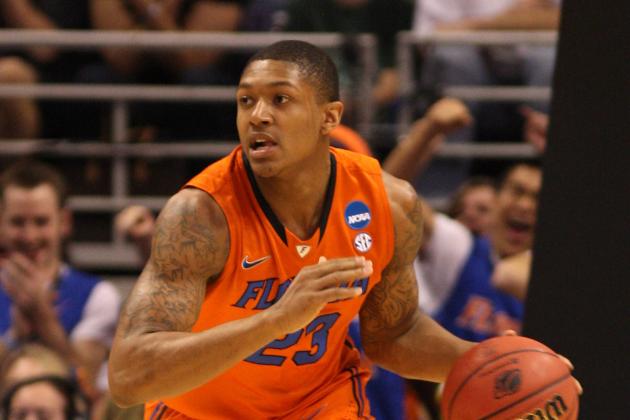 Christian Petersen/Getty Images

Bradley Beal is one of the best shooters in the draft class and a plus rebounder for his size. His ability to create his own shot is key and, no doubt, will aid him against NBA defenders. Beal fits the same mold as Dwyane Wade, although Beal has a better shot and less athleticism than Wade.
Beal's sweet stroke would be perfect for the Cavs to pair in the backcourt with Kyrie Irving, which would give the team a young, dynamic backcourt for many years to come.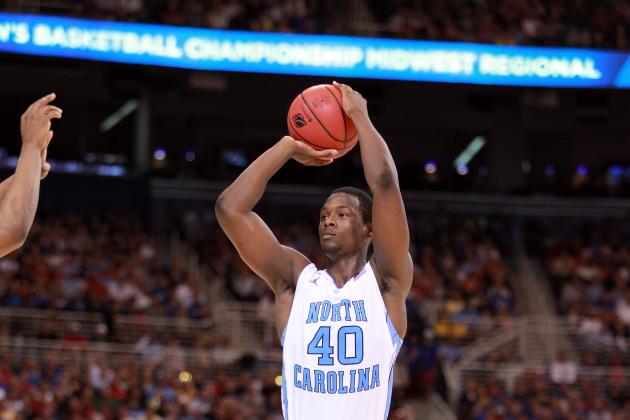 Andy Lyons/Getty Images

Harrison Barnes would have been a Top-Five draft pick had he come out last season, but he stayed in school and figures to be back near the top of the draft.
Barnes is a pure scorer with a reliable jumper and has all the physical tools to succeed, but he has to get better at creating his own shots in one-on-one situations.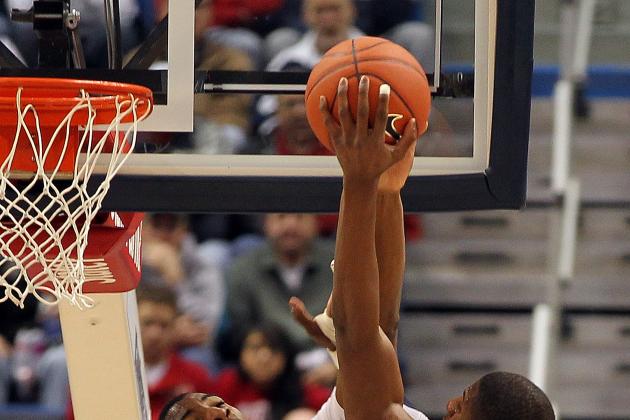 Jim Rogash/Getty Images

From a purely physical standpoint, Andre Drummond is dominating and reminds me of a more talented Dwight Howard. He could be that good.
It's rarely that easy, though, as Drummond has been criticized for taking plays off and basically going through the motions. Even with his occasional lack of effort, he will be a huge upgrade for the Portland Trail Blazers and will fill the hole down low that Greg Oden was drafted to fill five years ago.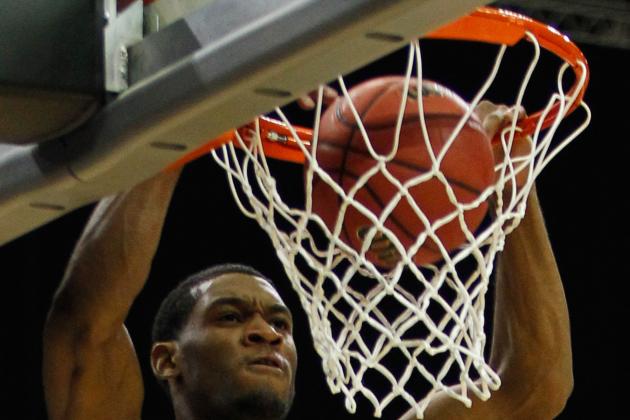 Streeter Lecka/Getty Images

Perry Jones III is truly an enigma, as he is one of the most talented players in the draft class, but he does not play up to that talent. Jones III has Kevin Durant size and skills, and he could create big-time mismatches for opposing defenses.
This pick is more on upside than anything else and is a classic risk/reward draft pick that will either be a catastrophe or will pay off big time.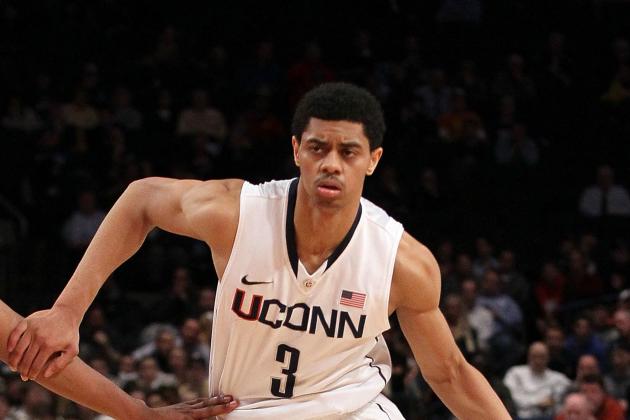 Jim McIsaac/Getty Images

Jeremy Lamb was a freshman sensation on Connecticut's championship team from two seasons ago, but the team struggled this year, and Lamb lost a bit of his stock.
Apart from his team's down season, Lamb had an excellent campaign for the Huskies. He has the athleticism and shooting touch to immediately produce in the NBA, and his greatest gift might be his length, which will allow him to get shots off over taller defenders.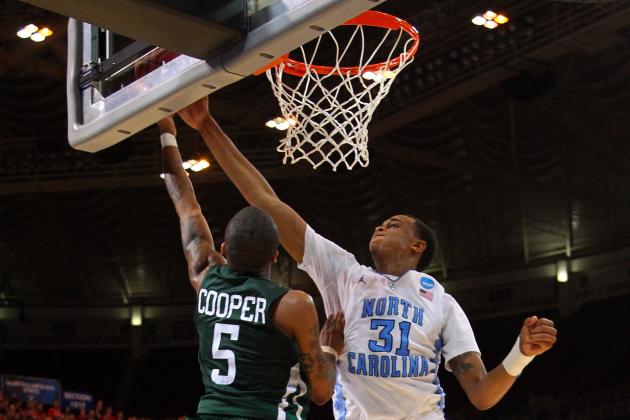 Dilip Vishwanat/Getty Images

John Henson is like Anthony Davis, with his shot-blocking prowess and ability to alter the shots he doesn't block. Henson is very smart with his timing on shots and usually stays away from fouling on his attempts.
Henson, also like Davis, needs to add much more muscle to handle the physicality of the low-post game in the NBA.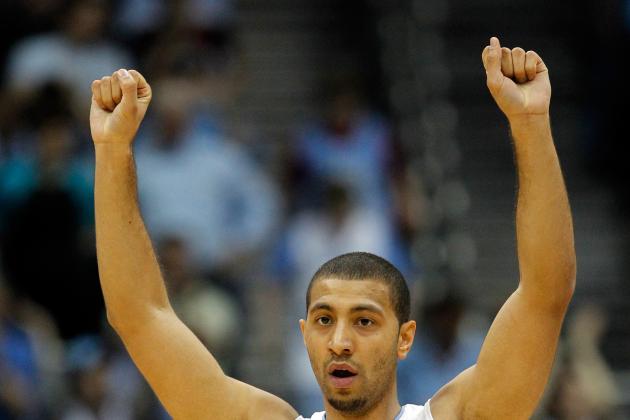 Streeter Lecka/Getty Images

Kendall Marshall is the best pure point guard in the league and would form a deadly pick-and-roll combo with Anthony Davis in the Big Easy.
Marshall's ability to pass the rock around at just the right time reminds be a little of Steve Nash. While Damian Lillard is still on the board and is a bigger scorer, Marshall is better-equipped to distribute the ball to Eric Gordon, Trevor Ariza and Davis.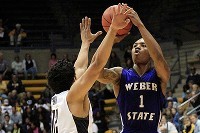 Photo from: http://espn.go.com/blog/collegebasketballnation/post/_/id/46263/damian-lillard-drawing-nba-attention
Damian Lillard is a dynamic scorer who happens to play a position traditionally void of big-time scoring threats. Lillard was second in the NCAA in scoring at 24.4 points per game and could be a Derrick Rose kind of scorer in the NBA.
Team Lillard with Drummond, and the Portland Trail Blazers will have two building blocks for the future.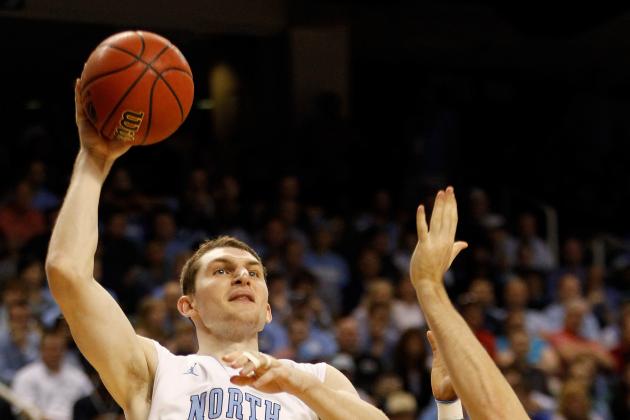 Streeter Lecka/Getty Images

The Milwaukee Bucks traded away Andrew Bogut last season in the deal that brought scorer Monta Ellis to the team, and they need to fill the void left by Bogut.
Tyler Zeller's versatile game is just what the team needs.
Zeller can bang down low and step back to shoot a jumper, which could create lanes for Ellis and Brandon Jennings. If Zeller is able to improve his defensive intensity, the Bucks could be a formidable team next season.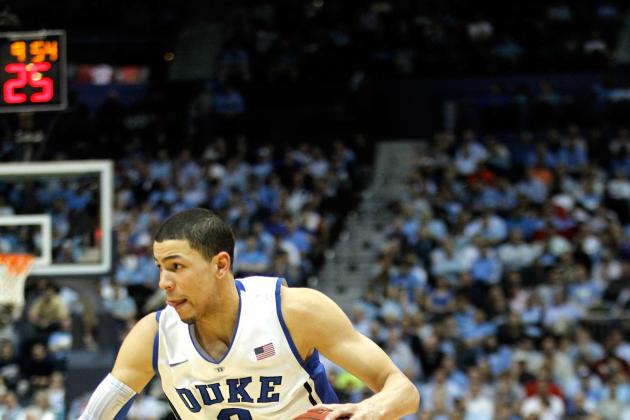 Streeter Lecka/Getty Images

The Phoenix Suns will probably lose Steve Nash this offseason and will desperately need a new face of the franchise.
Austin Rivers has the potential to be that and much more.
Rivers is undersized at 6'4", but his athleticism makes up for his lack of size and allows him to get nice lift on his shots. Rivers could possibly be a steal at this point in the draft if he develops into a dynamic scorer and works on his defense.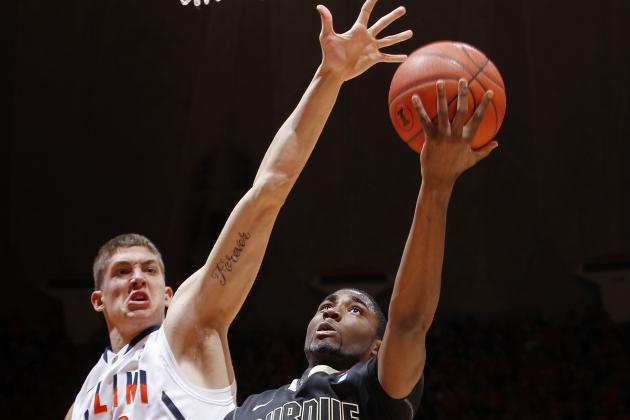 Joe Robbins/Getty Images

Meyers Leonard is raw, but seven-footers don't grow on trees—especially seven-footers with plus athleticism and defensive awareness. The Rockets desperately need a future franchise center, and Leonard seems perfect for the role.
Throw in the chance for Leonard to learn under skilled former big man Kevin McHale, and this pick seems more and more likely.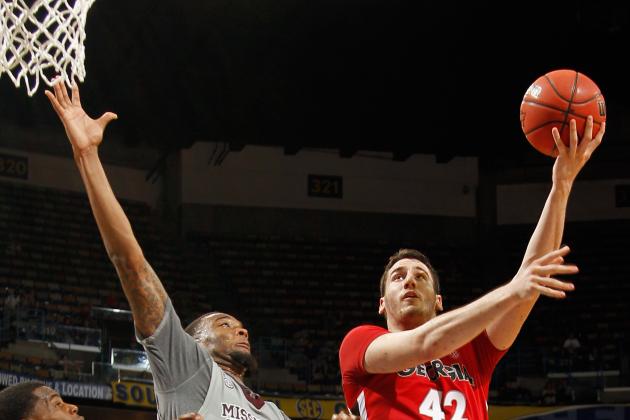 Chris Graythen/Getty Images

Based on pure talent alone, Arnett Moultrie would go somewhere in the Top 10. The lefty has a nice jumper, above-average athleticism and has "star" written all over him.
Moultrie needs to work on adding muscle to his somewhat-wiry frame and being more selective with his shot selection. If he can do that, Moultrie will end up being a top player from this draft class.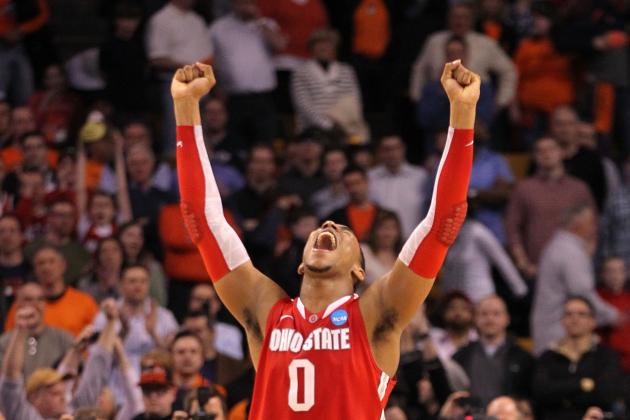 Jim Rogash/Getty Images

The Houston Rockets selected Meyers Leonard with the 14th pick to shore up the center position, so taking Jared Sullinger with the 16th pick is almost a luxury and would give the team a deep, versatile frontcourt.
Sullinger is undersized, but one of the more fundamental big men in the draft class. He has the desire to greatly improve and could end up being a nice value pick outside the lottery.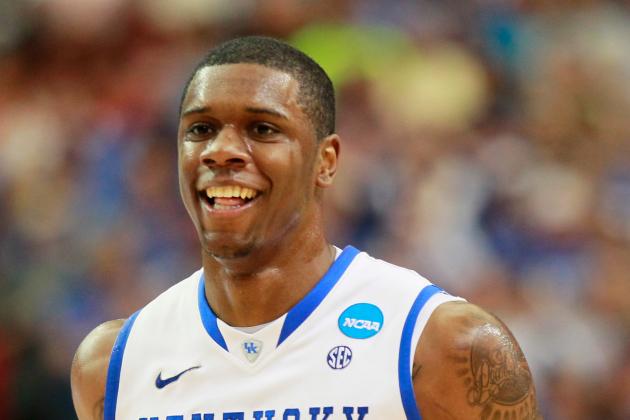 Kevin C. Cox/Getty Images

Terrence Jones is a versatile player who is big enough to bang down low, but likes to stretch the floor with a decent mid-range shot. The Dallas Mavericks could use an eventual replacement for Shawn Marion, and Jones fits the bill.
The downside to Jones is his shot selection and desire to play the game, both of which can be questionable, at best, during some games.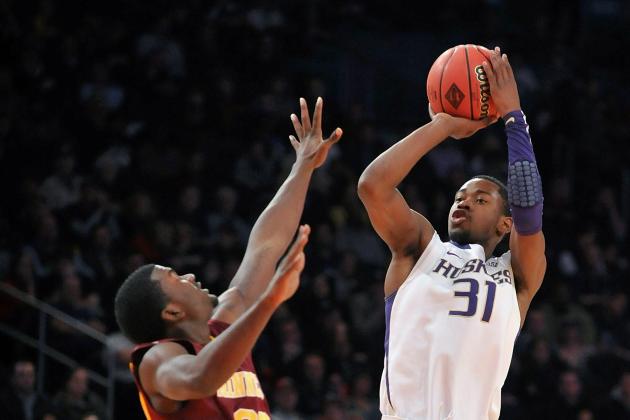 Jason Szenes/Getty Images

The Minnesota Timberwolves thought they were solving their shooting guard situation for many years to come when they selected Wesley Johnson with the fourth overall pick in the 2009 draft, but that experiment has largely failed.
That's where Terrence Ross comes in.
Ross is a deadly shooter from deep who can slash to the basket and finish over people with his athleticism. Put him in a lineup with Ricky Rubio, Derrick Williams and Kevin Love, and the T-Wolves have a nice nucleus for the future.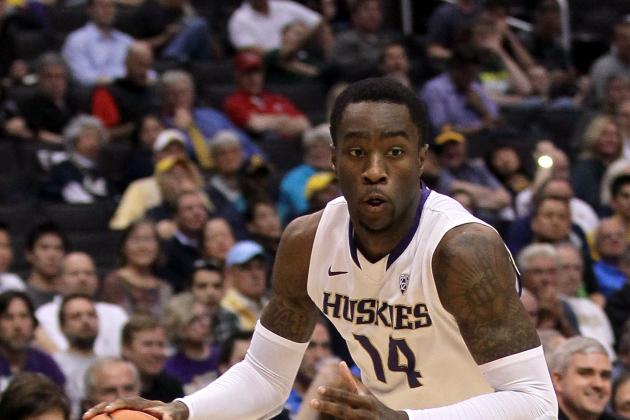 Stephen Dunn/Getty Images

Tony Wroten Jr. is a major talent and could end up being the best point guard from this draft class. His size and ability to penetrate make him tough to guard, which reminds me of Tyreke Evans.
One glaring flaw in Wroten's game is his shooting touch, which is suspect, at best.
The Orlando Magic need star power to try to convince Dwight Howard to stay, and Wroten could be just that.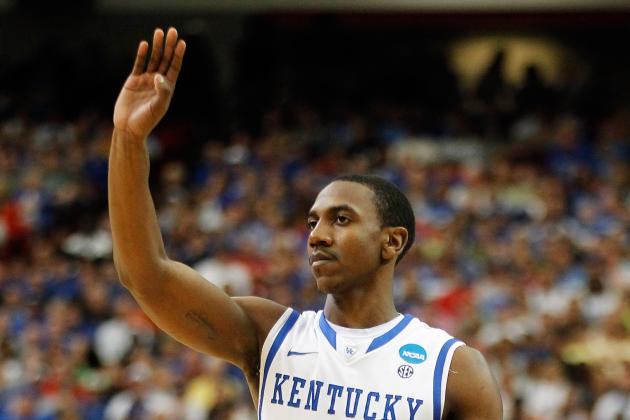 Streeter Lecka/Getty Images

Marquis Teague didn't get too much attention in college since he played with Anthony Davis, Michael Kidd-Gilchrist, Terrence Jones and Doron Lamb, but Teague can ball and plays the most important position on the floor: point guard.
Teague is lightning quick and would be a nice backup point guard to Ty Lawson. Imagine if Denver put both Lawson and Teague in the backcourt at the same time—they would easily be the fastest backcourt duo in the league.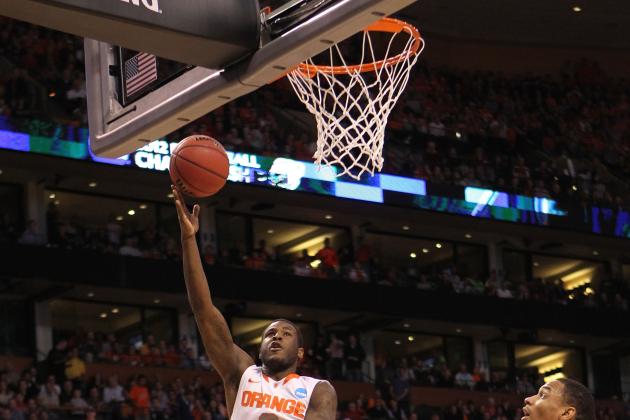 Jim Rogash/Getty Images

Dion Waiters has been flying up draft boards, and some—like Chad Ford of ESPN—have Waiters as a Top 10 prospect on talent alone.
Waiters is a slasher who can get his shot off in multiple situations, something the Boston Celtics will need since Ray Allen is set to be a free agent. If Waiters turns out as good as scouts like Ford think he can be, the Celtics will get a starting shooting guard late in the first round. Not a bad bargain.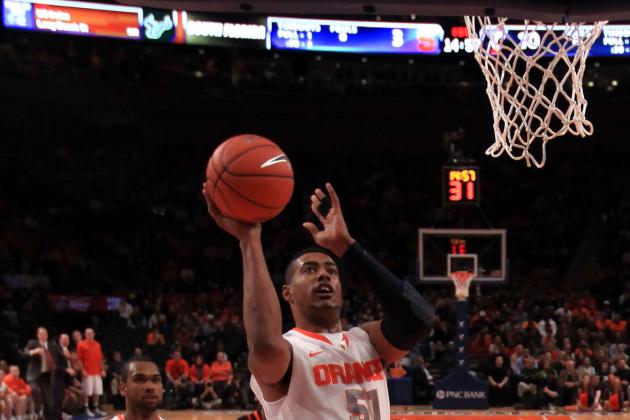 Chris Trotman/Getty Images

The Boston Celtics stay with Syracuse and pair Fab Melo with Dion Waiters to form an all-Syracuse first round for the team.
The team desperately needs size down low, and Melo definitely fits the bill.
Melo is already able to help the Celtics defense in the paint, but his offensive game needs some work. He could turn into a nice role-player on a reloading Boston team in a couple years.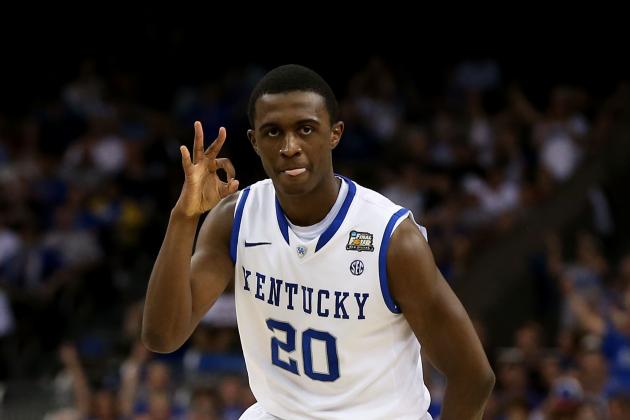 Jeff Gross/Getty Images

The Atlanta Hawks have a solid starting unit, but their bench lacks firepower and could use a shooter like Doron Lamb to spread the floor. Lamb is one of the best three-point shooters in this draft class and would become the top scoring threat off the bench for the team.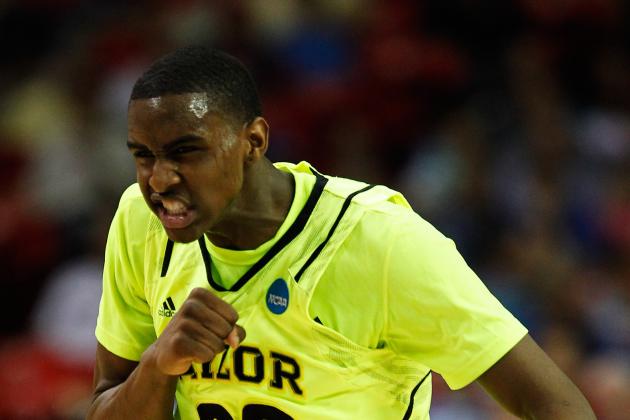 Streeter Lecka/Getty Images

Quincy Miller shocked everybody when he announced he was entering the NBA draft, but there's no denying his talent. The Cleveland Cavaliers could get a steal with drafting Miller in the lower half of the first round.
Miller has top-level talent, but he still doesn't look fully recovered from a torn ACL in high school. His recovery will be key in how much he is able to contribute to his new team.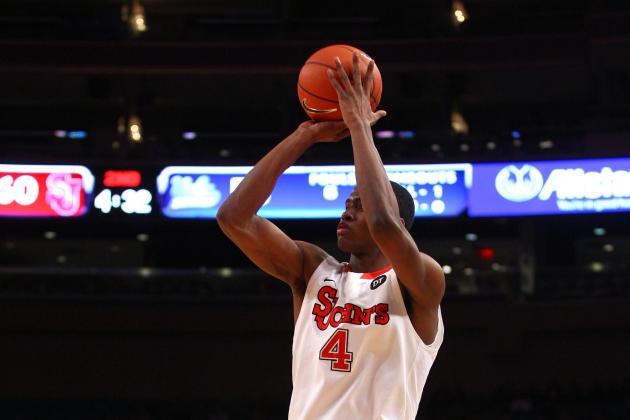 Chris Chambers/Getty Images

Moe Harkless surprised plenty when he declared for the NBA after his freshman season with St. John's, but there's no denying the kid has talent and potential. As it is, he is a superb athlete with budding offensive skills.
Harkless is 6'8" and can play both the shooting guard and small forward positions with intensity. The main knock on Harkless is his inconsistent shooting.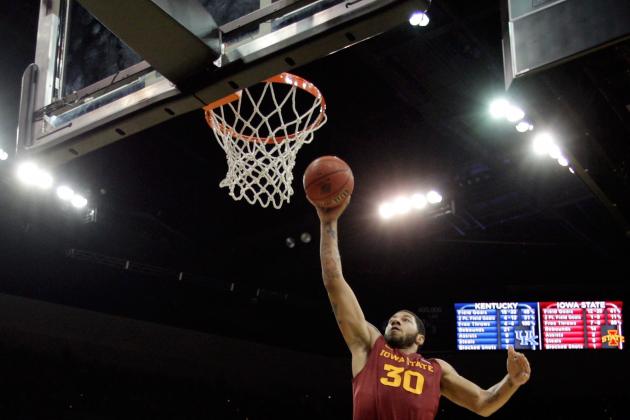 Andy Lyons/Getty Images

Royce White would be a much higher pick based on his immense talent, but his off-the-court issues cause him to fall to the end of the first round. White suffers from an anxiety disorder and left the Minnesota basketball team after a couple run-ins with the law.
At this juncture of the first round, taking a shot at a talent like White is a win-win situation. The worst that can happen is he doesn't pan out. If he does pan out, the Pacers would have several dynamic scoring threats on the perimeter.
Jamie Sabau/Getty Images

The Miami Heat are already a dynamic squad because of the Big Three, but the team really needs help down low. A center like Fab Melo would be ideal at this pick, but with no standout centers available, the team goes for value in Draymond Green.
Green is a similar player to Udonis Haslem, but Green has much better passing skills. He is the kind of glue guy needed to win not one, not two, not three, not four championships in the NBA.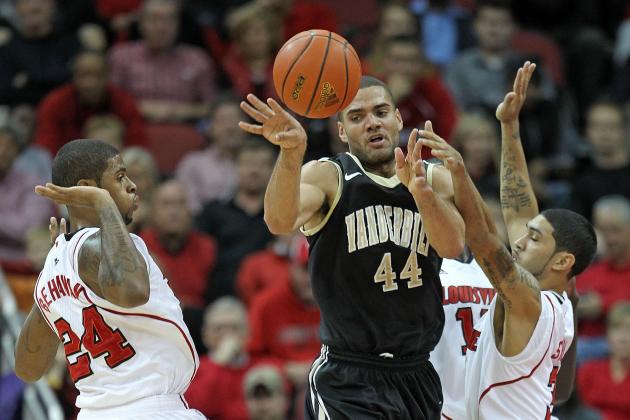 Andy Lyons/Getty Images

The Oklahoma City Thunder already have a pretty good team, so any addition this late in the draft probably won't play too much.
Jeffrey Taylor is a nice prospect to have and could be Kevin Durant's backup.
Taylor is an above-average defender and is an athlete who has done solid working improving his jump shot. He will have the opportunity to learn under Durant and really grow as a player in OKC.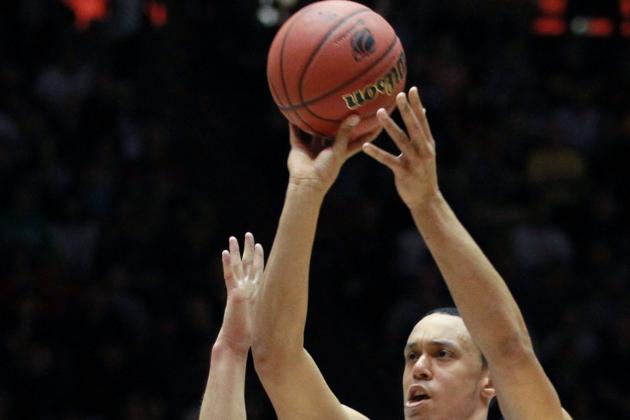 Ronald Martinez/Getty Images

The Chicago Bulls, when healthy, are one of the best teams in the NBA and really don't have many holes.
One area that could use improvement, though, is the shooting guard position, where Richard Hamilton, Ronnie Brewer and Kyle Korver share minutes.
The Bulls could use a long-term solution at the position, as all three aforementioned guys are not in the team's long-term plans. The sweet stroke of Jenkins would be the perfect complement to Rose's attacking style and would help create lanes for him.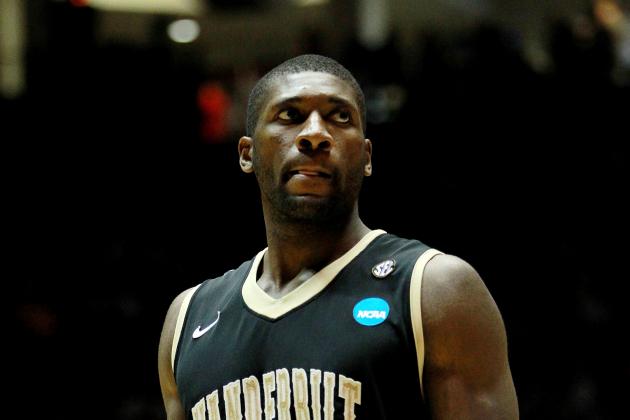 Ronald Martinez/Getty Images

With the last pick of the first round, the Golden State Warriors bolster their frontline with the addition of physical big man Festus Ezeli from Vanderbilt.
Ezeli's defense is what catches the eye of the Warriors, and he could get starter minutes toward the end of his rookie season.