Dwight Howard and Deron Williams' Constant Indecision Makes Them a Perfect Match
May 30, 2012

Dwight Howard and Deron Williams: a match made in heaven?
It's certainly sounding as if the two deserve to play with one another, and it has nothing to do with either player's ability on the basketball court.
It's not new information that Williams' long-term future with the Brooklyn Nets is in question. It's also not a new revelation that D-Will sought for Howard to join him with the hope of building sustainable success together and turning around the franchise.
However, things went awry when Howard decided to waive his early termination clause for the 2012-13 season. After constant flip-flopping, the big man ultimately decided that he wanted to remain in Orlando.
"Man, listen, you know my heart, my soul and everything I have is in Orlando," Howard told Real GM. "I just can't leave it behind."
But now, something has changed (once again) for Howard. According to Adrian Wojnarowski of Yahoo! Sports, "Superman" is looking to fly away from the Magic before next season begins:
Howard regrets forgoing his early termination option on his 2012-13 contract, sources said, and wants a trade before next season. Nevertheless, the Nets become far less appealing should Williams leave in July as a free agent, so Howard's camp is applying pressure on Orlando to expedite a deal once it hires a new general manager.
That sounds like someone who wants to leave Orlando, doesn't it?
Howard, who finished his season on the sidelines due to back surgery, seems to already be plotting his escape from the team that he claimed he couldn't "leave behind."
But how about Williams?
Despite the fact that general manager Billy King allowed Williams to play the role of "assistant GM," the point guard previously told Marc J. Spears of Yahoo! Sports that he fully intended to explore his options in free agency:
I didn't ask to be here. I got traded. I didn't come here being a free agent. This is the first time that I'm a free agent in my career.
At that time, Williams also added that he "probably" would have re-signed with the Nets had the team dealt for Howard prior to the deadline, but D-Will acknowledged that it impacted his plans. Via Spears:
Oh yeah, it definitely would have changed things. I've already made it known that if he would have come I probably would have stayed.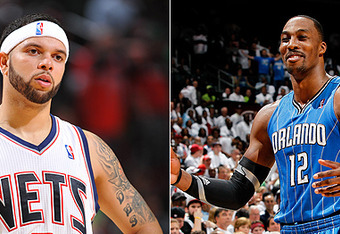 The two want to play with one another—that's obvious. These guys are friends both on and off the floor, and there's no doubt that they understand the trend that is going on in the league currently. To have an opportunity to move into the Barclays Center with both players wearing the Brooklyn uniform is undoubtedly appealing.
Now, Williams' future is looking cloudy in Brooklyn as he heads into unrestricted free agency.
Again, from Wojnarowski:
If the Brooklyn Nets win the No. 1 pick in the NBA's draft lottery on Wednesday night – and the chance to secure Kentucky center Anthony Davis – it won't be enough for Williams to sign a contract extension, league sources told Yahoo! Sports.

"It's Dwight Howard or bust," said a league source who has spoken to Williams.
And there you have it.
The Nets' only chance of having their own 2012 first-round draft pick is if they land in the top three. Otherwise, Brooklyn will send its selection to Portland as part of the trade that brought Gerald Wallace to the team at the deadline. To say the Nets are between a rock and a hard place with Williams would be a gross understatement.
If—and it's a big if—Brooklyn lands the top overall pick and a chance to draft Anthony Davis, there is no question that the team will immediately look to explore a deal with Orlando centered around Howard. Although some have argued against such a move, if it's one that brings Howard to town while keeping Williams wearing the same uniform, it's a trade that has to be made.
These two guys have been chomping at the bit to play with one another, and seeing as how they're clearly making decisions based on each other, maybe it will only be a matter of time until the two wind up on the same team.
I'd welcome that, if for no other reason than we wouldn't have to hear about the constant indecision any longer.
As for the actual product on the court? Well, that wouldn't be so bad either.