NBA Draft 2012: Toronto Raptors Big Board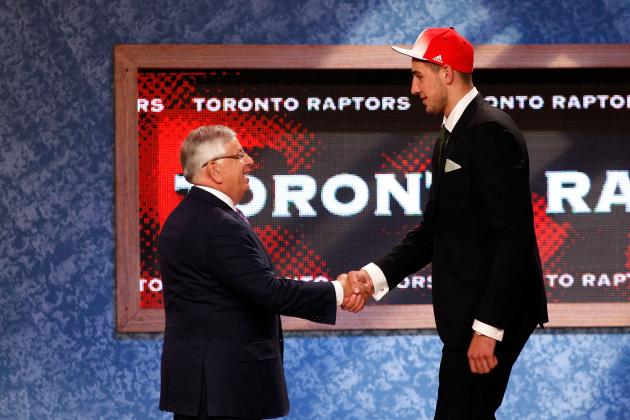 Mike Stobe/Getty Images

The Raptors are likely to end up with somewhere around the eighth overall pick in this year's draft. With the lottery coming up and the pre-draft combine nearing, I took the time to do up a Raptors big board. Stay posted for updates following the draft lottery.
Begin Slideshow

»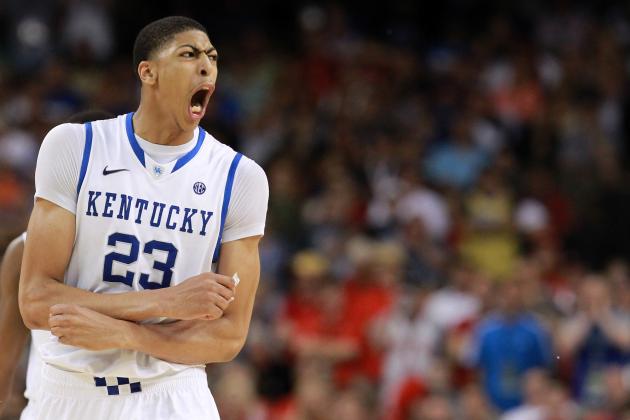 Ronald Martinez/Getty Images

Davis is the deserving consensus No. 1 overall pick. A frontcourt of him and Jonas Valanciunas with Bargnani coming off the bench as a scoring sixth man would be a huge step forward for this team.

Consequences

Drafting Davis gives the Raptors a dominant frontcourt and means they would then put all their assets toward perimeter shooters and lockdown defenders in the back court and on the wing.
They'd accomplish this via trade and free agency, as they would make Ed Davis available and make full use of their cap space and their amnesty.
Doug Pensinger/Getty Images

Beal gives the Raptors a scorer in the backcourt who can both shoot the three and attack the rim.
He's an above average defender with a 6-8 wingspan. He probably won't be the next Ray Allen, but I'd say he'll be better than DeRozan on offense and he is already a better defender.

Consequences
The long-term thinking is that Beal would eventually replace DeRozan as our starting SG, leaving DDR either as our sixth man or trade bait.
I prefer the first option.
DeRozan would be superb as the leader of our second unit, assuming he embraces that role and we can re-sign him for the right price. As for Beal, his future looks bright and he and Jonas Valanciunas would likely surpass Bargs and DDR as the stars of this team.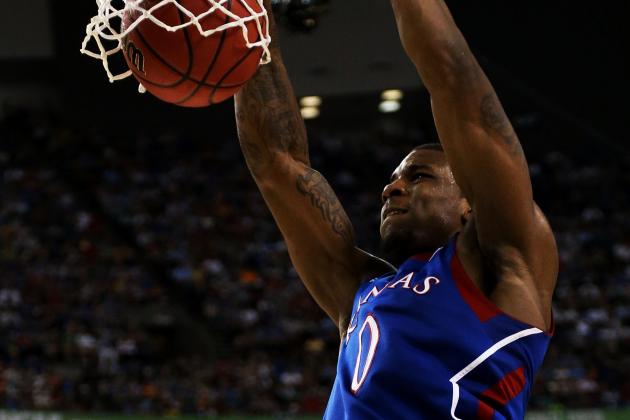 Ronald Martinez/Getty Images

Are you surprised that MKG still hasn't made an appearance on my list? Normally I would be, but I've been doing some thinking lately.
Bryan Colangelo seems like he wants to make a playoff run next year, and his expiring contract only supports that theory. Drafting Thomas Robinson might be the quickest way to turn this team around without drafting Anthony Davis.
Thomas Robinson and Jonas Valanciunas would make a great frontcourt duo. Neither player is particularly gifted offensively, but they both have developing offensive games and the potential is certainly there on that side of the ball.
On defense, they're both great. JV is a seven footer and Robinson, although slightly undersized, is very athletic and would probably flourish under Dwayne Casey's coaching.
Consequences
Robinson could potentially start right away, as he is one of the most NBA-ready players in this year's draft. The Raps could either move Bargs to a sixth man role, with his offense providing a huge boost off the bench, or they could really shake things up by trading Bargs and committing to build around JV, DDR and Thomas Robinson under the tutelage of Dwayne Casey and with Jose Calderon at the point.
If they can surround this trio with the right shooters and defenders in the backcourt and on the wing, the Raptors would likely make the playoffs next and BC would have created enough hype to stick around for a few more seasons.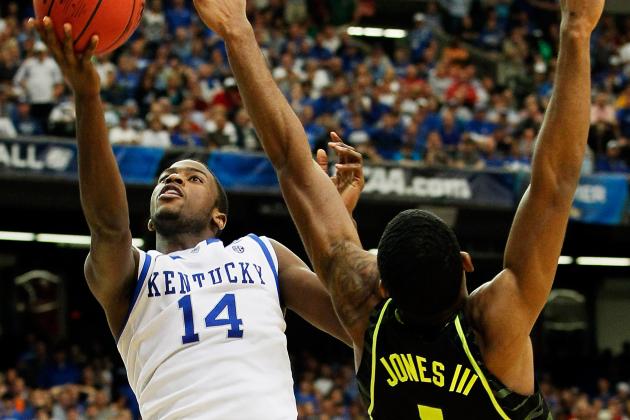 Kevin C. Cox/Getty Images

MKG is great prospect, but he's not going to be a star. His motor, defense and ability to attack the rim is just what the Raptors need, but they'll have to bring in some perimeter shooters to make this work, especially if they plan on keeping DeMar DeRozan as their starting SG.

Consequences

The bottom line is by bringing in JV and MKG the Raptors force themselves to make some important decisions regarding the futures of DeMar DeRozan and Andrea Bargnani. JV and MKG would eventually replace Bargs and DDR as the two most important players on the team, thus forcing the Raptors Brass to decide whether they want to make a playoff push or rebuild around JV and MKG.
All indications point to Colangelo and company making a playoff push, which I tend to agree with. So I expect them to hold on to DeMar and Bargs this summer and then see what a starting five of Calderon, DeRozan, Kidd-Gilchrist, Bargnani and Valanciunas can do.
If things aren't working out come next year's trade deadline, then the Raps can put any or all of DDR, Bargnani and Jose on the trading block.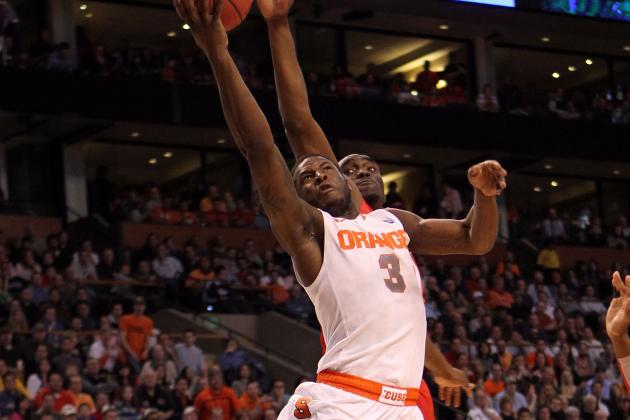 Jim Rogash/Getty Images

Dion Waiters is considered to be the biggest sleeper in this year's draft. ESPN's Chad Ford reported GM went as far as to say that he and Anthony Davis are the only two potential superstars in this year's draft and stated that Waiters has some Dwyane Wade in him.
He's not going to be the next Dwyane Wade, but he's a great scorer with range on his jumper and the ability to attack the rim. He struggled in his freshman season at Syracuse while clashing with coach Boheim, but he seems to have really matured since then and he bounced back this past season as he came off the bench for the Orange.
He's been working out in Vegas in preparation for the pre-daft combine in Chicago, and he is looking to be in great shape, physically, offensively and defensively. He also has the play-making skills to move to PG and he's certainly worth keeping an eye on as the draft nears.
If the Raps end up with the eighth pick, Waiters could be a big-time steal.


Consequences

Waiter's defense and conditioning have been the targets of much questioning, but he seems to have really matured and improved in both areas. It is likely he would improve even more under the coaching of Dwayne Casey, and he could either supplant DDR or become our PG of the future.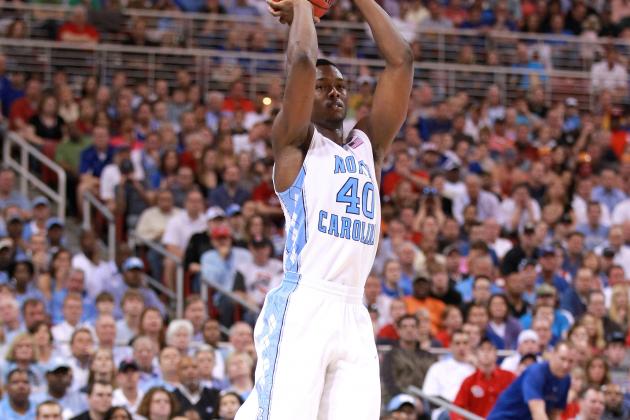 Andy Lyons/Getty Images

Harrison Barnes struggled this past season, but he could still be a great fit for the Raptors; and if the Raptors do plan on making a playoff push next year, Barnes would be the next best choice after Thomas Robinson.
As far as the long-term outlook goes, Barnes could easily be the SF of the future. He struggles to create his own shots, but his perimeter shooting and potential to be a lockdown defender are just what the Raptors need at the three.

Consequence
Barnes could come in and start right away at SF, and he along with Jose, DDR, Bargs and JV would give the Raptors a shot at making the playoffs next year while providing a solid foundation to build around…assuming things work out well for him. That being said, he is still available. With the eighth overall pick, there is far less risk and he could end up being a steal for the Raptors.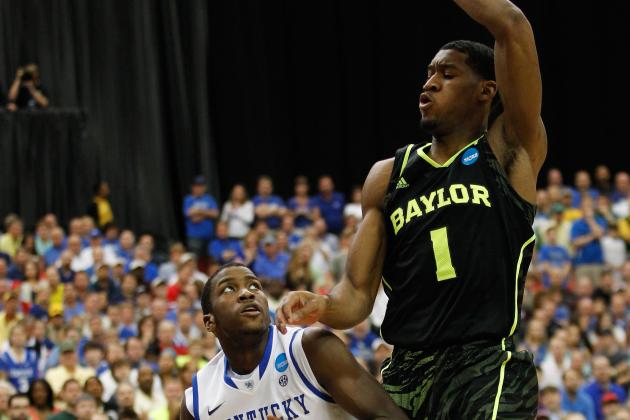 Streeter Lecka/Getty Images

Perry Jones is a tantalizing, yet very frustrating, prospect. He is a skilled all-around player who has the potential to beast of a SF à la poor man's Kevin Durant. The question is, can he finally figure things out?
If he can figure things out, I think he'd be a solid fit for the Raptors at SF, and he stands to benefit from Dwayne Casey's coaching.
Seventh or eighth overall, he's a great pick for the Raps as they land one of the best players available while filling a whole in the starting rotation.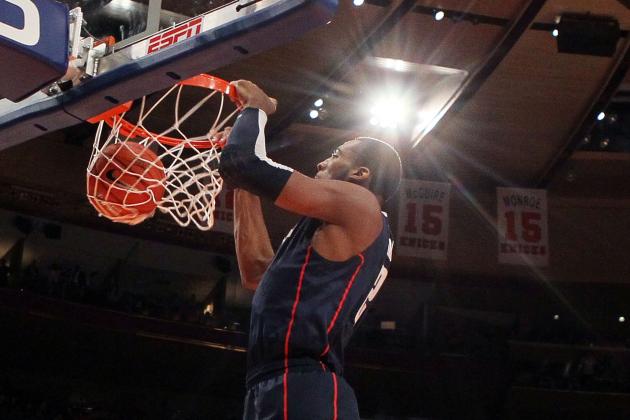 Jim McIsaac/Getty Images

This may comes as a surprise to many, but as frustrating as Drummond is, if he's still available after all the names ahead of him on this list are gone, then the Raptors would be crazy not to take him. In the top five or higher I'd say he's a big risk, especially for the Raptors who have a logjam at PF.
But this late, you just have to take him on potential alone.

Consequence

He will not have an immediate impact and would not be playing many minutes, that is, if he wasn't sent down to the league for a while to learn and improve.
But down the road you could be looking at an Amare' Stoudemire type of PF, and, depending how JV develops, that could make for quite the front court. The problem is, if BC was to draft Drummond he'd get a lot of flack and probably wouldn't have a job here after next year.
That being said, with the eighth overall pick you'd be nuts not to take him.