NBA Draft Lottery 2012: Predicting Winners and Losers Based on Draft History
May 28, 2012

Mike Stobe/Getty Images
The NBA Draft is supposed to be the great equalizer—one of the primary tools employed by the powers-that-be to ensure that parity reigns supreme in the Association.
Except it doesn't quite work like that.
Even casual fans are aware that the NBA is a superstar-driven league. It always has been, and will continue to be for the near future. Those superstars are found in the draft, and a team needs to be bad enough—or fortunate enough, thanks to the draft lottery—to find themselves in the right position to add one to their team.
It should be noted that high draft picks don't directly translate to future success, however. It still takes a shrewd general manager and a smart front office to figure out which players are legit NBA talents, and as we've seen over the past few years, there are a number of franchises that struggle to get it right.
With the draft lottery coming later this week, let's take a look at those teams that figure to be winners and losers in this year's draft based on their recent history.
WINNERS
Washington: For what it's worth, the Wizards aren't all that bad when it comes to the draft. They've only had two top-15 selections in the past seven years, and one of those picks came in 2010 when they chose John Wall (Jan Vesely was picked No. 6 overall last season).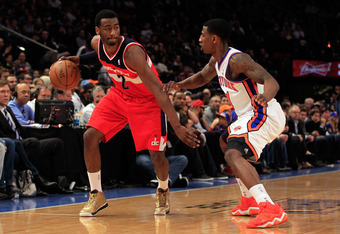 Chris Trotman/Getty Images
Dating back to 2004, Washington's front office has hit on a number of players in the draft besides Wall (Devin Harris, Andray Blatche, Nick Young, Javale McGee, Bill Walker). That number is likely to increase, considering the fact that the Wizards are guaranteed to finish no worse than No. 5 in the lottery this year.
Sacramento: When strictly looking at their draft history, it's difficult to explain why the Sacramento Kings have had little success in recent years. 
In the last five seasons alone, the team has selected Spencer Hawes, Jason Thompson, Tyreke Evans, Omri Casspi, DeMarcus Cousins, Isaiah Thomas and Bismack Biyombo (whom they swiftly traded in a three team deal that brought Jimmer Fredette to Sacramento.
Right now, the team is sitting at the No. 5 spot in the draft, but regardless of how the final order shakes out, the Kings will probably make a smart decision with their pick once June 28 rolls around.
Detroit: The stain of drafting Darko Milicic will soil the Pistons' draft record for quite some time (as it should). But for what it's worth, in the last three years, Detroit has acquired a fair amount of talent in the draft (Brandon Knight, Kyle Singler, Greg Monroe, Austin Daye, Jonas Jerebko, Chase Budinger).
The Pistons only have a 6.1 percent chance of improving their position in Wednesday's draft lottery, but if their track record is any indication, they'll be just fine no matter where they end up.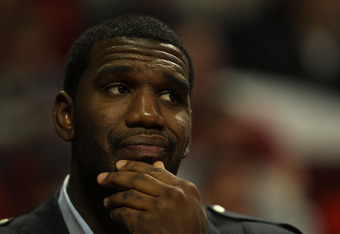 Jonathan Daniel/Getty Images
LOSERS
Portland: Greg Oden is the name that everyone focuses on the most, but Portland has made quite a few suspect picks over the past decade. Elliot Williams? Victor Claver? Qyntel Woods, anyone?
Even the players that they've "hit" on are mediocre NBA talents at best (Martell Webster, Travis Outlaw, Tyrus Thomas). With such an awful history, the Trail Blazers might be better off hiring an independent consultant to handle their drafting duties from here on out.
Brooklyn: The Nets have taken draft futility to the next level. Brook Lopez is the only impact player that the franchise has selected in the past eleven years that's still with the team (and even he may leave this summer via free agency).
The team did pick Ryan Anderson in 2008, but traded him (and Vince Carter) to the Orlando Magic for Rafer Alston, Tony Battie and Courtney Lee a year later. And if Brooklyn doesn't net a Top 3 selection in year's draft lottery, their first-round pick (currently No. 6 overall) will become the property of the Portland Trail Blazers.
New Orleans: Ever since selecting Chris Paul and Brandon Bass in the 2005 NBA draft, the Hornets' drafting record is an absolute mess. Darren Collison is the best player in a bad bunch, and the team has spent lottery picks on such luminaries as Hilton Armstrong and Julian Wright.
All is not lost, however. With two lottery picks in one of the deepest drafts in years, the snake-bitten Hornets are all but certain to add at least one star-quality player. Not even their suspect draft history can prevent that from happening.
Or can it?