All-NBA First Team 2012: Russell Westbrook Deserved Spot Among NBA's Best
May 24, 2012

Ronald Martinez/Getty Images
The NBA has released the All-NBA First Team, and there is a glaring omission that can't be ignored.
I'm not surprised that Los Angeles Clippers point guard Chris Paul was selected to the team over Russell Westbrook of the Oklahoma City Thunder—but that doesn't make it right.
CP3 landed a spot on the team because of his reputation...which is the same reason Westbrook was stuck with a spot on the All-NBA Second Team. The vote wasn't even close, with Paul nabbing 484 total points (74 first-team votes), while Westbrook was given only 239 (five first-team votes).
This is a popularity contest, and Paul will win it every time. He is a more established brand in this league. He led the NBA in steals (2.53), and he became only the second player in NBA history to average at least 19 points, nine assists, 3.5 rebounds and two steals in a season.
Big deal.
The stats between the two make a strong case for both players:
| | | | | |
| --- | --- | --- | --- | --- |
| Paul | 19.8 PPG | 9.1 APG | 3.5 RPG | 2.53 SPG |
| Westbrook | 23.6 PPG | 5.5 APG | 4.6 RPG | 1.7 SPG |

Westbrook took his game to the next level in a manner that can't be defined by statistics. He finally matured.
One of the big stories of last year's postseason was Westbrook's volatile personality. One game he was the savior, the next one he was the most selfish player of all-time and had to be traded.
There was no in-between.
The offseason was spent wondering if he could ever handle being second fiddle to Kevin Durant.
That all changed this season. He found the perfect blend of aggressiveness and play-making, culminating in a year where he finished sixth in the league in scoring and sported the third-best shooting percentage (47) in the top six, meaning he was one of the most efficient players in the entire league.
Paul was 17th in the league in scoring and his shooting percentage (42.7) was only 16th on the list of the top-20 scorers. Considering how often he gets to the paint, that is not All-NBA First Team-type of numbers.
When it comes to scoring, advantage Westbrook.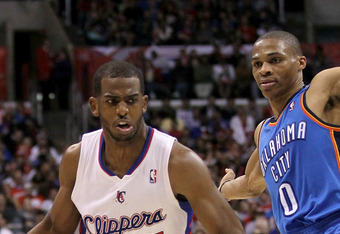 Stephen Dunn/Getty Images
Obviously, CP3 wins in the assists battle. He is a better passer in traffic and has impeccable vision on the fast break, but also plays in an offense where he needs to be the table-setter. Blake Griffin was king of the catch-and-shoot this year. Naturally, Paul is going to get credit for a ton of assists this way.
Westbrook plays in an offense predicated on isolation plays for Durant, James Harden and himself, which leads to less assists. Don't get caught up in the stat. Westbrook still set up plenty of scoring opportunities with his penetration, even if it didn't add a slash to his assist stat line.  
Rebounding is another category where the advantage resides with Westbrook.
Westbrook is an incredible leaper who has natural instincts to anticipate where the ball is going off the rim. This led to him racking up an incredibly high rebounding average (4.6 per game) for a point guard that weighs 185 pounds.
Paul rebounds at times, but is far more interested in saving his knees, which leads me to my final point.
Westbrook played harder than CP3
Another category that you can't calculate (unless you consider rebounding to be a hustle stat), Westbrook, at the age of 23, simply gave more of an effort on a nightly basis than CP3.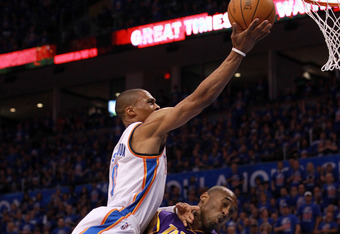 Ronald Martinez/Getty Images
At the age of 27, with a checkered injury history, it's certainly understandable why Paul didn't always give a max effort, but that should count against him this situation. He didn't put forth the same amount of effort Westbrook did.
Not only did Westbrook play in all 66 regular season games, but he did so in a frenetically-paced offense that featured dozens of situations where he had to push the tempo relentlessly, which is why he averaged 3.6 turnovers to Paul's 2.1.
He also was in charge of defending the other team's top guard—something Paul didn't do with any regularity until the final minutes of a close game. CP3 picked his moments on offense and defense; Westbrook was the energizer bunny for the entire 48 minutes.  
The overall effort level of the two resides in Westbrook's favor.
When you are considering who the five-best players were for the 2011-12 season, you have to contemplate the entire body of work. The Thunder finished with the No. 2 seed, while the Clippers finished with the No. 4 seed. There was a six-win difference between the two teams.
Westbrook (and his team) had the better overall season, but he was ultimately denied because of his previous reputation and assist disparity.
And while I know the playoffs aren't factored in, they are certainly a reminder of who the best point guard was in the 2011-12 season.