Udonis Haslem Suspension: NBA Fails with Soft Punishment for Miami Heat PF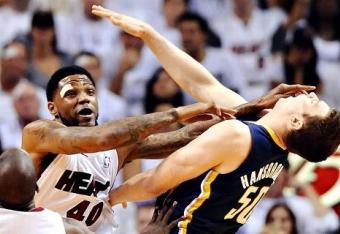 If the NBA was trying to send a message to Udonis Haslem and the Miami Heat with a one-game suspension for his flagrant foul on Indiana's Tyler Hansbrough, it failed horribly.
NBA executive vice president Stu Jackson announced the suspension on Wednesday, along with a three-game ban for Dexter Pittman.
Pittman is a non-factor in this series and was just used to be an enforcer and take someone out in Game 5 to send a message.
Haslem, on the other hand, has played a crucial role in the Heat taking control of the series. His 14-point effort in Game 4 helped take some of the pressure off LeBron James in the fourth quarter of the team's 101-93 win.
His absence for one game is going to be felt, but looking at the on-court mugging he gave Hansbrough, it is hard to see how this is enough. He went up as Hansbrough pulled up to shoot, extended both of his arms and swung them down at Hansbrough's head and shoulders as hard as he could.
Is Udonis Haslem's one-game ban enough punishment?
Haslem was given a flagrant foul for the play, but it was clear what he was doing. There was no intent to block the shot or disrupt Hansbrough's rhythm; he was trying to hit him as hard as possible.
One game is hardly enough for that kind of blatant disregard for the rules and the safety of another player. Is the punishment so soft because Hansbrough was able to get up and keep playing? If Hansbrough had gotten hurt, do you think Haslem would only be down for one game?
You can't pick and choose how to handle suspensions. Pittman's foul was more egregious than Haslem's, but when both players are deliberately trying to hurt someone that kind of thing can't be tolerated.
A one-game ban does nothing to scare off players from going after an opponent if it means they can send their own message. The worst-case scenario is that Haslem will be back on the court for a possible Game 7.
The NBA missed an opportunity to send a stern message with the Haslem suspension. He will be missed in Game 6, though he will be right back out there to help the Heat close out the series if it gets that far.
This article is
What is the duplicate article?
Why is this article offensive?
Where is this article plagiarized from?
Why is this article poorly edited?