In Wake of Pacers vs. Heat Game 5, NBA Must Provide Answers for Officiating
May 23, 2012

Mike Ehrmann/Getty Images
Someone is going to get hurt.
That's all I could think during the waning minutes of a critical Game 5 NBA playoff matchup that saw the Miami Heat dominate the Indiana Pacers on their home court to the tune of 115-83.
Someone is going to get hurt in the wake of a horrendously officiated game where the officials appeared to have zero control over on-court violence. And David Stern must answer for this before it gets any worse.
Now, make no mistake, the Heat are clearly the better team and the officials did little to decide the outcome of the game. LeBron James, Dwyane Wade, Shane Battier and a host of Indiana errors took care of that. When raising red flags over officiating in this contest, we're not discussing the scoreboard.
We're discussing something much more important: player safety. Perhaps the integrity of the game, of the league itself.
The drama largely started when Tyler Hansbrough fouled D-Wade on his strong drive to the basket with roughly 10:23 remaining in the second quarter.
Hansbrough received a Flagrant 1 for his troubles. Reviewing the NBA's definition of this foul:
A flagrant 1 is unnecessary contact. This is usually when a defensive player swings and makes hard contact with the offensive player or makes hard contact and then follows through. 
Was Hansbrough's foul a flagrant one? Let's break it down.
Hansbrough clearly leaves his feet early, and it's obvious this is going to be a shooting foul at the very least.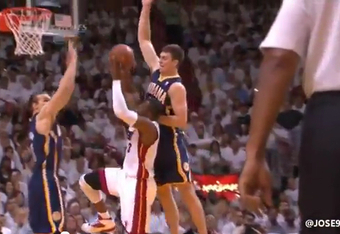 The Pacers power forward then chops down—again a recipe for some sort of call—and makes contact with the ball.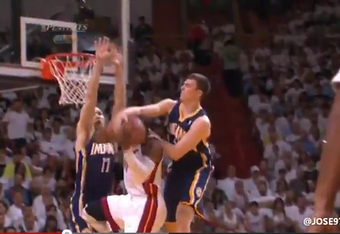 Through this motion, though, he also clearly makes contact with Wade's head, following through with force.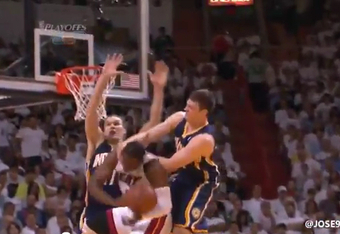 It wouldn't seem evident that Hansbrough initiated this contact with any malicious intent, and some analysts—including TNT's Charles Barkley—clearly opined that it was a simple hard foul.
However, according to the letter of the law and the fact Hansbrough clearly followed through into Wade's head, it would appear the officials were correct in this case.
Credit them for trying to keep control of the game there and set an early precedent.
Just don't credit them for anything beyond that point. Because just one minute later, these same officials managed to erase every sensible action they had taken to that point.
With just under 9:30 remaining in the second quarter, Paul George dished to Hansbrough for what should have been a routine open jump shot.
Udonis Haslem had other plans.
In a clear act of retaliation for what Haslem believed to be an unnecessarily hard foul on Wade just a minute prior, Haslem leapt at Hansbrough and swung down with both arms. The move was less a shot-block attempt and more an attempt at human Whack-a-Mole.
Haslem leaps in the air to begin the play, ostensibly aiming to alter Hansbrough's shot.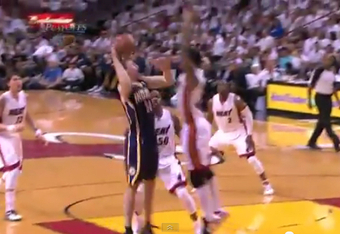 Instead, he clearly takes aim at Hansbrough's face.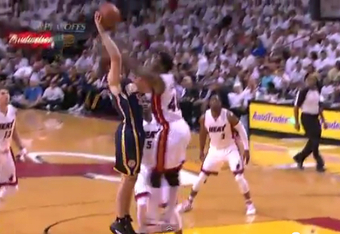 And he follows through with a vicious blow—a double-armed rake of sorts, the kind of I-mean-business flagrant foul that would have seemed far less foreign in the '90s.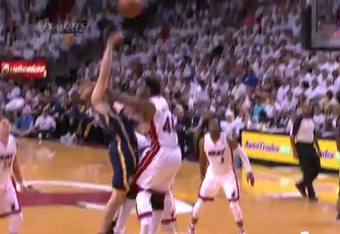 Now, I don't pretend to be a master code-breaker. I could barely follow David Fincher's take on the Zodiac killer, let alone decipher the recorded messaging of the still-at-large maniac.  
But I do feel that the NBA's definition of a Flagrant 2 foul is abundantly clear and hardly a difficult code to crack:
A flagrant foul 2 is unnecessary and excessive contact. This usually has a swinging motion, hard contact, and a follow through.
It would seem, given that definition, that Haslem's foul on Hansbrough was a slam-dunk Flagrant 2. It's all there: the swinging motion, the hard contact, the follow-through. All that was missing, in fact, was the signed confession and the mustache-twirling to the tune of a hearty guffaw.
What referee Derrick Stafford came back with, though, was a simple Flagrant 1. The same penalty assessed to Hansbrough on the other end, despite the fact Hansbrough actually attempted to make a play on the ball, while Haslem had no intention of so much as grazing the thing.
Now, to Stafford's credit, Ira Winderman of the South Florida Sun-Sentinel reported that the official originally intended on making the right call and assessing a Flagrant 2. Fellow official Jason Phillips, who we have to assume was busy grabbing a heaping mess of nachos at the time, just happened to talk him out of it.
This is concerning on a few levels. First, it's pretty clear we still really don't have any clue what constitutes a Flagrant 1 versus a Flagrant 2 in the playoffs.  
Wade leveling Darren Collison from behind in Game 2 of this series was ruled a Flagrant 1 just two games prior, despite sharing some notable commonalities with the definition of a Flagrant 2 and its policy toward contact directed purely at the player, not the ball.
On the other hand, in a contest near the end of the regular season, the New Orleans Hornets' Jason Smith's non-basketball tackle on Los Angeles Clippers forward Blake Griffin was ruled a clear Flagrant 2.
When viewing all of these clips and then holding their succession of events against the NBA's own definition of a Flagrant 2, it's hard to see why there is so much discrepancy in the on-court calls. Clearly, NBA officials are leaning away from Flagrant 2s in the postseason, and clearly they want to keep star players on the court, not barred from the arena.
But it still raises a dangerous question, one that has yet to be answered: Just what in the hell does a player have to do to get thrown out of a game these days?
Reserve Heat center Dexter Pittman did his best to discover the answer to that question in the final minutes of Miami's blowout victory Tuesday night as he took aim at the throat of Pacers reserve guard Lance Stephenson.
Now, again, let's revisit the definition of a Flagrant 2.
Unnecessary and excessive contact?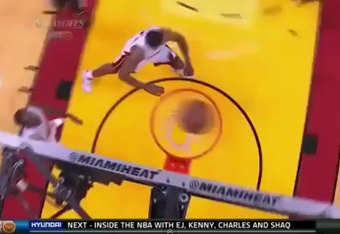 Check. Pittman isn't even attempting to grab the rebound. With the ball still above the cylinder, he's clearly already charging at Stephenson, extending his elbow and taking aim.
Swinging motion and/or hard contact?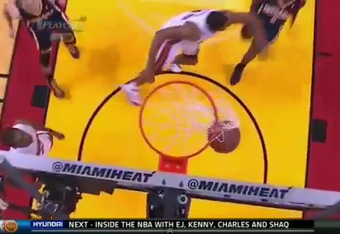 Check. Pittman clearly swings his elbow with full force at Stephenson, initiating hard contact. As is evident in the still frame above, the act of his extending his arm had nothing to do with any intent of grabbing the board. This was a shot at Stephenson's trachea the entire way.
Follow through?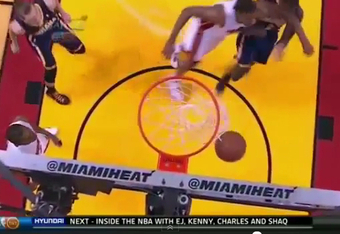 Clearly, Pittman continues the swing all the way through Stephenson's head and neck, leveling the Pacers guard in the process.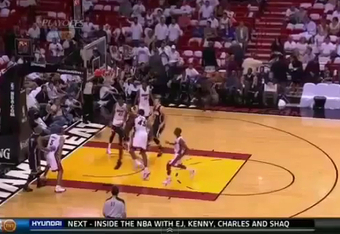 By every individual point of the NBA's definition of a Flagrant 2, it should have been a Flagrant 2. Much like Haslem's foul, there was no play on the ball, and the sole intent was to swing through an opposing player's face.
And yet, it was ruled a Flagrant 1. Just like Haslem's foul.
This is not acceptable officiating, folks. We should not shrug our shoulders at this because it was a blowout game, or because we don't really care about guys like Pittman or Stephenson, or because the outcome wasn't directly affected by these calls.
We should call this what it is: inexcusably horrendous officiating that sets a terrible precedent for the rest of the NBA playoffs, and calls both the competency of NBA officials and the consequential interpretation of the NBA's rulebook into question.
After all, if none of these are Flagrant 2s or worthy of ejecting a player in-game, what's to stop someone from just taking a free swing at Wade, decking James or clotheslining Chalmers? What's to stop someone from re-introducing a guy like James Harden to the hardwood, or knifing into the neck of a player like Tony Parker?
This is bad officiating. This is scared officiating, motivated by fear and making the easy call for the home crowd. And at the end of the day, it's just wrong. Wrong for the players, the fans and the game itself.
Again, the argument is not that these calls necessarily benefit teams like the Heat to any great degree, but rather that they just interrogate the overall integrity of the league, of an organization that arguably features the worst officiating in all of pro sports. Officiating that still finds itself under heavy scrutiny even several years after the Tim Donaghy scandal.
David Stern must take a stand here and address this issue. The NBA must clearly address these fouls and define what constitutes an ejectable offense versus what does not.
If officials continue to set vague or nonsensical precedents, then we're going to see someone get hurt. You can bet that will be the concern heading into Game 6 of this very series, as the Heat travel to face the Pacers at Banker's Life Fieldhouse.
I can guarantee that building will house a big barn of hate, of ill will wished upon Miami players given the transgressions highlighted in South Beach. And I can guarantee, if the NBA does not step in and take action—review its officiating, define rules and suspend guilty players like Haslem and Pittman—that Indiana is going to show no hesitation in returning the favor, one unnecessary cheap shot at a time.
The NBA must answer for these incidents before they boil over and result in a black eye the league doesn't need, especially in a season where it has worked so hard to win back fans in a lockout-shortened season.
If they don't, the blood will be on Stern's hands. And unlike Wade, Collison, Hansbrough and Stephenson, he won't be able to say he didn't see it coming.