How Durant-Westbrook Dynamic Duo Stacks Up Against LeBron and D-Wade
May 21, 2012

Are Kevin Durant and Russell Westbrook the best one-two punch in the entire NBA?
LeBron James and Dwyane Wade were supposed to control the NBA as the most dynamic duo in the league when James signed in South Beach, but the Durant-Westbrook pairing has rapidly improved since the two young stars came into the league.
Durant, drafted second overall in 2007, and Westbrook, drafted fourth overall in 2008, have each improved with every season.
Far more than just a scorer, Durant's game has sharpened at both ends of the floor considerably. He has taken a sizable step forward in becoming a more efficient scorer, has become a much better rebounder and has even improved on his ability to find his teammates consistently.
Furthermore, Durant has demonstrated the ability to make an impact on the defensive side of the ball, something that was a concern in his game coming out of Texas.
Westbrook has dramatically improved since he was drafted out of UCLA. Originally viewed as a "reach" by some, the fourth-year point guard has turned into one of the most talented players in the game.
He is very difficult to guard due to his elite athleticism and speed, and now that Westbrook has a developed jump shot, there is no adequate defensive strategy the opposition can use to slow him down. Westbrook has become a far more complete basketball player, and that has been crucial to his evolution.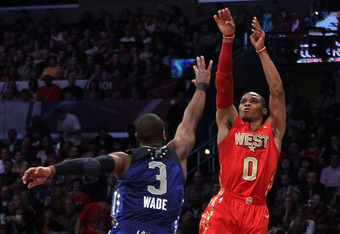 Conversely, we knew what to expect from James and Wade when the two teamed up in South Beach.
Two of the top-five players in the league went to the NBA Finals in their first season together, and the duo is looking to do it for the second straight season in 2012. Although they came up short in 2011, there is no questioning what these two are capable of achieving when firing on all cylinders.
When James "took his talents" to Miami and joined his good friend Wade, the two instantly became the most scrutinized teammates in the league. Whether it was fair or not, that was the situation each understood they were walking into when the decision was made to join forces.
Can we call one definitively better than the other? I don't believe we can.
The narrative around these players changes on a game-by-game basis. When one pairing has a bad night at the office, fans look the other way to see what the other guys have done. We have been trained to constantly juxtapose duos around the league, with these four players at the forefront of the conversation.
Should we really be doing that?
Miami and Oklahoma City are two teams constructed very differently.
Each sets of players is asked to do very different things for their respective teams, and that can have a direct influence on what type of production we see in the box score. When considering talent, it is about far more than the statistics we read in the game recap.
Does the combination of Durant and Westbrook have the potential to be better than James and Wade?
That's what we are still waiting to see.
With neither having won at the highest level just yet, it is unlikely any of the four players really care about how they stack up against another.
This is not a game built on ego—it is about finding sustainable success.
That's exactly what James, Wade, Westbrook and Durant are all still searching for right now.