Perry Jones III: Highlights, Analysis and Pro Projections
June 11, 2012

Streeter Lecka/Getty Images
Perry Jones III is one of the most talented players in the NBA draft, but some feel he has underachieved.
The 6'11" forward helped lead the Baylor Bears to a 30-8 record and an Elite Eight appearance this past season, but his critics were looking for more.
PJ3 decided to bypass his final two years at Baylor and made himself eligible for the NBA draft on April 10. He averaged 13.5 points and 7.6 rebounds per game last season.
He has the ability to play three positions, but in the NBA his best position is small forward. I believe playing out of position is the biggest reason we didn't see a more dominant PJ3 in college.
Here is a scouting report on Jones III that highlights his strengths and weaknesses.
(Height, weight and stats per statsheet.com)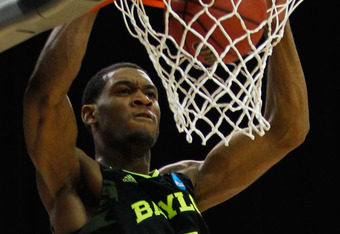 Streeter Lecka/Getty Images
Profile:
Height: 6'11" 
Weight: 235 pounds 
School: Baylor
Date of Birth: September 24, 1991
Best NBA Position: Small Forward
College Stats: (Key Stats Underlined) 13.5 PPG, 30.7 MPG, 50 FG%, 30.3 3FG%, 69.6 FT%, 1.3 APG, 7.6 RPG, 0.6 BPG, 0.8 SPG
Skill Grades:
Athleticism - A
Size - A+
Intangibles - B-
Rebounding - B
Ball Handling - A
Defense - B
Shooting - A-
Passing - B+
Post Game - B
Basketball IQ - B+
Upside - A+
Strengths:
PJ3 handles the ball like a guard, but at 6'11" he has the size to play power forward. Therein lies the problem, he is a perimeter player that was thrown into a post position at Baylor. If he is allowed to be a perimeter player, he'll be at his best in the NBA.
Ronald Martinez/Getty Images
He has a nice first step, good leaping ability and good vision. He has range out to the three-point line, but he needs to be more consistent there.
His combination of size, skills and athleticism is rare, and he could be a nightly matchup problem for opponents if used properly. As far as his physical ceiling goes, he is as skilled as any player in the draft, but he needs the right situation.
Take a look at the versatile PJ3 in action in this highlight reel:
Weaknesses:
This kid is not a No. 1 option, he is much more comfortable in a supportive role. Because of his size and immense talent, critics expect him to be the take-over-a-game type.
That simply doesn't appear to be in his mental makeup.
With that said, it doesn't mean he has no value. Every team needs a player that has tremendous versatility and plays off a superstar, that is who Jones III is. 
As a SF, his rebounding would be fine, but as a PF he doesn't crash the boards like an ideal 4-man. He has solid footwork in the post, but he needs to get a little stronger to establish and maintain position. 
At times, he can be neutralised by stronger defenders. But again, as a perimeter player, some of these issues won't be exposed.
NBA Player Comparison: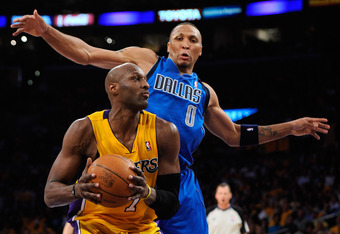 Kevork Djansezian/Getty Images
Lamar Odom
Lamar Odom is one of the most talented players in the NBA, but he isn't a true No. 1 option. He always put up nice numbers before joining the Lakers and Kobe Bryant, but in LA he found his comfort zone.
In his 12-year-career, Odom has averaged 14 points and 8.6 rebounds per game, and has demonstrated amazing versatility for a man that stands 6'10". He has also been called an underachiever, and had his desire questioned.
The similarities between Jones III and Odom are there both in the physical and intangibly. But if Jones III can find a spot that allows him to play the type of role Odom played in LA, you'll see the best of PJ3.
Draft Projection:
From No. 8 to No. 15
Follow Brian Mazique and Franchiseplay.net for reactions, analysis and news from the world of sports and sports Video Games