2012 NBA Playoffs: Evan Turner Key to Philadelphia 76ers Chances Against Celtics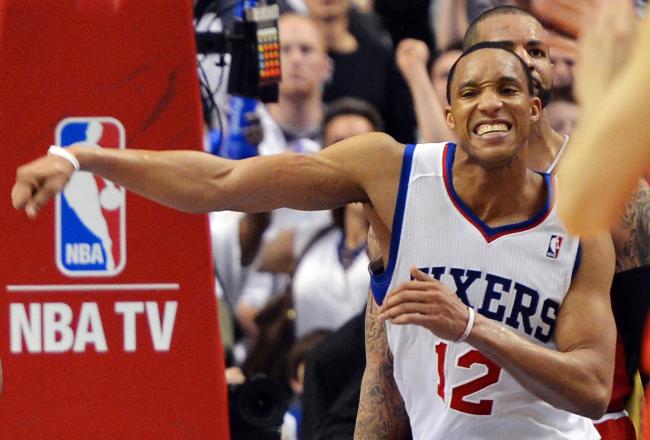 Drew Hallowell/Getty Images
When Andre Iguodala sank the two most clutch free throws of his life in the Sixers' Game 6 victory against the Chicago Bulls, Philly moved onto the second round for the first time since 2003. Meeting them there will be their Atlantic Division rivals, the Boston Celtics, a team Philly's become plenty familiar with since the dawning of the Big Three era.
If the Sixers hope to move onto the Eastern Conference Finals, second-year shooting guard Evan Turner will need to take another step forward in his trial-by-fire development against Boston.
It's likely to be a race to score 90 points each game in this series. The Celtics ranked No. 2 in the league in terms of defensive efficiency this season, according to HoopData, and the Sixers' No. 3-ranked D only trailed Boston's efficiency by a point.
Scoring came at a premium in the Sixers' first-round matchup against the Bulls (Philly only cracked the 90-point margin twice in six games), so Iguodala and his teammates should already be in the playoff mentality of "every possession matters."
Knowing that they rode their fastbreak game to get into the second round, expect the Sixers to try and keep their transition attack a focus against the older Celtics too. Philly ranked seventh in the NBA this year with 15.6 fastbreak points per game, according to TeamRankings.com; the Celtics finished 19th with 12.2 per game.
Boston coach Doc Rivers told the Boston Herald on Friday that "the key to the series is we can't turn the ball over. If we do, it's a guaranteed basket for them."
But as Dan Devine noted on Yahoo!'s Ball Don't Lie on Friday, the aging Celtics are also confronting a plethora of injuries that won't make a transition-oriented game very easy for them defensively.
Are Boston's Big Three too hobbled to make one final run at a title?
Elsa/Getty Images
Paul Pierce, Boston's 34-year-old small forward, is battling through a sprained MCL in his left knee, which Celtics coach Doc Rivers fully admits might get worse as the playoffs progress.
Ray Allen, the Celtics' 36-year-old shooting guard, has been plagued by bone spurs in his right ankle, causing his usually-pristine shooting touch to betray him against the Atlanta Hawks in the first round.
And 35-year-old Kevin Garnett, who's become a one-man post game for Boston this season, has been dealing with painful hip flexors all season, which he told ESPN's Jackie MacMullan was "a lot [to deal with]" some days.
How does Turner factor into this run-'em-into-the-ground plan? If you'll remember back to early March, Turner exploded for his most productive day in his young career against these very same Celtics, who were coming off a back-to-back that went to overtime the night before.
Turner, having just been placed in the starting lineup, raced out of the gates to a 10-point, five-rebound first quarter, helping the Sixers establish a 33-17 lead after 12 minutes of play. He finished with 26 points on 11-of-19 shooting, along with nine rebounds in two assists in 37 minutes. The Sixers trounced the Celtics that night, 103-71.
Turner may never evolve into the superstar that his No. 2-overall selection might suggest, but he's made clear in the second half of this season that he's capable of carrying the Sixers offense on his back in desperate times. Best of yet, his strengths play right into the Celtics' most glaring weaknesses.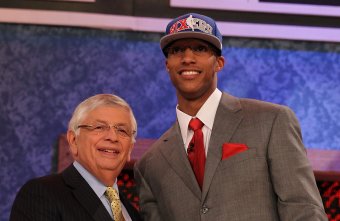 In the eyes of many Sixers fans, Turner hasn't yet lived up to the expectations of being the No. 2 overall pick in 2011.
Al Bello/Getty Images
In the Sixers' two wins against the Celtics this season, they averaged 42 shots per game that were less than 10 feet from the basket. In their sole loss, a 24-point rout, they only mustered 25 shots from that range. The Celtics goaded the Sixers into taking more long-range jumpers that game (51 shots from 10 feet or beyond), and not surprisingly, the Sixers couldn't make the Celtics pay for it.
Both teams in the regular season often fell into the trap of shooting long twos (also known as "the Josh Smith special"), with Philly averaging 24.5 per game and Boston averaging 23.7. But while the Sixers defense also goaded opponents into shooting those same shots (second in the NBA, 23.2 attempts per game), the Celtics D ranked 28th in this metric, only forcing 17.5 long jumpers each game.
If the Sixers can't get to the rim in this series, the Celtics will make quick work of them. That's where Turner comes in.
After averaging less than two free throw attempts per game in the regular season, Turner averaged four per game against the Bulls, repeatedly showing a willingness to drive into the paint and initiate contact with defenders. The Sixers, who averaged a historically low number of free-throw attempts per game in the regular season, suddenly ranked in the top half of the playoffs in terms of FTAs—in large parts due to Turner's aggressiveness.
Turner will need to stick with that aggressive mentality on offense, even if he encounters serious resistance in the paint from Boston. If the Sixers can get Kevin Garnett in early foul trouble, the C's backup bigs will be far more overmatched than Chicago's Taj Gibson and Omer Asik were in the first round.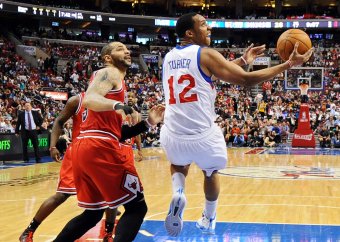 Evan Turner's aggressiveness was on full display against the Bulls.
Drew Hallowell/Getty Images
Standing in the way of that mission will likely be Avery Bradley, the Celtics' young 6'2" shooting guard, who earned a spot in the starting lineup late in the season. While he doesn't pack the scoring punch of Allen, he's a bulldog on defense, despite standing nearly half a foot shorter than Turner.
Turner will need to pick his battles against Bradley on offense, instead choosing to kick his game into another gear if/when Allen starts guarding him. The 21-year-old Bradley is one thing to fight against defensively; a 36-year-old hobbled Allen is another story entirely.
E.T. brings one more weapon to the table that should prove especially valuable against the Celtics: his nose for rebounding. Turner grabbed an average of 12.2 percent of all the rebounds available to him while on the court this year—the best of any guard who averaged 20 or more minutes per game.
This wasn't a fluke. Even in limited minutes last year, Turner ranked fifth in total rebound rate in terms of guards who averaged 20-plus minutes/game (behind Mike Miller, Landry Fields, Dwyane Wade and Thabo Sefolosha).
Boston, meanwhile, ranked dead-last in team offensive rebounding rate this season, the only team to grab less than 20 percent of all offensive boards, according to HoopData. Yes, this is partially by design—Rivers would rather have his guys hustle back and get set on defense—but it's a weakness the Sixers can and should look to exploit.
With Turner on the floor and crashing the glass, the Sixers need to be limiting the Celtics to one possession on each trip; they can't have a repeat of Game 6 against the Bulls, where they were out-rebounded by 20.
Turner has the skill set and the tools to take advantage of some of Boston's most profound weaknesses, which could make this Celtics-Sixers series more competitive than many NBA fans might expect.
Does Sixers coach Doug Collins have enough trust in Turner, based on his play in the first round, to give him 35 minutes of burn a night? Don't be surprised if that's one of the main determining factors in who advances from this matchup into the Eastern Conference Finals.
This article is
What is the duplicate article?
Why is this article offensive?
Where is this article plagiarized from?
Why is this article poorly edited?

Philadelphia 76ers: Like this team?