NBA Rumors: Knicks and More Teams That Must Make Offer to Steve Nash This Summer
May 10, 2012

Christian Petersen/Getty Images
Phoenix Suns PG Steve Nash is going to be one of the most coveted free agents on the open market this offseason.
Despite the fact that he is 38 years old, the future Hall of Famer is still one of the premier players at his position. That is statement is backed up by his eye-popping figures during the lockout-shortened season (62 GP, 31.6 MPG, 12.5 PPG, 10.7 APG, 3.0 RPG, 53.2% FG, 39.0% 3PT). 
There are plenty of contenders who will gladly go to war with him as the starter because of his transcendent ability to find his teammates at impossible angles for wide-open shots.
He's also completely capable of knocking down his own jumper from anywhere on the floor and still has a knack for getting to the rim when his passing lanes are taken away.
Here's a look at some teams that should be making a big time offer when free agency starts.
New York Knicks
Just one day removed from a first-round playoff defeat, Amar'e Stoudemire is already publicly lobbying for the services of his former teammate.
According to Frank Isola and Kevin Armstrong of the New York Daily News:
Nick Laham/Getty Images
"Everyone knows that Steve loves New York and that New York loves Steve," Stoudemire said. "I love Steve. It would be great to have him here next year."
While the Knicks employed a ton of different PGs this season (Mike Bibby, Baron Davis, Iman Shumpert, Toney Douglas, Jeremy Lin), none were truly effective, aside from a few weeks of Linsanity.
Nash and his ability to facilitate are sorely needed on a roster that features Carmelo Anthony and STAT. The offense gets far too stagnant at times with both players on the floor with an outmatched ball-handler trying to juggle their touches.
The two-time MVP would put winning and the open man ahead of stroking egos, and that would completely change the culture in the Big Apple.
Miami Heat
Based on the fact that Nash has seemingly accomplished everything possible in his illustrious career besides win a title, Miami might have the best shot of landing him.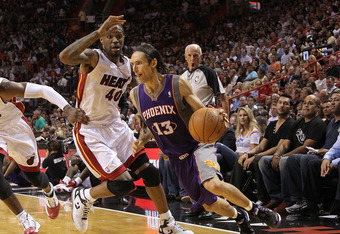 Mike Ehrmann/Getty Images
The Heat are the clear favorites to win in 2012, and that status will not change anytime soon, not while LeBron James, Chris Bosh and Dwyane Wade are on the roster.
Outside of the "Three Kings," the team still has plenty of room to upgrade. A quality starting center is its biggest priority, but sending Mario Chalmers to the bench as a backup PG would also be wise.
There is no better player within reach this summer than Nash, who would make this offense run like a well-oiled machine. The Heat already get out and run the floor with the best of them, it's almost unfathomable what they could do with an all-time passer leading the break.
Portland Trail Blazers
You probably didn't see this coming, but Portland is actually a great destination for the close-to-retirement point guard.
Isola and Armstrong brought up that the City of Roses hosts the closest NBA franchise (R.I.P. Seattle Supersonics) to Nash's native Vancouver. They point out that he owns a piece of the Vancouver Whitecaps FC (an MLS team) and has numerous other business ventures in the area.
Nash has also just recently been named the Canadian men's basketball team general manager.
Aside from his off-the-court ventures in the north, Portland is actually an extremely promising ball club. The Trail Blazers likely have two picks in the stacked 2012 draft lottery (unless the Nets' No. 1 lands in the top three) and a legitimate star big man in LaMarcus Aldridge.
They would be willing to alter their style around Nash's strengths and the run-and-gun could definitely work with all of the young pieces surrounding him.
If Nash wants to enjoy his last few NBA seasons with an upcoming team close to his homeland, Portland is the best choice.