Derrick Favors and Rising Stars Who Will Fuel Offseason Trades
May 9, 2012

Harry How/Getty Images
Several young stars have emerged so far in the 2012 NBA Playoffs, emerging to the point where it's possible they will play increased roles on their current teams next season.
As is the case with any emerging NBA star, an opportunity must be created for them to realize their full potential as a player. In this case that could be done through offseason trades as teams not only create an opening for their future stars, but also improve their teams in other areas in the process.
Here's a look at a few rising stars who could very well prompt their current teams into making a few deals in the offseason to create the necessary playing time.
Derrick Favors, Utah Jazz
Utah has liked Favors for some time now, making him the key piece in the Deron Williams trade.
Favors only got 21.3 minutes per game, but after a postseason that saw him average a solid 11.8 points and 9.5 rebounds, it looks like Favors is ready for a much bigger role next season.
One way to get that is for Utah to deal Paul Millsap, who had a great regular season, but wasn't that much better than Favors in the playoffs. A Millsap trade could bring the Jazz a nice haul and have them in playoff contention next season as well.
Evan Turner, Philadelphia 76ers
Turner has emerged in the postseason and has evolved into a player who Sixers head coach Doug Collins is confident in.
He's got a solid offensive repertoire and will be a decent scorer as well as a facilitator and rebounder. Turner's averaged 12.0 PPG, 6.6 RPG and 3.4 APG this postseason and the No. 2 overall pick in the 2010 draft is only going to get better.
Turner is also outstanding defensively but the problem is that he and Andre Iguodala are similar type players. This could be the offseason where the Sixers finally end up moving Iguodala and commit to Turner as the face of the franchise.
JaVale McGee, Denver Nuggets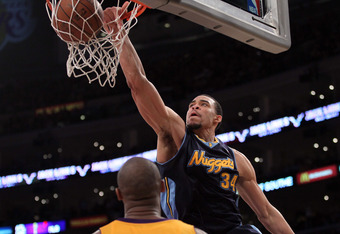 Jeff Gross/Getty Images
In Washington McGee showed immaturity as a player, which is one reason the Wizards eventually shipped him to Denver at the trade deadline.
That's a tough reputation to shake, but at times this postseason, McGee has shown he can compete against All-Star big men like Andrew Bynum, posting a solid 10.4 points, 9.6 rebounds and 3.2 blocks per game.
McGee is an unrestricted free agent who Denver will certainly try and keep. If they commit big money to McGee, they also will have to commit major minutes. Denver will likely sign McGee and then look to make a move somewhere to stay under the cap.
Glen Davis, Orlando Magic
This is a stretch but Davis has performed well this postseason, averaging 19.0 points and 9.2 rebounds.
What he showed, though, is that he can give the Magic production from the 5 spot and it might make it easier for Orlando to deal Dwight Howard. Davis would only be a short-term stopgap and wouldn't give Orlando the type of production Howard would, but they could certainly live with 19 and nine on a nightly basis.