2012 NBA Free Agents: Goran Dragic and Rising Stars Ready for Huge Pay Raise
May 7, 2012

Harry How/Getty Images
Ka-ching!
That sound you hear is the millions of dollars a select few NBA players are due to rake in this summer. Most of these guys are coming off rookie deals that have only paid them a modest amount of money. Now, after out playing their deals, the following players will be receiving the biggest bump in salary for the 2012-13 season.
As unrestricted free agents, these players have the right to sign with any team they want to.


Goran Dragic, Houston Rockets-2011-12 salary, $2.1 million
Dragic was first on the radar of NBA fans as a member of the Phoenix Suns with his outstanding performance against the Los Angeles Lakers in the 2010 Western Conference Finals. His clutch shooting and playmaking ability enticed the Rockets to trade for him, and after the last two months this season, I'm not sure they can afford him any longer.
When Kyle Lowery went down with an injury, Dragic was finally given the opportunity to start. He averaged 15 points and 7.4 assists in March (while shooting 49 percent) and followed that up by averaging 18 and 7.7 in April. In both months, he collected 1.8 steals per game.
The 6'3'' and 190-pounder celebrated his 26th birthday this past weekend and is due to more than triple his current salary on a team looking for a new starting point guard.
Projected Deal-3 years, $20M


John Lucas III, Chicago Bulls- 2011-12 salary, $900,000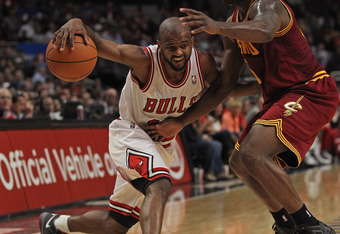 Jonathan Daniel/Getty Images
The 29-year-old has finally made it in this league.
After years as a journeymen, the unrestricted free agent will be able to land a much larger role than the one he has been given with Chicago.
Then again, maybe the Bulls should re-sign him now that Derrick Rose will be out for a large chunk of next season. After registering 11.8 points and 3.1 assists in the month of April as D-Rose nursed his back and ankle injuries, Lucas III stepped in admirably once again during the postseason.
While the Bulls may be on the brink of elimination, you can't blame Lucas III, who is averaging 10.3 points and three assists while shooting 45 percent from the field.
He may never be an all-star, but his days of making under a million dollars are over.
Projected Deal-2 years, $7 million


Steve Novak, New York Knicks-2011-12 salary, $1 million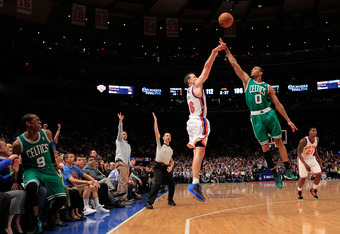 Chris Trotman/Getty Images
Novak may have limited athleticism, but he has emerged as one of the premier sharpshooters in the game.
That's a skill you can cash in on.
While his poor postseason is a reminder that he'll never be a go-to guy, the 28-year-old is due for a massive upgrade over the paltry salary that he is currently making.
Projected Deal-3 years $13 million


Jordan Hill, LA Lakers-2011-12 salary $2.9 million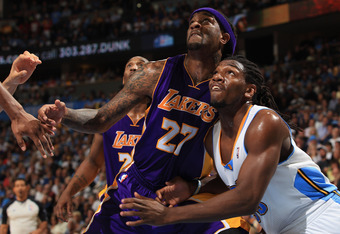 Doug Pensinger/Getty Images
Hill waited patiently for his chance and is now taking full advantage of his opportunity.   
He is a terrific rebounder who uses his long arms and 6'10'' frame to gather the ball at its highest point. Against the athletic Denver big men, Hill has averaged seven points and 9.3 rebounds in only 20.5 minutes of action. That means he is averaging well over 20 rebounds per 48 minutes of game action.
While his legal troubles are certainly not going to help his value, you can never have enough big men with the pure talent and length of Hill. Somebody will be willing to pay the former No. 8 overall pick big bucks.
Remember…he is still only 24.
Projected Deal-4 years $30 million


Follow Eric Ball on Twitter