Seeing Another Day: What Sunday's Win Means for the Garden Fanbase
May 7, 2012

Jeff Zelevansky/Getty Images
It wasn't pretty. It wasn't easy. But it happened.
For the first time in over a decade, the New York Knicks won a playoff game.
True, much of the fervor is masked by the fact that the Knicks still trail Miami three games to one in their first-round series, and injuries to guards Jeremy Lin, Baron Davis and Iman Shumpert certainly don't help matters. But hey, in a sporting world that revolves on a records-based axis, Sunday's win counts for something.
Knicks fans have been grudgingly acquainted with futility for years now. Breaking an NBA-worst 13 playoff game losing streak is a step in the right direction, or at bare minimum, the bandage to stop the bleeding.
Wins like these are somewhat paradoxical: Fans revel in celebration, but are also reminded of what could have been.
The Knicks did everything right on Sunday afternoon. They rebounded, as evidenced by their 43-40 margin on the boards. They guarded the perimeter, as seen by the Heat's paltry 15.8 percent from behind the arc. And they certainly had a flair for the dramatic, with Carmelo Anthony's go-ahead three forever embedded in the mosaic of Big Apple basketball.
But the Knicks still find themselves in a hole, and fans are reluctantly forced to wonder how different the series could have been with a more consistent Anthony and Amar'e Stoudemire and a healthy point guard core.
Had New York lived up to its potential and fired on all cylinders during the regular season, perhaps it wouldn't be facing a formidable Heat team.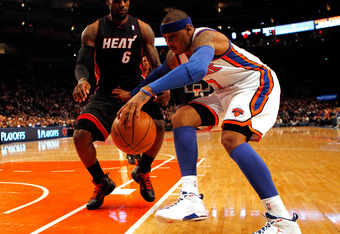 Jeff Zelevansky/Getty Images
In other markets, Sunday's W comes as pure, no-strings-attached success. But in the city that never sleeps, nothing is absolute.
I've been a Knicks fan since I was six years old. I can rehash the story of Larry Johnson's four-point play like it was yesterday; I unsuccessfully attempted to break my father's TV screen after Reggie Miller flashed the choke sign to Spike Lee; David Lee's buzzer-beating catch-and-shoot still shines brightly in an otherwise gloomy mist of blue-and-orange disparity (known formally as the Isaiah Thomas era).
Naturally, I'm as excited about Sunday's win as anyone else. But I can't help but notice that my celebration is somewhat hollow.
Ultimately, Sunday's win isn't so much an achievement or a classic moment, as it is a preview for what the Knicks can—and very well may—do in 2012-13 and beyond.
The burden of a year of media controversy, inconsistency, injuries and ever-shifting personnel is finally in the rear-view mirror. Swept away is the mess of the Mike D'Antoni regime and the mid-January slump. This is closure in its purest form. For passionate fans like myself, closure isn't necessarily fun. Closure isn't an exciting postseason run; closure doesn't bring the Finals back to the Garden. But it's still something tangible after countless seasons of nothing to show for.
The present-tense implications of Sunday are minuscule: Chances are, LeBron James and company will finish off the Knicks by Game 6 at the absolute latest.
Sunday is more about release and relief than anything else. A painful losing streak has finally come to an end, and Knicks fans have been given a nice teaser for next season. It isn't much, but it's an undeniable step forward, and a sign that Madison Square Garden's worst days are behind it.