NBA Playoffs 2012: Players to Watch in Tuesday's Game 2 Matchups
May 1, 2012

Kevin C. Cox/Getty Images
The 2012 NBA playoffs continue Tuesday night, as six teams take the court hoping to either take a commanding 2-0 lead or even the score. 
In order to win, these teams will be counting on their star players to perform at a high level, but every player who sees action has to contribute. 
Since every game counts even more so now, the pressure is sky-high to win. The majority of postseason matchups are exciting, and we can thank the elite players for that. 
With that said, here are the players to watch for on each playoff team in Tuesday's Game 2 matchups.
Click here to see the game time and TV info for each remaining Game 2 battle. 
Atlanta Player to Watch 
Josh Smith stole the show and dominated for the Hawks in Game 1, so many will keep an eye to see if he can repeat with great production.
However, after a less than stellar performance this past Sunday, the Atlanta player to watch tonight is Joe Johnson. 
The Hawks leading scorer during the regular season, Johnson has to prove to the fans he can be clutch in high pressure situations. Atlanta has a chance to gain a huge advantage over Boston, but if Johnson flops again it will be tough for the Hawks to win. 
Atlanta can't afford for Johnson to go 3-15 from the field and 0-9 from three-point land. Johnson has had his playoff woes before for the Hawks, but that can't continue to happen this postseason. 
Boston Player to Watch 
With Rajon Rondo suspended for tonight's contest, it's up the other stars of Boston to get the job done.
Considering Rondo has recorded at least a double-double, and one triple-double, each time he face Atlanta, the Celtics will be hurting without him. 
The one player that needs to step the most for Boston is Paul Pierce. In Game 1, Pierce was just 5-19 from the field and 0-6 from beyond the arc. 
Boston desperately needs the face of their franchise to shoot the lights out, or else the Hawks will cruise to a 2-0 lead in the best of seven series. 
Chicago Players to Watch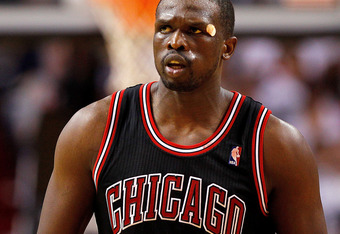 Mike Ehrmann/Getty Images
Since Derrick Rose is done for the playoffs, most will think that all eyes need to be on the backup point guards. 
However, they'll mainly be just distributing the ball, so it's up to Luol Deng to thrive in the scoring department. 
Other than Rose, Deng is the best point machine the Bulls have, and Chicago really needs him to excel tonight. 
Deng dropped 17 points in Game 1, but he'll need to play even better in Game 2 since Rose won't be on the court.  
Philadelphia Player to Watch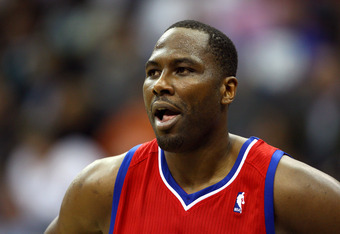 Chris Chambers/Getty Images
Elton Brand was the top performer for Philadelphia last Saturday, and he'll have to continue to perform at a high level if the 76ers are going to pull off the upset. 
He scored 19 points, grabbed seven rebounds and recorded four blocks in Game 1, but everybody knows he's capable of putting more points on the board. 
Of course, this won't be easy against a Bulls team that will be playing relentless basketball, but it's still possible. 
With Rose out, the 76ers know that they can indeed win this series, but being down by two games to start the series will be hard to bounce back from, which is why Brand has to power past Chicago tonight. 
Denver Player to Watch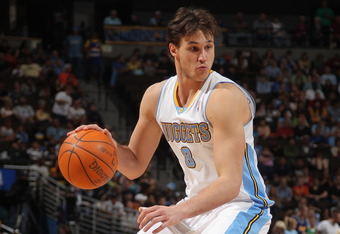 Doug Pensinger/Getty Images
The Nuggets play very well as a team, but in order to upset the Lakers, Danilo Gallinari has to rise up and put on one heck of a show. 
Gallinari led the Nuggets in scoring in Game 1, dropping 19 points on the Lakers and shooting 50 percent from the field. 
He's had subpar performances against the Lakers this season, failing to score double digits on multiple occasions.
Keep an eye on Gallinari to see if he keeps playing well or reverts back to his awful play against Los Angeles.  
Los Angeles Player to Watch 
Of course Kobe Bryant is the Lakers' player to watch for in the Game 2 battle against Denver. 
Not only will he be the best player on the court, Kobe will also be the top player in action tonight. Even though they're playing at 10:30 p.m. ET, you don't want to miss Kobe taking over. 
In Game 1, Kobe scored 31 points, and it wouldn't surprise me if he played even better in Game 2. 
He, and the rest of the Lakers for that matter, are on a mission to avenge last year's postseason debacle. 
Look for Kobe to have no problem at all against the Nuggets tonight, further propelling himself as one of the greatest of all time.