2012 Summer Olympics: 5 Questions with Decathlon Gold Medalist Bryan Clay
April 27, 2012

Michael Steele/Getty Images
Bryan Clay is the World's Greatest Athlete—and that's not me or Bryan or Bryan's mother talking.
Indeed it is a title descendant from the estimable King Gustav V of Sweden, who once told 1912 Olympic decathlon champion Jim Thorpe, "You, sir, are the World's Greatest Athlete."
The label stuck, and every Olympic-winning decathlete since has worn that proud distinction.
Today it belongs to Clay, a Hawaii resident (Go Warriors!) and U.S. track and field legend. Clay finished second in the decathlon at the 2004 Athens Games before taking gold four years later in Beijing.
Although a hamstring pull kept him from the 2011 World Championships, Clay is back on the track and looking to make a third straight Olympic Games. If all goes as anticipated, he should join defending world champion Trey Hardee and rising star Ashton Eaton on perhaps the greatest U.S. decathlon team ever assembled.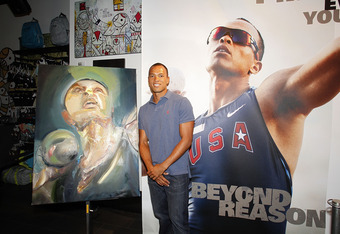 Michael Cohen/Getty Images
In advance of the U.S. Olympic trials in late June, B/R caught up with Bryan to talk about his health, his collaboration with Oakley, his upcoming book and, because I couldn't help myself, LeBron James.
Enjoy a few excerpts from that conversation.
Oh and follow Bryan on Facebook and Twitter. Do it for your country!
1. I know you've battled some injuries since we saw you in Beijing. What can you tell us about your health heading into 2012?
Right now I think training is going unbelievable. We're really having a great time. We opened up the season with some great marks. I'm right at where I want to be if not ahead of where I want to be.
2. Tell me the absolute coolest thing about being at the Olympic Games that no one ever talks about.
There's this moment where you walk into the Olympic stadium before your competition and you see the track and you see all the things out there—all the signs and the cameras—and there's just something about that first time you walk into the stadium. It's not the same for me during the Opening Ceremony. That's great. You walk in. It's all done up and everything. But when you first walk into the stadium and into that tunnel and you kind of see the field and you see the track for the first time. Oh gosh. There is nothing like it… It's so hard to put into words.
3. Did you play any other sports as a kid?
My mom wouldn't allow me to play any other sports besides track and field because I would get into fights and just wouldn't make good decisions. The only reason she let me play sports at all was because a counselor said, "If you want Bryan to be alive and not dead somewhere hooked on drugs or prison or something like that you need to get him involved in sports." So she said, "Look, you can swim or you can run track and field." And the joke always is I didn't want to wear a Speedo.
[Note: Bryan talks a lot more about those childhood travails in his new book. Buy it.]
4. Of all the athletes in any other sport, who do you think would make the best decathlete?
That's a tough one… I got to know Adrian Peterson fairly well. When I got to talk to him and got to spend some time with him I found out that track and field is one of his loves. He chose football, but he loves track. Maybe Adrian would do a great job at the decathlon. He's got a lot of skills that you need to be a decathlete.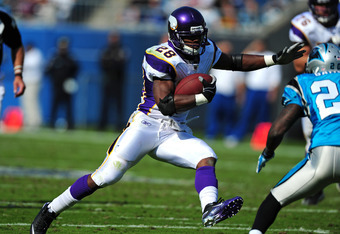 Scott Cunningham/Getty Images
5. I was thinking LeBron [James]. That was the first person that came to my mind, but maybe he's too tall…
LeBron might do well but I think the size kind of hurts you in a lot of events…Like the 1500 is gonna suck if you weigh 240 pounds or whatever he weighs. I think he'd do great at the jumping events and that sort of thing. But how tall is he? 6'8"?
...
I think it's harder to do some of those explosive events when you have long levers…But look, LeBron is a phenomenal athlete and so I think that anything he tries to do I think that he can learn and probably end up doing very well.