NBA MVP 2012: Power Ranking Best Candidates to Win Coveted Award
April 27, 2012

Stephen Dunn/Getty Images
While several folks debate the NBA playoffs now that the season is over, perhaps the most heated arguments among fans around the league is deciding on which player should win the 2012 NBA MVP Award. 
This year featured some very strong candidates, powering their way through the season and putting up stellar numbers. 
Everyone has their opinion on who should win it, so be sure to drop a comment and let me know your top candidates and who should win the award. 
With that said, here are my top three players up for the 2012 NBA MVP award. 
No. 3: Kobe Bryant, Lakers 
Missing multiple games this year really hindered Kobe's chances of being to top contender for the MVP award at season's end. 
Even still, Kobe has a heck of a résumé which makes it a difficult decision to pick a winner. 
On the year, the Lakers' biggest star averaged 27.9 points, 4.6 assists and 5.4 rebounds per game. He's been one of the main reasons the Lakers finished third in the Western Conference, and he'll continue to perform at a high level in the postseason. 
Kobe had a solid year, but it's no quite as strong as the others being considered for the award. 
No. 2: Kevin Durant, Thunder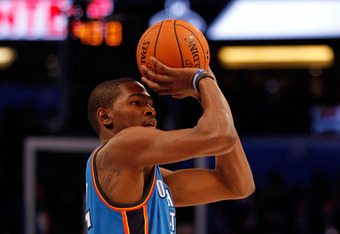 Mike Ehrmann/Getty Images
The Oklahoma City standout finished the season with the best scoring average in the league. This marks the third straight scoring title for Durant, but there' no doubt he'd prefer to win the MVP over anything. 
Well, besides the championship that is.
The Thunder finished in second place in the Western Conference, and now, they're getting prepared for a tough challenge against the No. 7 seeded Dallas Mavericks, also known as the defending champs. 
Durant averaged 28 points, 3.5 assists and eight rebounds per game this year, and in his last five games he averaged 31.4 points, four assists and 9.4 rebounds per contest. 
He made a strong push to close out the year, and it could be enough to boost him to top in some folks' eyes, but it wasn't enough for me to put him at No. 1.
No. 1: LeBron James, Heat 
LeBron is having a phenomenal year, especially when you consider how much talent is on his team and how often he shares the ball with superb scorers. 
Some people may not like LeBron at all, but even they can put their bias aside and recognize LeBron for his impressive season. 
On the year, LeBron averaged 27.1 points, 6.2 assists and 7.9 rebounds per game. He's an absolute stat-machine on the court, terrorizing opposing teams with ease. 
When looking at the contenders' game and production as a whole, LeBron has been the top guy in the league for the majority of the season, which is why he's the favorite to win the coveted award.