2012 NBA Playoffs Predictions: Very Early Favorites for Finals MVP
April 26, 2012
Mike Ehrmann/Getty Images
Although there are plenty of seeding questions that won't be answered until tonight, the 16-team field is set for the NBA playoffs. Just because there are 16 teams playing, though, doesn't mean anything like all 16 of them have a realistic chance at taking home the title.
Here are three players who do have serious shots at earning a ring this year, and claiming MVP honors in the process.
Kevin Durant
Whether Durant hangs on to win his third straight scoring title is up to Kobe Bryant, but nobody in the Western Conference is in a better position to take home the NBA title this year. Durant's second-seeded Thunder will be a particularly tough opponent for the West's top team, the aging No. 1 seeds from San Antonio.
Assuming OKC does get to the NBA Finals, they'll provide a very dangerous matchup for either of the favorites in the East. Miami's thin bench will be a serious issue against the speed and depth of the Thunder, while even Chicago's mighty defense might not be enough to help them outscore Durant and the league's third-best offense.
After LeBron's efforts to custom-build a championship roster around himself, it's no surprise that he took the bulk of the blame when the Heat came up short last spring. By the same token, if he finally overturns his reputation for choking in the postseason, he'll be a virtual lock for Finals MVP.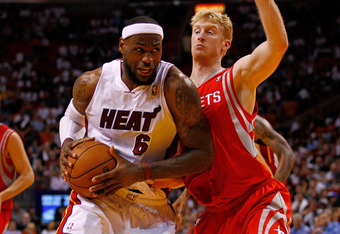 Mike Ehrmann/Getty Images
Miami is clearly a flawed team, but it's also 46-19 for a reason. James and Dwyane Wade are still the most dangerous pair in basketball, and if both of them are playing at their best, they've got a better-than-even chance of knocking off the Bulls in the Eastern finals and beating any Western Conference champ to take home the title.
After missing 26 of his team's 66 regular-season games, the defending MVP won't be repeating in 2011-12. He'll be healthy for the postseason, though, and if the Bulls' fearsome defense earns them their first post-Jordan championship, Rose will reap the lion's share of the accolades.
When he has been on the floor, Rose has been nearly as brilliant as he was last season, averaging 21.8 points and 7.9 assists a night. Although Chicago has shown that it can win without its leader, its offense, and its title hopes, will still be very much in Rose's hands over the next two months.