2012 NBA Rookie of the Year Award: Kyrie Irving Wins Coveted Honor
May 13, 2012

Chris Chambers/Getty Images
Update: Tuesday, May 15 at 10:15 a.m. ET
Kyrie Irving has officially won the 2011-12 KIA Rookie of the Year Award, according to the NBA's Twitter feed.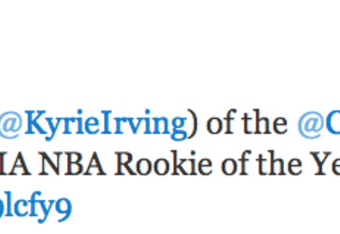 Update: Tuesday, May 15 at 11:00 a.m. ET
RealGM's staff is reporting that he received 117 out of 120 possible first-place votes from a panel of sportswriters.
Kenneth Faried, Kawhi Leonard and Iman Shumpert surprisingly received one first-place vote apiece. 
-----
The sensational first-year player for the Cleveland Cavaliers took the NBA by storm and proved he was worthy of the No. 1 overall pick the Cavs spent on him in the 2011 NBA draft.
Irving is now in an elite fraternity that includes the likes of Wilt Chamberlain, Oscar Robertson, Lew Alcindor, Larry Bird, Michael Jordan, Shaquille O'Neal, LeBron James and Kevin Durant—just to name a few.
It wasn't much of a competition after Ricky Rubio went down with a season-ending ACL injury.
The young Timberwolves star's incredible campaign ended after 41 games in which he averaged 10.6 PPG, 8.2 APG and 4.2 RPG while having Minnesota on the cusp of playoff contention.
Other contenders for the award included Kenneth Faried, who had a solid season for the Denver Nuggets and earned the starting PF job; Klay Thompson, the Washington State product who took over the starting SG spot in Golden State after the Monta Ellis trade and had been lighting it up with his scoring; and Isaiah Thomas, the undersized last pick of the second round who has come out of nowhere to put up respectable numbers for the Kings.
However, none of those guys had nearly the impact that Irving had on the Cavaliers and their stats were not nearly as impressive.
Cleveland still has a long way to go in their recovery from James' departure to South Beach, but Irving's presence will certainly expedite that healing process.