James Harden Injury: Updates on Thunder Star's Head Injury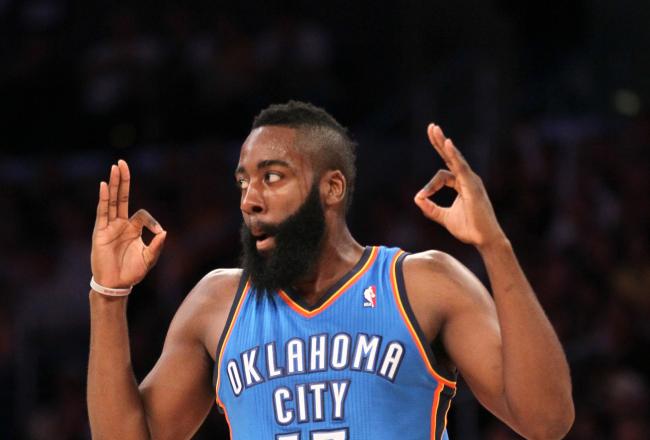 Stephen Dunn/Getty Images
James Harden was the victim of one of the worst cheap-shots I've seen in the NBA this year. Metta World Peace did not live up to his new name with this action, instead, he was the same old Ron Artest.
I was always a fan and defender of MWP, but this leaves even me defense-less.
Update: Wednesday, April 25 at 7:40 p.m. ET
According to CBS Sports Royce Young, James Harden has been cleared to return to action. The team has decided give him 24 more hours to recover, though.
Harden will sit out the Thunder's Wednesday against the Denver Nuggets. The game is meaningless for the Thunder. They are locked in to the No. 2 seed.
UPDATE: Tuesday, April 24 at 12:34 p.m. ET
James Harden (concussion) has yet to be cleared for NBA play, according to MercuryNews.com's Jeff Latzke.
"Coach Scott Brooks said Tuesday morning that Harden had not yet been cleared. He wouldn't say whether he would play Harden if doctors allow it, or if he'd hold him out as a precaution."
UPDATE: Tuesday, April 24, 11:00 a.m. ET by Donald Wood
Oklahoma City is hoping that they get their star shooting guard James Harden back in time for the playoff run, and Harden himself weighs in on how he is progressing.
Harden took to Twitter to update his health status and let the fans know he appreciated their support:
Im solid. Feeling good. Appreciate y'all for checking on me!!

— James Harden (@JHarden13) April 24, 2012
The details of his return to the lineup are still cloudy, but this is just another good sign that he will be back in time for the Thunder's long run towards an NBA Championship. With Harden back in the lineup, OKC will be hard to beat.
Update: Monday, April 23 at 9:10 p.m. ET
The Thunder have broken their silence on Harden, saying on Monday that he is being listed as day-to-day after undergoing further tests for concussion symptoms on Monday. Darnell Mayberry of Thunder Rumblings has all the details.
Not surprisingly, Mayberry notes that Harden is unlikely to play in OKC's final two regular season games. Mayberry also notes that Harden is going to re-evaluated on Tuesday.
The NBA playoffs begin on Saturday, April 28th.
Update: Sunday, April 22 at 8:50 p.m. ET
Thunder beat writer Darnell Mayberry confirmed that Harden has a concussion.
James Harden does have a concussion. He will travel back to to OKC with the team, but his status for the final two games is uncertain.

— Darnell Mayberry (@DarnellMayberry) April 22, 2012
It will be wait and see on his recovery time. Everyone has a different timetable on a return from a concussion.
After a dunk, he elbowed Thunder's James Harden, catching him flush.
How flush?
Jon "Bones" Jones didn't land a cleaner elbow on Rashad Evans last night in the UFC Light Heavyweight Championship bout.
ESPN's Lisa Salters had this early report on Harden's condition:
ESPN's Lisa Salters reports James Harden was re-evaluated and began to show signs of a concussion and now will not return to today's game

— NBA on ESPN Radio (@NBAonESPNRadio) April 22, 2012
A suspension is not only in order, in my opinion it's mandatory. He'll be lucky if this doesn't cost him some playoff games.
Here is a look at the despicable display from World Peace:
With so much attention being paid to head injuries in sports, how can the NBA not drop the hammer on him?
This article is
What is the duplicate article?
Why is this article offensive?
Where is this article plagiarized from?
Why is this article poorly edited?