NBA Crush of the Week: Carmelo Anthony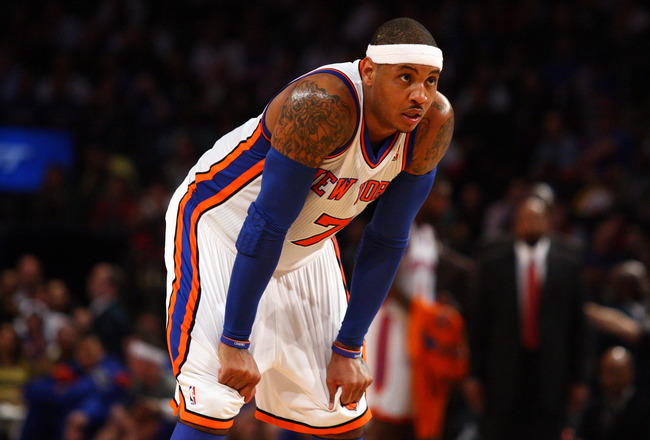 Chris Chambers/Getty Images
NBA fans are like middle-school girls. I know that's true, because I'm an NBA fan.
We become obsessed with players who put together impressive and mesmerizing performances. More than becoming obsessed, we actually start crushing on those players.
Come on, I know you're sitting there denying the fact that you do it, too, but if you're honest you'll admit that every once and awhile you develop a totally platonic crush on the NBA fad of the week.
This week's NBA crush is none other than Carmelo Anthony, as he's put together remarkable performances throughout the past week that's helped NBA fans truly believe once again that anything is possible.
Ahead is all the info you need about the NBA Crush of the Week: Carmelo Anthony.
Highlight of the Week: Triple-Double Against the Boston Celtics
Carmelo Anthony dropped an absolute bomb on the Boston Celtics, as he led the New York Knicks to a pivotal win over the C's to the tune of 118-110.
'Melo blew the Celtics away, with the second triple-double of his career, consisting of 35 points,12 rebounds and 10 assists, on 54.2 percent shooting.
Watching 'Melo dominate the Celtics was absolutely mesmerizing as it seemed like no one, aside from 'Melo himself, could stop him.
Triple-doubles are hard to come by in the NBA, and anytime NBA fans are treated to one, a crush is bound to ensue.
Why We Love Him: 36.6 Points Per Game in Last Three Games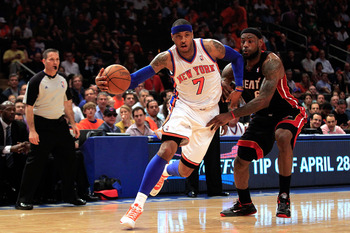 Chris Trotman/Getty Images
NBA fans love offense, there's no way around that. In a league that's sometimes called the "no defense league," fans love when players go berserk on the offensive side of the ball.
That's exactly what Carmelo's done in his last three games, accounting for an average of 36.6 points per game, on a ridiculous 52.8 percent shooting percentage.
'Melo's offensive production is all but incredible, as he's single-handedly helped the Knicks rebound from their post-All Star game collapse.
NBA fans have 36.6 reasons every night to be crushing on 'Melo, and I'm going to go out on a limb and say that we're going to keep crushing on him until he stops scoring.
What Makes Him Exciting: No One Knows When He's Coming Back to Reality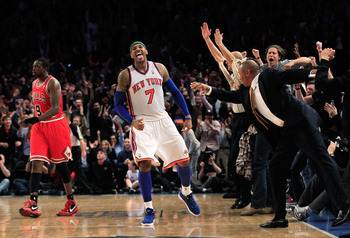 Chris Trotman/Getty Images
'Melo's recent rise to "crush status" is based on the fact that he's playing absolutely out of his mind. Just compare his season averages to his past three games this week.
Season averages: 22.6 points, 6.3 rebounds and 3.7 assists per game, on 43.1 percent shooting
Last Three Games: 36.6 points, 9.3 rebounds and 6.3 assists per game, on 52.8 percent shooting
Just based on those stats, it's clear that 'Melo is playing absolutely out of his mind, and that's what makes him so exciting.
No one truly knows when his incredible production will end, and as we inch towards the playoffs that anticipation is reaching a new level, and that is why we're crushing on him so hard this week.
When Will Our Crush Come to an End?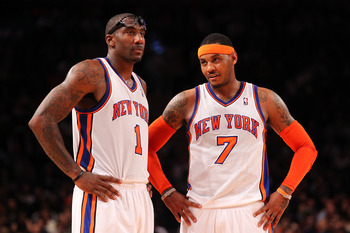 Al Bello/Getty Images
Carmelo's rise to "crush status" is based on the fact that the Knicks absolutely needed him to step up for them to stay in the playoff race in the Eastern Conference.
'Melo has been the Knicks' white knight, riding in to save the day, and while that's been more than exciting to watch, it's going to come to an end when Amare Stoudemire comes back, if he's placed in the starting lineup.
'Melo reminded us all that he's the best player he can be when he is the absolute focus of the team that he is on. When 'Melo is the main option, he picks up his game and that's what he's done without Amare in the starting lineup.
If Amare returns to the starting lineup, our crush on 'Melo will come to an end, but if he doesn't, then our crush on 'Melo has the potential to last much longer than just for this week.
Will Our Crush on 'Melo Last Longer Than a Week-Long Crush?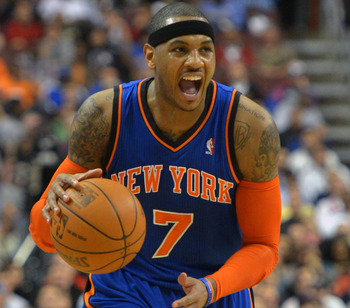 Drew Hallowell/Getty Images
Like the last slide pointed out, if Amare returns to the starting lineup, and 'Melo returns to human form, our crush will certainly come to an end.
However, I think head coach Mike Woodson is smarter than that. I think Woodson will realize what a special zone 'Melo is in, and decide to have Amare return to the team by coming off the bench, which will help maintain 'Melo's streak of craziness.
If the Knicks want to do more than just make the playoffs, Woodson will do everything in his power to ensure that our crush on 'Melo lasts longer than just this week, and the place to start is by keeping Amare on the bench while 'Melo is on the court.
Our crush on 'Melo is at its pinnacle, as he's continually amazed and inspired us over the past few days. There's no telling when our crush on 'Melo will end if he keeps playing the way he has over the past week.
The one player that will look to end our crush on 'Melo is LeBron James, as he's the jealous type, and 'Melo might very well be the first obstacle standing in LeBron's way of an NBA title come time for the playoffs.
Keep Reading

New York Knicks: Like this team?