Bulls vs. Heat: LeBron James' Defense on Derrick Rose Swings Momentum to Miami
April 19, 2012

Jonathan Daniel/Getty Images
Some interesting things have happened in Derrick Rose's matchups with the rival Miami Heat. Most recently, Rose had arguably the worst game of his NBA career, scoring two points on 1-of-13 shooting.
To be sure, some unmistakable rust played a large role in derailing the reigning MVP's valiant attempt to get back in the saddle.
There's also something to be said for the 34 points he scored in a 97-93 loss to the Heat back in January. Unfortunately, there's more to be said about the fact that he missed 17 of his 28 field-goal attempts and had to get 12 of those 34 points at the line.
LeBron James isn't the only reason Rose has struggled—Mario Chalmers can be a physical defender, and Dwyane Wade has the strength and length to make Rose work harder.
Still, no one has owned Rose defensively quite like LeBron James. Beyond all of James' statistical brilliance and versatility, it may be his ability to shut down superstars at three—if not four—different positions that most categorically sets him part.
When Erik Spoelstra put LeBron on Rose in last season's Eastern Conference Finals, the tenor of the series changed instantly. James took the MVP out of the series with intimidating strength and quickness.
The trend has continued this season, with James making Rose a jump-shooter by successfully keeping out of the lane, where he does the kind of damage that only Rose can do.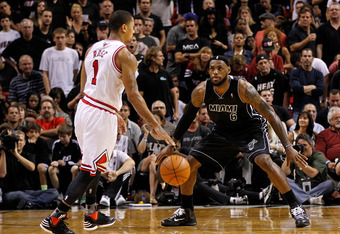 Mike Ehrmann/Getty Images
It may be too soon to proclaim James to be Rose's kryptonite, but recent history is on Miami's side. With Rose struggling to regain his rhythm after a series of ailments, he'll also have to overcome the psychology inevitably in play.
There's no way Rose wants to see James switch to him, but that's exactly what he'll see during crucial fourth quarters.
If Rose wants to re-position himself for MVP consideration in 2013, it will have to start with scoring on this season's probable MVP. Until that happens, the Heat may have a leg up on the hungry Chicago Bulls.