Bulls vs. Heat: Role Players Who Must Step Up in Elite Eastern Conference Battle
April 18, 2012

Streeter Lecka/Getty Images
With the Miami Heat trailing the Chicago Bulls by 2.5 games for first place in the Eastern Conference, their matchup on Thursday could have a huge bearing on home-court advantage in the playoffs.
The Bulls obviously have the advantage, as there is just a handful of games remaining in the season, but that won't stop the Heat from making a run.
Obviously, players like LeBron James, Dwyane Wade, Chris Bosh, Luol Deng, Joakim Noah and Derrick Rose (if he plays) are going to have a huge impact on this game, but it is often the role players who make the difference.
Each team has a fairly strong supporting cast, so almost anyone could conceivably be the hero.
Here are three role players who will have to step up and make their presence felt in order to help their team in pursuit of the Eastern Conference's top seed.
C.J. Watson
The role that point guard C.J. Watson plays on Thursday will have a lot to do with whether or not Derrick Rose is able to play through a foot injury. But either way, Watson figures to be an important player.
He has filled in quite admirably over the course of the season, as Rose has missed a ton of games due to various ailments. Watson has averaged more than 15 points per game in his absence and is a huge reason why the Bulls have been able to maintain their first-place standing within the conference.
If Rose plays, then Watson won't get big minutes, but he'll still be needed to spell Rose and to perhaps fill in if he can't finish the game. There may even be times when he and Rose share the backcourt in an effort to give Richard Hamilton a rest.
Despite how well Watson has played this season, he isn't viewed by most as a big-time contributor. He has been invaluable to the team, though, and will need another solid performance against the Heat.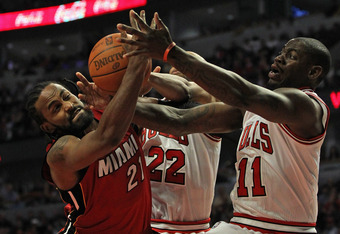 Jonathan Daniel/Getty Images
Heat center Ronny Turiaf's status for Thursday's game against the Bulls is uncertain, as he is dealing with a hamstring injury. But if he plays, he will be a much bigger factor than most would probably anticipate.
Since claiming him off waivers from the Denver Nuggets about a month ago, Turiaf has played the bulk of the minutes at center for Miami in favor of Joel Anthony. He isn't the biggest or most athletic player, and he doesn't have much of a scoring touch, but he is a competitor through and through.
The Bulls are strong in the paint offensively with the combination of Joakim Noah and Carlos Boozer, so the Heat need somebody that can put a body on them and compete on the boards.
Since Chris Bosh isn't exactly the most physical defender out there, that burden would rest largely on Turiaf's shoulders.
It remains to be seen if he will play, as he has missed the past couple of games, but if he is able to suit up, then it will be a much bigger coup for the Heat than it seems.
Mario Chalmers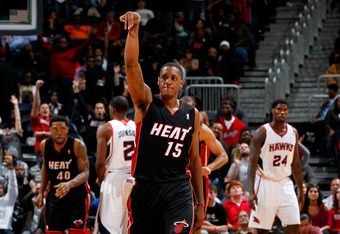 Kevin C. Cox/Getty Images
Although he plays nearly 29 minutes per game and is a full-fledged starter, Heat point guard Mario Chalmers is a fairly anonymous player.
It's easy to understand why, as he has to share the spotlight with James, Wade and Bosh. Lost in all of that is the fact that Chalmers averages nearly 10 points and more than three assists per game and shoots 40 percent from beyond the arc.
On top of that, he is a solid defender, and that is likely where his presence will be felt most against the Bulls.
Whether he has to deal with Rose, Watson or both, Chalmers could really disrupt Chicago's rhythm if he can pester the opposing point guard. If he faces Rose, then the key will be keeping Rose in front of him and not allowing him to get to the basket.
Watson is a player who can be more easily flustered, so Chalmers could really change the dynamic of the game against him.
Whatever the case, if Chalmers plays great defense and hits open shots, he'll be a big factor.