NBA MVP Race: Kevin Durant Rising, LeBron James Falling As Playoffs Loom
April 17, 2012

Andy Lyons/Getty Images
There was a time this season that LeBron James was the consensus choice to take home the regular-season NBA MVP award.
That time has passed.
James won the award in back-to-back seasons before being dethroned by Derrick Rose last year, but there will be a new winner for the 2011-12 campaign.
His name is Kevin Durant.
Unlike other superstars who can compare to the caliber of talent Durant has, the 23-year-old franchise player has made a definitive effort to improve his overall game since last season.
Averaging 27.8 points per game is not the real achievement for Durant—he's going to score a lot of points every season he's in the league.
His prowess to pour in buckets wasn't something anyone ever questioned, but the rest of his game was riddled with question marks, and there were some who believed he wouldn't develop into anything more than a scorer.
They were wrong.
Enjoying the most efficient season of his young career, Durant is averaging the fewest shots per game (19.4) since his second season in the league.
Shooting a career-high 50.1 percent from the floor, Durant has also improved his three-point percentage from where it was the previous two seasons, but that's not what has talent-evaluators most impressed.
Durant is blossoming on the defensive end in a way he has never done previously.
Averaging a career-high 7.9 rebounds per game (7.2 on the defensive end), Durant is also boasting averages of 1.4 steals and 1.2 blocks per game.
Yes, LeBron still leads the league in PER (Player Efficiency Rating) while Durant is fourth overall, but like any other statistic, using it as an isolated example to build an MVP case is foolish.
There is always a ton of disagreement as to who should win the award because almost everyone who holds an opinion defines "MVP" in a different way. Is it the top overall player in the league? Is it the most valuable player to his team? Or is it a combination of both of those things with a few other things mixed in?
Even those who vote certainly all hold a slightly different idea as to what the award represents.
Regardless of those differences in definitions, it's extremely difficult to overlook what Durant has done for his Thunder team this season.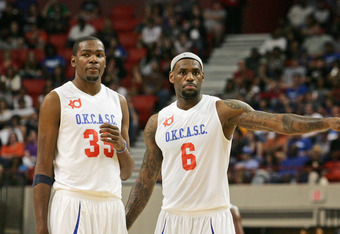 Brett Deering/Getty Images
Durant's Oklahoma City squad is 44-17 and has already sewn up the Northwest Division title.
He has never secured the regular-season MVP award, and if you don't think that will factor into the voting process, it's time to reevaluate that belief.
The difference in public perception will also play a critical role in determining who comes home with the award. Even if some fans don't think it should, there is no question that it does, and this won't be the first season that it happens.
A team leader who let his play do his talking, Durant's smooth game and subtle personality resonate well in the Oklahoma City market and portray him as a fan favorite to nation-wide audiences.
LeBron? Well, he's sort of the opposite in that regard. He draws boos when he enters arenas, he's embraced the "villain" role since joining Miami, and many have turned their cheek toward him ever since his infamous television interview, dubbed as "The Decision," to announce where he'd be signing as a free agent.
The NBA is looking for a new superstar face to hitch its wagon to, and it wouldn't surprise anyone to see Durant picked as the new top dog.
With the playoffs looming and the regular season drawing to a close, Durant's stock is trending in the upward direction.