NBA Rankings: Who Is Stumbling and Who Is Sprinting Down the Stretch?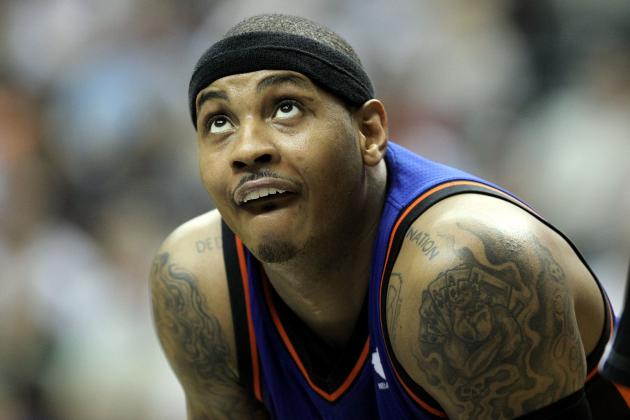 Andy Lyons/Getty Images

As the NBA season nears its end, the playoff picture is ever-changing. The defending champion Dallas Mavericks have ridden a losing streak to the No. 7 spot in the tough-as-nails Western Conference. Out east, the Philadelphia 76ers have lost their grip on the Atlantic Division and are now the lowly No. 8 seed.
Needless to say, with all of the speeding and stumbling that's going on, the next few weeks are going to be insane to watch. Just how far can Carmelo Anthony carry the New York Knicks without Amar'e Stoudemire or Jeremy Lin helping him? Can the Los Angeles Lakers maintain their shrinking hold on the Pacific Division?
More importantly, can anyone stop the San Antonio Spurs?
Let's have a look at the speeding and stumbling teams, and maybe we'll find some answers.
Begin Slideshow

»
Drew Hallowell/Getty Images

Poor Doug Collins. He coaches a Sixers team that has been the epitome of team play all season long but has no true star who can take over in crucial games. The fact that bench player Lou Williams is the team's leading scorer is a testament to how well everyone shares the ball, but also a curse in that there's no way of telling just how much he'll contribute in one night.
The facts are simple. Philadelphia started out great but has now lost its grip on the Atlantic Division after a crushing defeat against the Boston Celtics earlier tonight. It is the Sixers' fourth consecutive loss, and as a result they are now the lowly No. 8 seed in the East.
With the Knicks red-hot and another team right on its tail, Philadelphia needs to establish an alpha dog who can take over late in games. Otherwise it's doomed to be a perennial low seed.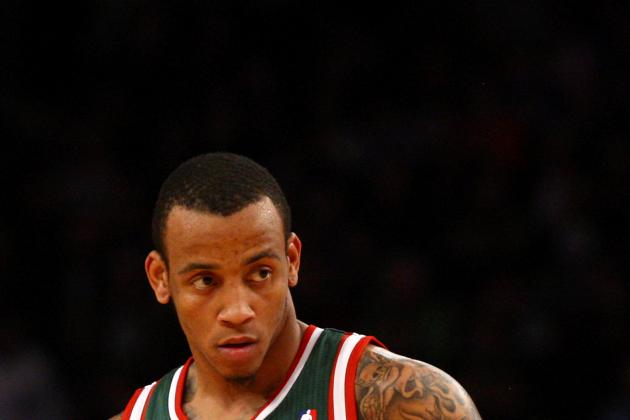 Chris Chambers/Getty Images

Say what you want about Monta Ellis, but his being traded to the Bucks has done wonders for the team. Once considered down and out thanks to injuries and inconsistency, they've won four games in a row and are clawing and scratching their way towards a playoff spot. At the moment, they're hot on the trails of both the Sixers and the Knicks.
Their schedule ahead is tough, but if they keep exhibiting the toughness they've shown during this winning streak, then that final playoff spot is theirs for the taking.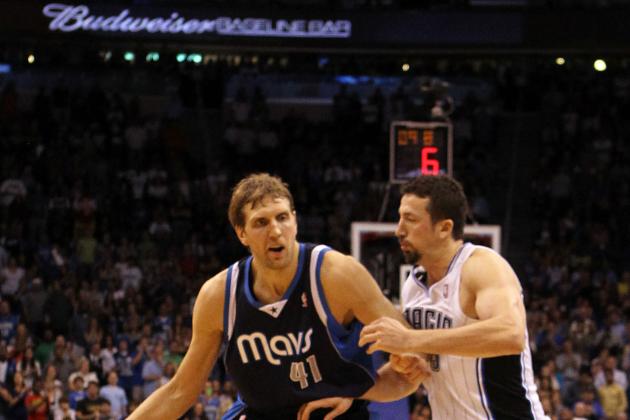 Sam Greenwood/Getty Images

Last year, the Mavericks out-defended and out-shot the opposition all the way to an NBA championship. Then free agency happened, and they lost some key contributors in point guard J.J. Barea and center Tyson Chandler.
This year, Dirk Nowitzki and co. have been horribly inconsistent as they struggle to do their best without a dominant big man or another electrifying bench player to help out free-agent-to-be Jason Terry.
Were the season to end today, their first-round playoff matchup would be against the Oklahoma City Thunder, who they defeated in last year's Western Conference finals. Call me crazy, but I'm pretty sure that the Thunder would get their revenge in that series.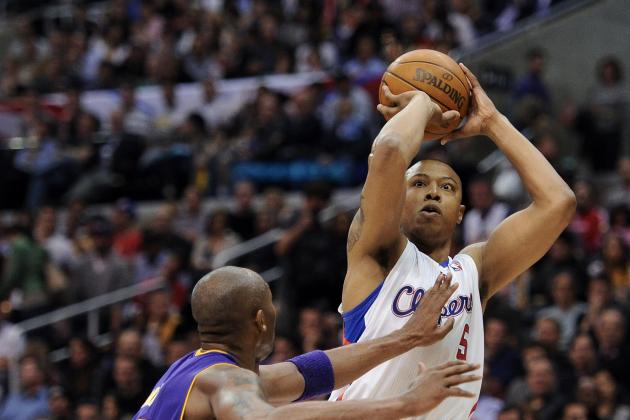 Harry How/Getty Images

Caron Butler's shooting touch has made its return, as the Clippers are slowly creeping their way back toward the top of the Pacific Division. Given the state of the team ahead of them, Lob City could very well become heavily populated come playoff time.
Clipper Darrell, that's your cue!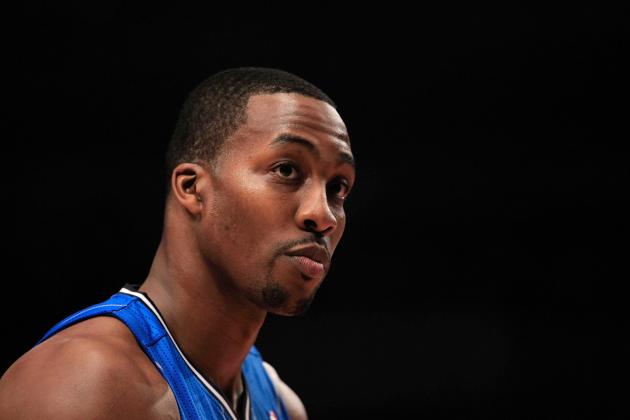 Chris Trotman/Getty Images

The way the Magic have played as of late, Dwight Howard is probably having some regrets about signing that opt-in clause. The team has lost five of its last six, including two crushing defeats at the hands of the New York Knicks.
Throw in some since-refuted remarks from coach Stan Van Gundy about how Howard wants him fired, and this is a clubhouse nightmare that would make Freddy Krueger scared. Given how Orlando has slipped to the No. 6 spot in the East and shares a division with tough Miami and Atlanta teams, this is a ship that needs to be righted, and fast.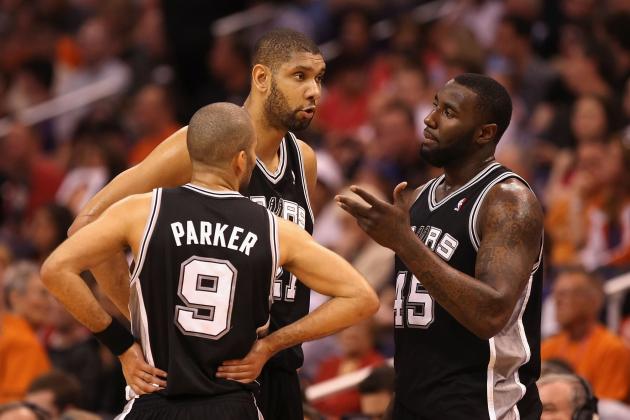 Christian Petersen/Getty Images

A generally old roster that has gone on an 11-game winning streak since re-acquiring Stephen Jackson and is currently tops in the Western Conference? Why yes, I will pick them to go far in the playoffs!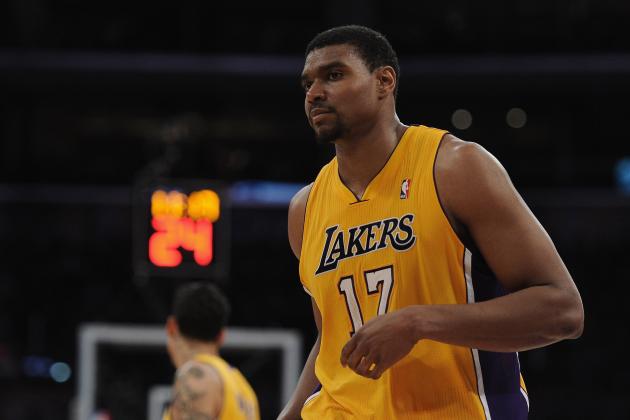 Harry How/Getty Images

I really don't know where to begin with the Lakers. They looked like an actual team after trading for Ramon Sessions, but the house recently started to crumble. Why? Because Andrew Bynum has started acting like a head case again.
Just a couple of days ago, he was ejected from the Lakers' game against the Houston Rockets. He had received his second technical foul after yelling at the Houston bench, and when asked about it, he was unapologetic and shrugged it off with a terse "stuff happens."
Combine that with the fact that team leader Kobe Bryant is day to day with a sore shin, and the Lakers have a lot of work to do if they want to win the Pacific Division, let alone win a third championship in four years.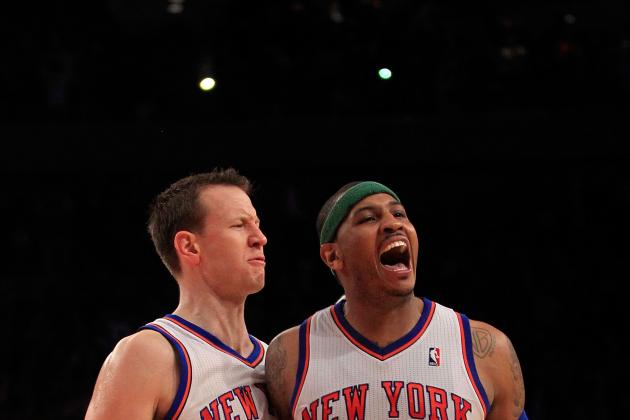 Chris Trotman/Getty Images

Say what you want about the Knicks underperforming this year, not being a model of team play, etc. They've looked great recently even with blowing a fourth-quarter lead last week against the Indiana Pacers. Despite that, they've still destroyed the Orlando Magic twice.
More importantly, they just beat the NBA-best Chicago Bulls in overtime.
Ready for the crazy part? All of that was done without Jeremy Lin or Amar'e Stoudemire.
Simply put, the team has playoff fever, and once the postseason happens, it'll make teams that underestimated it regret doing so.