Kobe Bryant Injury: Updates on Lakers Star's Shin Injury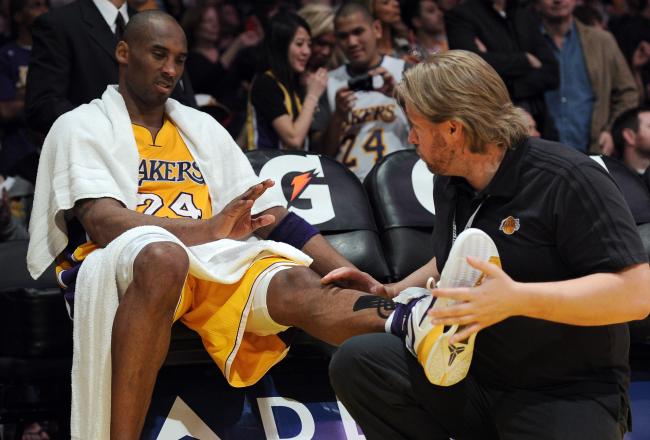 Harry How/Getty Images
Los Angeles Lakers star Kobe Bryant was a late scratch from his team's Saturday night contest with the Phoenix Suns. With a 35-21 record, the Lakers enter this game in third place in the Western Conference.
UPDATE: Friday, April 20 at 2:25 p.m. ET by Mike Chiari
As expected, it has been announced that Lakers guard Kobe Bryant will finally return from his seven-game absence due to a shin injury. Bryant will play against the San Antonio Spurs tonight, according to Dave McMenamin of ESPNLosAngeles.com.
Head coach Mike Brown said that there will be no limits on his minutes, so Bryant should be able to go full bore as the Lakers wrap up their push toward the playoffs in the coming games.
UPDATE: Thursday, April 19 at 1:25 p.m. ET by Mike Chiari
Although Los Angeles Lakers guard Kobe Bryant is set to return to action on Friday against the San Antonio Spurs after dealing with a shin injury, there is no guarantee that he will play in the remainder of the team's regular-season games.
According to Marc J. Spears of Yahoo! Sports, if the Lakers don't need to beat the Sacramento Kings in their final game of the season in order to solidify a certain seed in the playoffs, then Bryant may sit in order to ensure that he is healthy for the postseason.
The move is certainly a sensible one as there is no use risking Bryant getting injured in a meaningless game. Without Bryant the Lakers have seen mixed results, but it's tough to see them doing any damage in the playoffs without their superstar at his best.
UPDATE: Thursday, April 19 at 7:10 a.m. ET
After nearly two weeks without their superstar, Bryant is planning on returning to the court Friday night when the Lakers take on San Antonio, according to Dave McMenamin of ESPN Los Angeles.
Bryant confirmed his intention to play on Friday after the Lakers' 99-87 win over the Warriors. When asked if he would play against San Antonio, Bryant said, "Why not? … I'm good."
If Bryant does, in fact, make it back Friday, that will give him three regular season games before the postseason starts. That is more than enough time for him to get back in the groove and be the difference-maker the team needs to make a deep run.
UPDATE: Tuesday, April 17 at 2:18 p.m. ET
The LA Lakers will gain even more experience sans the Black Mamba. The Lakers Twitter feed cites head coach Mike Brown who has the star guard out for tonight's big game against the Spurs.
Mike Brown on Kobe Bryant's status for tonight's game against the @spurs: "Out" Bryant continues to progress, but won't play tonight.

— Los Angeles Lakers (@Lakers) April 17, 2012
UPDATE: Monday, April 16 at 5:52 p.m. ET
Kobe Bryant is expected to miss his sixth game tomorrow, according to Los Angeles Times' Mike Bresnahan.
Kobe Bryant did some light shooting today but isn't expected to play tomorrow vs. San Antonio. It would be his 6th game missed (sore shin).

— Mike Bresnahan (@Mike_Bresnahan) April 16, 2012
UPDATE: Sunday, April 15 at 4:25 p.m. ET by Brandon Galvin
Kobe Bryant (shin) insists that he will be back on the court before the NBA playoffs begin later this month, according to LA Times Lakers blogger Mark Medina.
Kobe Bryant: "I'll definitely be back well before the playoffs."

— Mark Medina (@MarkGMedina) April 15, 2012
UPDATE: Sunday, April 15 at 9:51 a.m. ET by Brandon Galvin
Kobe Bryant is not expected to participate in today's contest vs. Dallas Mavericks, according to Los Angeles Times' Ben Bolch.
"[Mike] Brown will be back when the Lakers play host to the Dallas Mavericks on Sunday afternoon at Staples Center, but Kobe Bryant probably won't. The coach said his All-Star guard probably would miss a fifth consecutive game because of a sore left shin."
UPDATE: Saturday, April 14, 2:30 p.m. ET by Donald Wood
With yet another game missed by Los Angeles Lakers star shooting guard Kobe Bryant, the team may be facing an unflattering fate; Bryant could miss the remainder of the regular season.
The Orange County Register is reporting about the status of Bryant and the team's possible plans for the star's return timeline:
Lakers spokesman John Black said Bryant can walk without pain but has not tried running or jumping. There isn't any timetable for him to bump up his activity level, and he will have missed a week of games. It is possible Bryant will sit out the Lakers' final six games and return for the playoffs.
While seeding is still up in the air, the Lakers are going to make the playoffs. If the team feels that it would be wise to get Kobe Bryant healthy for Game 1 of the playoffs by shutting him down for the rest of the regular season, that's the smart choice.
UPDATE: Friday, April 13 at 2:35 p.m. EST
The Lakers may be playing better, but they will have to keep rolling on tonight against Denver without Bryant in the lineup, according to Mike Trudell of Lakers.com.
Kobe Bryant is OUT again tonight vs Denver. He continues to improve, but not yet ready to play.

— Mike Trudell (@LakersReporter) April 13, 2012
The news is not all bad, as Trudell points out that Bryant does keep improving. All the Lakers care about is having him healthy for the playoffs. If they have him for a few games to end the regular season, but all that matters is what is going to happen in the May and June.
UPDATE: Wednesday, April 11 at 7:50 p.m. EST
We informed you yesterday that Kobe wasn't going to play tonight against the Spurs, but for some reason the rumor mill was swirling that he would in fact be on the floor in San Antonio. Well, KCAL 9 in Los Angeles TV sideline reporter Mike Trudell extinguished those rumors:
To confirm, for those asking, Kobe WILL NOT play tonight due to tenosynovitis of the left shin.

— Mike Trudell (@LakersReporter) April 11, 2012
Check back as the latest updates surface on his status for Friday's game against the Denver Nuggets.
UPDATE: Tuesday, April 10 at 4:26 p.m. EST
Kobe Bryant has been ruled out vs. Spurs already, according to Orange County Register's Kevin Ding.
Update: Kobe Bryant has officially been ruled out for Wed. at San Antonio.

— Mike Trudell (@LakersReporter) April 10, 2012
UPDATE: Tuesday, April 10 at 4:20 p.m. EST
After missing last night's game against the Hornets, Kobe Bryant (shin) did not practice today, according to KCAL 9 TV's Mike Trudell.
Lakers just concluded practice in San Antonio; Kobe (shin) did not participate. Bynum/Gasol also went easy on legs.

— Mike Trudell (@LakersReporter) April 10, 2012
One would have to believe that he will be a game-time decision for the Lakers' next contest as LA fights for playoff positioning.
UPDATE: Monday, April 9 at 1:23 p.m. EST
Kobe Bryant will miss his second straight game tonight due to his bothersome shin injury, according to Los Angeles Times' Mike Bresnahan.
Kobe Bryant will not play tonight vs. New Orleans because of a sore left shin. Second game he's missed with it.

— Mike Bresnahan (@Mike_Bresnahan) April 9, 2012
UPDATE: Monday, April 9 at 10:20 a.m. EST
It is still unclear when Bryant will return, but the good news is that he will be reevaluated before the Hornets game tonight, according to ESPN's Dave McMenamin.
"There is no timetable for Bryant's return. He will be reevaluated in New Orleans on Monday prior to the Lakers game against the Hornets on Monday night...

Lakers trainer Gary Vitti said Bryant has tenosynovitis, a condition where the tendon sheath in the shin has become inflamed, making Bryant experience irritation when his movement causes his tendon to slide in and out of the sheath.

'He's been playing with this and it's not getting any better,' Vitti said. 'Really the only way to stop it is to shut him down.'

Vitti said immobilizing Bryant's shin with the walking boot in between games had netted positive results, but the pain would return after Bryant played."
UPDATE: Sunday, April 8 at 8:21 a.m. EST
It is unknown when Bryant will step back on the hardwood floor, according to Yahoo's Bob Baum.
"Trainer Gary Vitti said the only way the injury will subside is with rest and there is no timetable for his return."
After losing to the Suns by 20, it is evident the Lake Show needs their leader now more than ever heading towards the postseason.
Kurt Helin of Pro Basketball Talk tweeted out the news.
Kobe Bryant out for the first time this season due to shin injury dlvr.it/1Q25rx #PBT #NBA

— Kurt Helin (@basketballtalk) April 8, 2012
Bryant sustained the injury last week against the New Orleans Hornets. He finished that game going just 3-21 from the field.
While he has been able to play through the pain, the injury must not be healing like he and/or the team had hoped. Brett Pollakoff, of Pro Basketball Talk, reported that Bryant has spent the last couple of days in a walking boot.
This move likely is not a matter of managing pain. The ultra-competitive Bryant has played through numerous injuries in the past few seasons. That included playing through a torn wrist ligament at the beginning of this season.
He's averaging 28.1 points per game this season, but his 43 percent from the field is his worst mark since his second season in the NBA.
Stay tuned to this page as we update you on his injury and game status.
This article is
What is the duplicate article?
Why is this article offensive?
Where is this article plagiarized from?
Why is this article poorly edited?