NBA Power Rankings: Where Thunder, Heat Stand After Wednesday's Epic Clash
April 5, 2012

Drew Hallowell/Getty Images
After the Miami Heat knocked off the Oklahoma City Thunder 98-93 on Wednesday night, it's time to take a look at how the NBA power rankings have been reshaped as a result.
Was the game a preview of the NBA Finals? It's certainly possible.
1. Chicago Bulls (42-13)
It's incredible what the Bulls have been able to do without Derrick Rose in the lineup, and this team is arguably the deepest in the league.

2. Miami Heat (39-14)
The Heat have certainly played much better of late, and it wouldn't be surprising to see Miami reclaim the top spot at some point before the regular season ends.

3. Oklahoma City Thunder (40-14)
This is a team that many pegged to represent the Western Conference in the NBA Finals, but OKC will have to work out the kinks before the postseason to make that happen.

4. San Antonio Spurs (38-14)
For a team that many deemed "too old" before the season started, the Spurs are looking like a good bet in the postseason right now.

5. Los Angeles Lakers (35-20)
The emergence of Andrew Bynum has really been a huge part of Los Angeles' success, but the club will have to get more from its second unit to sustain success.

6. Los Angeles Clippers (32-22)
Although the Clippers have seemingly put the struggles behind them, Vinny Del Negro needs a more consistent rotation before this club is a legitimate contender.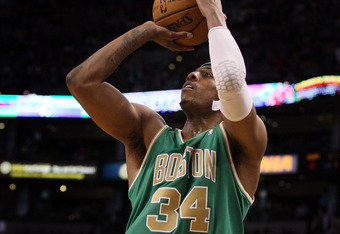 Elsa/Getty Images
7. Boston Celtics (30-23)
Remember when the Celtics and Cavaliers were seemingly contending for the eighth seed in the Eastern Conference? Times have changed in a big way.

8. Indiana Pacers (33-21)
Indiana has a young group of talented players, but inconsistency seems to plague this team at all of the wrong moments.

9. Memphis Grizzlies (30-23)
This is a team that almost nobody wants to see in the postseason, and it wouldn't be surprising to see the Grizzlies put forth another strong effort against the top-tier teams.

10. Atlanta Hawks (32-23)
Atlanta is going to have a tough time in the postseason unless Jeff Teague turns it on and plays like he was early this season.

11. Orlando Magic (32-22)
This team is only going to go as far as Dwight Howard can take it, as Orlando looks absolutely awful without him on the floor.

12. Dallas Mavericks (31-24)
It's been an up-and-down season for the Mavericks, and even if Dallas makes the playoffs, it's hard to imagine the team being able to put up much of a fight.

13. Philadelphia 76ers (29-25)
Philadelphia's season has really taken an unfortunate turn since the strong start, and there is no reason to think this club can contend for a title this year.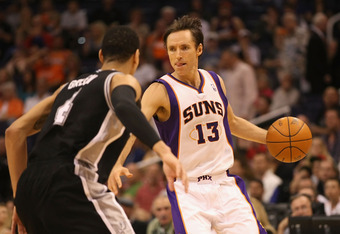 Christian Petersen/Getty Images
14. Phoenix Suns (28-26)
So many people wrote off the Suns in the beginning of the season, but Steve Nash is balling and could be carrying this team to a postseason spot.

15. New York Knicks (27-27)
The Knicks have a serious challenge ahead without Jeremy Lin (knee) and Amar'e Stoudemire (back), and a first-round playoff date against either Miami or Chicago could be too much to handle.

16. Denver Nuggets (29-25)
The Nuggets have been banged up for a majority of the season, so it's not a surprise to see the team slipping in the rankings at this point in the year.

17. Utah Jazz (28-27)
Utah has an extremely talented frontcourt, but the limitations of the backcourt could be the crushing blow that knocks the Jazz out of the playoffs.

18. Houston Rockets (29-25)
Goran Dragic has played admirably as Kyle Lowry's fill-in at point guard, but his efforts might not be enough to save a sinking Rockets team.

19. Milwaukee Bucks (26-28)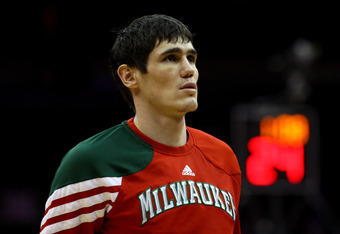 Chris Chambers/Getty Images
Milwaukee is pushing for a playoff berth, but this is another team that looks great one night and awful on others.

20. Portland Trail Blazers (26-29)
The whole "tanking" thing really isn't working out since Nate McMillan was fired, but the Trail Blazers are playing a lot better with a new voice in the locker room.

21. Minnesota Timberwolves (25-31)
The Timberwolves have struggled since Ricky Rubio tore his ACL, and that is putting it mildly.

22. Golden State Warriors (21-32)
This is a Warriors team that is playing for the future, and that was very evident following the moves made at the trade deadline.

23. Toronto Raptors (20-35)
Toronto is staring at a bright future, and Dwane Casey certainly has his message being heard, but this team isn't going anywhere this season.

24. Detroit Pistons (20-33)
Detroit has played a lot better since the putrid start to the campaign, but the Pistons are looking toward next season at this point.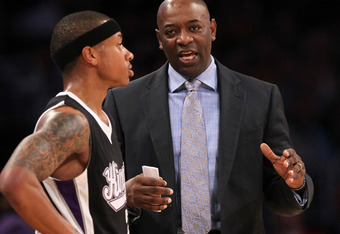 Stephen Dunn/Getty Images
25. Sacramento Kings (19-35)
DeMarcus Cousins' play under Keith Smart has been an incredibly promising sign, but the Kings need to improve the defensive play before this club can really make progress.

26. New Jersey Nets (19-37)
If Deron Williams leaves as a free agent, the Nets better be hopeful that whatever contingency plan in place actually has a chance of working for the long haul.

27. New Orleans Hornets (14-45)
Eric Gordon's return is a nice surprise for Hornets fans who want to see this team play, but next season should be much better in New Orleans.

28. Cleveland Cavaliers (17-35)
Remember when the Cavs had a chance at the postseason? At least Kyrie Irving will get some solid help in the upcoming 2012 draft.

29. Washington Wizards (12-42)
John Wall needs help, and he just doesn't have enough of it in Washington. Look for the Wizards to bounce back to a more respectable record next year.

30. Charlotte Bobcats (7-45)
The Charlotte Bobcats need more than a chance at Anthony Davis to turn this around.