NBA Rumors: Why Derrick Rose's Latest Injury Stint is No Cause for Concern
March 27, 2012

Jonathan Daniel/Getty Images
Derrick Rose has not played a single second for the Chicago Bulls since March 12 and has sat out the last seven consecutive games due to a sore groin.
After missing just six games total in his first three seasons in the league, Rose has been out a whopping 17 games during the 2011-12 regular season and remains sidelined.
According to Nick Friedell of ESPN Chicago, Tom Thibodeau admitted that Rose is just beginning to run on a treadmill and his timetable to return remains fluid.
"(I'm feeling) way better," Rose said. "(When the injury occurred) I was actually bleeding, my groin was bleeding, but now it's healed. It's just scar tissue and it's pretty hard trying to get that to move around, it's going to take little time."
As gruesome as the injury sounds, Bulls fans shouldn't be concerned.
Chicago is doing the right thing by holding him out during the regular season to ensure his availability for the playoffs as that is when his team will need him most.
The Bulls are 12-5 with Rose sitting on the sidelines and hold the best record in the league at an impressive 40-11 mark. With Chicago rolling and clearly in the playoff picture with a legitimate shot to win a title, why jeopardize Rose's health at this juncture of the campaign?
It's not a smart move.
The lockout-shortened season is a marathon rather than a sprint. Critical injuries to key players will have a disastrous impact on any playoff hopes teams hold, and the Bulls know it. That is why the team is making the right call in resting Rose for as long as he needs in order to get back to 100 percent healthy.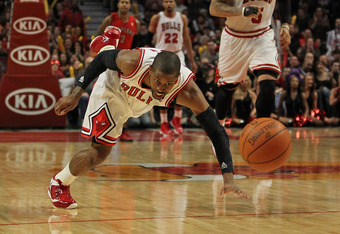 Jonathan Daniel/Getty Images
There is no reason to bring him back before he's ready. The Bulls aren't fighting for postseason position in the standings, nor is the team struggling consistently without him in the lineup. Chicago has two capable backups behind Rose in C.J. Watson and John Lucas III, and each has shown more than enough to be relied upon to produce while the reigning MVP is out.
It might be frustrating for some fans to tune into Bulls games and not see Rose on the court, but it's in the best interest of the team and those same fans will certainly feel better when he's balling in the postseason without any sort of restrictions.
Baby steps are being taken with Rose and the team is certainly handling him with kid gloves, but it's the proper move when it comes to the team's most important player. If the Bulls and their fans want to see this team realistically compete for a title, Rose getting his health right is the first step in the right direction.
Without Rose at full strength, there won't be a championship in the Windy City any time soon.