NBA Trades: Nick Young's Selfishness Will Test Chris Paul's Leadership
March 16, 2012

Streeter Lecka/Getty Images
Nick Young could use the tutelage of a leader like Chris Paul. There's no doubt about that.
Young's played his whole career with the undisciplined and selfish Washington Wizards. The Wiz, over the past few seasons, have resembled an out of control AAU team, and it hasn't led to much success on the hardwood.
As a result of this, players like Nick Young have grown accustomed to playing a certain way in the NBA, a way that lacks structure and grit.
Now that Young is a member of the rising Los Angeles Clippers, he will certainly have to adapt the team's playing style.
He can't continue to shoot close to 40 percent and only tally around two rebounds a game in 30 minutes of action.
For the Clippers to succeed, the youthful Young must learn how to take more efficient shots and seek to use his 6'7'' frame to be more active on the glass. He needs to add these new patterns to his game. If he doesn't, this acquisition could prove worthless.
Young's selfish play will test Chris Paul, who's undoubtedly one of the game's fiercest competitors and surely desires to take the Clippers to the NBA mountaintop.
To do this, Young must become a dependable all-around two-guard, and not just a two-guard who can score.
The unfortunate thing for Paul is that Young won't instantly become this. Young's built patterns into his game for the past five years in Washington, and they can't be erased just like that.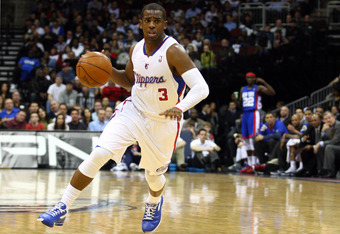 Chris Chambers/Getty Images
Therefore, the leadership of CP3 will be tested, and he will be forced to chide Young regularly. Paul will have to reach inside the psyche of Young and extract a player who plays wiser on offense and gives more effort on defense.
Can Paul do this?
He surely can, because CP3 epitomizes the player who brings the best out of his teammates. This is why Young is blessed to be able to now have Paul as a teammate.
They have the potential to do major damage in the Western Conference, both this year and years into the future. But Paul's relationship with Young will be pivotal in this. Will this test pull these two closer together and lead to Clipper dominance in the future, or will Young's undisciplined style of play prove to be unchangeable? 
It will be interesting to see how this unfolds, but there's every reason to believe CP3 can spark Young's career and enable him to become a well-rounded player who can help lead the Clips to prominence.