Derek Fisher, Kobe Bryant and the Most Mismatched Guard Duos in the NBA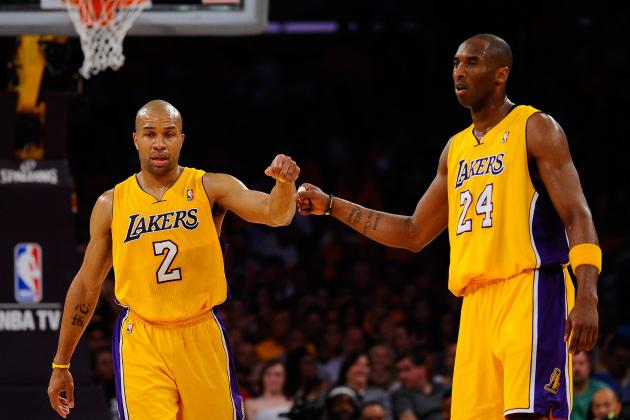 Kevork Djansezian/Getty Images

This article will look at the five most mismatched guard duos in the NBA today.
The guard duos you will find in this article are made up of starting guards only. There are no combinations of starting guards and backup guards or duos containing two backup guards.
Selecting these mismatches obviously had to do with the exceptional talent of one of the guards and the lack thereof of his backcourt mate.
But other factors played into some of the combinations as well. For example, one of the players becoming a full-time starter for the first time this season or a player being inserted into his team's starting lineup due to the regular starter being injured.
All stats in this slide courtesy of: Basketball-Reference.com and 82games.com
Begin Slideshow

»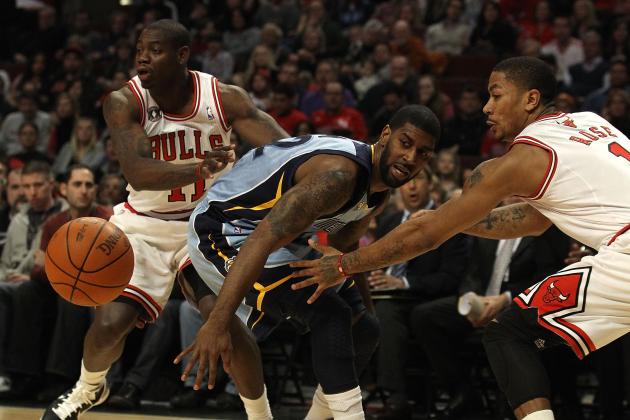 Jonathan Daniel/Getty Images

One of the biggest complaints about the Chicago Bulls last season, despite having the league's best record and making an appearance in the Conference Finals for the first time since Michael Jordan was in Chicago, was their weakness at the shooting guard position.
Reigning MVP Derrick Rose had to carry too much of the scoring burden without a backcourt mate capable of creating his own shot.
The Bulls thought they had filled their void at the shooting guard position when they signed Richard Hamilton this offseason.
However, thanks to nagging injuries, Hamilton has only appeared in 16 games this season, which means Ronnie Brewer has made more appearances in the starting lineup than the team anticipated.
Brewer is no slouch (averaging seven points per game and earning his keep on the defensive end), and he is an improvement over last year's starting shooting guard Keith Bogans, but I can't help but see a big mismatch with Brewer playing alongside D-Rose—especially with fans anxiously waiting to see if Hamilton is going to live up to the hype playing Robin to Rose's Batman in the Chicago backcourt.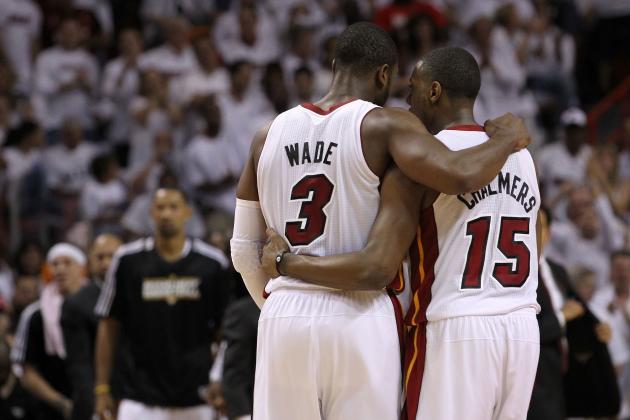 Ronald Martinez/Getty Images

Unless their name is Ray Allen or Kobe Bryant, any current NBA player would likely feel mismatched sharing a backcourt with Dwyane Wade.
That's what Mario Chalmers has the pleasure (pressure?) of doing.
It's not that Chalmers is necessarily having a bad season.
The former Kansas Jayhawk is currently averaging 10 points a game and is ranked 10th in three-point percentage.
But as I alluded to above, Chalmers being a mismatch has more to do with the fact Chalmers is sharing a starting lineup with three of the top 15 players in the game today.
When LeBron James and Chris Bosh decided to take their talents to South Beach and join forces with Wade in the summer of 2010, it was the first time so many of the league's top players decided to come together to win—how many championships did they predict? Seven?
By forming their super team in Miami, James, Bosh and Wade have made all of their teammates feel mismatched—and the rest of the league, for that matter.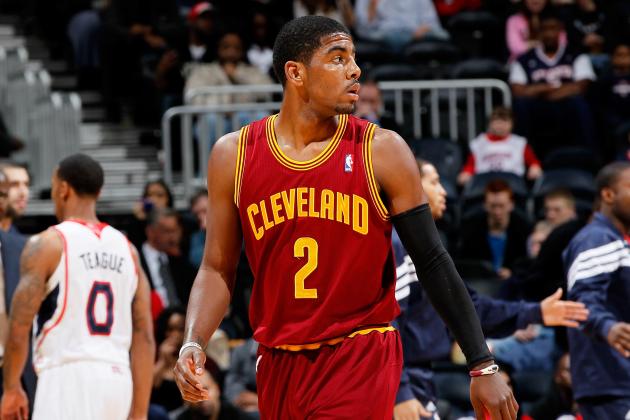 Kevin C. Cox/Getty Images

Kyrie Irving, the current front-runner for Rookie of the Year, is making Cleveland fans slowly but surely forget about LeBron James.
The rookie is looking like a basketball prodigy.
After playing only 11 games at Duke last season, Irving has spent his first professional season looking like a grizzled veteran rather than a rookie, averaging 18 points, five assists and three boards.
Thanks to Irving's efforts, the Cavaliers are only a game out of a playoff spot.
Irving has spent most of the season sharing a backcourt with Anthony Parker. Parker has career averages of nine points and two assists and is probably most famous for being WNBA star Candace Parker's brother.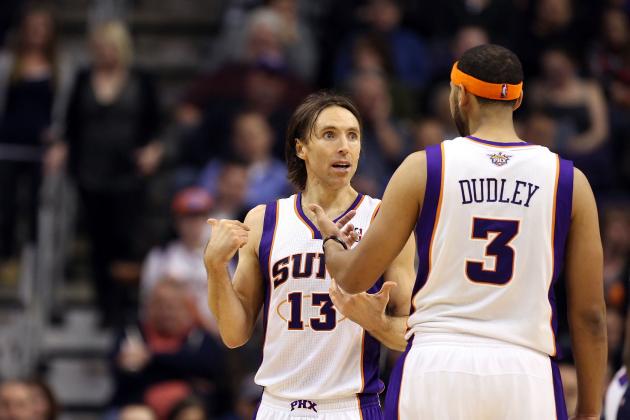 Christian Petersen/Getty Images

This season, the Phoenix Suns are experiencing something fans in Arizona are not accustomed to—a decline in offensive production.
For the first time since Nash re-joined the team, the Suns are averaging below 100 points per game (the team is currently ranked 16th in points per game).
This can be attributed to the team's somewhat new-found focus on defense under Alvin Gentry. Or it can be chalked up to a lack of offensive weapons.
In the past, Nash has had plenty of offensive weapons at his disposal, including sharing a backcourt with the likes of Joe Johnson and Jason Richardson.
Some of the offensive woes the Suns are experiencing this season can be attributed to having Jared Dudley, in his first stint as a full-time starter, as their starting shooting guard.
While Dudley's numbers aren't terrible—including a career-high 12 points per game—the team is only a plus-5.4 when Dudley is on the floor.
But the fact that Nash, who is still going strong, is averaging a league-high 11 dimes per game, having to play with a first-time starter and a player who is technically playing out of position (Dudley is a small forward by nature) makes these Phoenix teammates even more of a mismatch.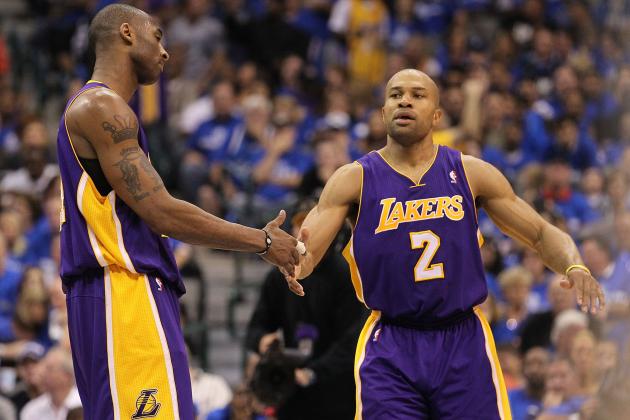 Ronald Martinez/Getty Images

Kobe Bryant and Derek Fisher both joined the Los Angeles Lakers in 1996.
Since then, the two have spent 13 seasons together in a Lakers uniform, winning five championships in the process.
The fact that Fisher has battled alongside Kobe in so many playoff series, earning the Black Mamba's utmost respect in the process, has somewhat made up for the glaring mismatch.
Since Fisher rejoined the Lakers for his second stint with the team prior to the 2007-08 season, his troubles staying in front of opposing point guards has been one of the team's biggest weaknesses.
In addition to his porous defense, Fisher is currently having his the worst offensive season of his career, posting his worst scoring average since his rookie season and shooting his worst percentage from beyond the arc since 2006-07.
Since Fisher's return to L.A., Kobe has won an MVP award, has claimed two Finals MVPs and is currently leading the league in scoring (28.8 PPG) at the age of 33.