Mike D'Antoni, Mike Brown and the NBA's Biggest Coaching Fails of 2012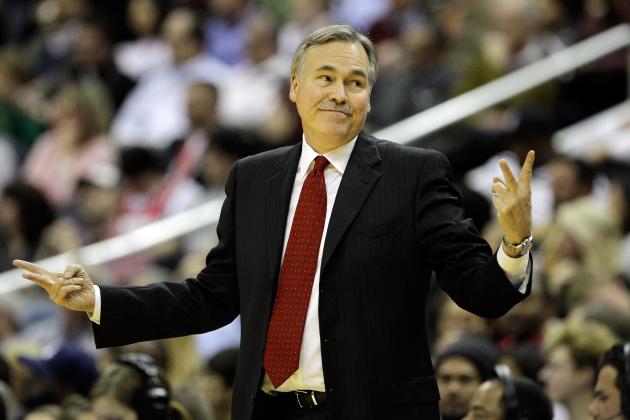 Rob Carr/Getty Images
Mike D'Antoni is back on the hot seat in New York.
It happens every season in every sport.
New coaches come to new teams with high hopes. Existing coaches enter a season with high expectations. Then the games start and the visions set forth before the games have been played just don't match up with what's happening in the win-loss columns.
The current NBA season is no exception. Not every coach that's "failed" to this point is destined to fail on a long-term basis.
It's March 12th, 2012. Some current failures will be allowed the time to correct the course and develop into successes. Some will not.
Begin Slideshow

»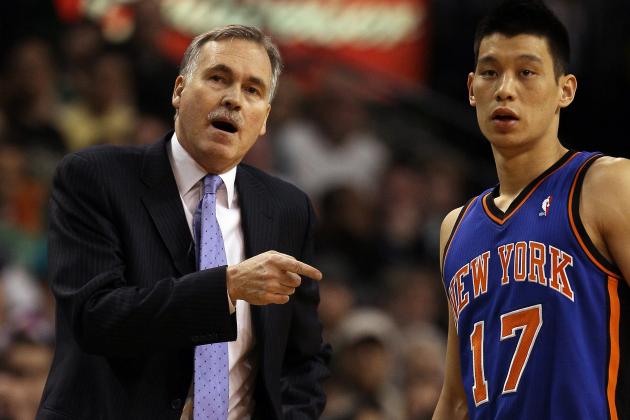 Elsa/Getty Images
Jeremy Lin might not be enough to save Mike D'Antoni in New York.
In New York, Mike D'Antoni is one coach who might not be given the time needed to change the fortunes of the Knicks. It's possible that the only reason D'Antoni still has a job is because of the Knicks winning seven of nine games before the All-Star break.
The Knicks are now in the midst of a five-game losing streak and the calls for D'Antoni's job are once again growing from a low rumble to a more pronounced roar.
The worst problem for D'Antoni is that he's running out of excuses for the Knicks' poor play. Up until February, the general consensus was that the Knicks were a team that needed a point guard. When D'Antoni had Steve Nash in Phoenix, his teams won plenty of games.
Then Jeremy Lin arrived on the scene and the Knicks did win plenty of games. Now the fans and media feel as though D'Antoni has what he needs to produce a winning basketball team.
They might be right, but team chemistry is something that is tough to quantify. Any measurement is nebulous at best. The one that's most often applied is wins and losses and after five bad losses in a row, the Mike D'Antoni era could be coming to a conclusion.
The Knicks hired former Atlanta Hawks Head Coach Mike Woodson last summer in an attempt to shore up their defense. Now with the team struggling, he may be called upon to do more than that.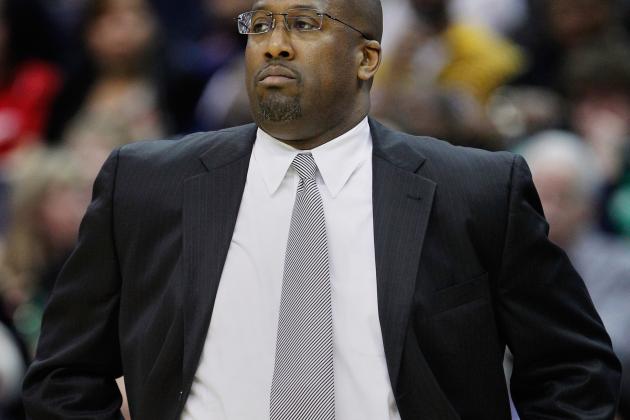 Rob Carr/Getty Images
It's been a rocky first season in Los Angeles for Mike Brown.
In Los Angeles, Mike Brown is encountering some of the same problems that Mike D'Antoni is in New York. Brown's Lakers are having a much better season than the Knicks. They currently sport a 25-16 record and are in position to claim the No. 3 seed in the Western Conference playoffs.
The expectation level in Los Angeles is far higher than that in New York, though. In New York, Knicks fans would probably be happy with a decent regular-season record and a few playoff wins. In Los Angeles, the Lakers are expected to win the division, win the conference finals and ideally win the NBA Championship.
All Brown has been tasked with doing is to follow in the footsteps of one of the all-time winningest coaches in NBA history, Phil Jackson. That and also guide a superstar with over 15 years of experience under his belt to a title, while also incorporating a young and possibly budding superstar center who has yet to play a full season of consistent basketball in his six years in the league.
It never was going to be easy and so far it hasn't been. In spite of some fantastic players, the Lakers have some real holes on the team. They need a perimeter scorer to ease the defensive burden on Kobe Bryant. They need a point guard who can keep up with the league's elite crop of talent at that position.
The team and coach have also been victimized by circumstances beyond their control. In the weeks leading up to the season, general manager Mitch Kupchak pulled the trigger on a massive trade to rectify the point guard situation and acquire Chris Paul. The deal was vetoed by the league office, but not before it had gone public.
The results were a fracturing of team unity. Veteran Lamar Odom, who had not anticipated being dealt out of Los Angeles, was part of the trade. When it got vetoed, he reacted out of emotion and demanded he be dealt out of town in another deal.
Kupchak made that happen for Odom, but it cost the team a talented and versatile player who loved playing on the Lakers. They've yet to fill that void.
Meanwhile, the heat on Brown and his ability as a coach has become an openly debated issue.
The Los Angeles Lakers and Mike Brown are in a much better situation than what D'Antoni finds himself facing in New York, but if the Lakers suffer another early playoff exit and then were to start slowly next season....well, you can't fire the players.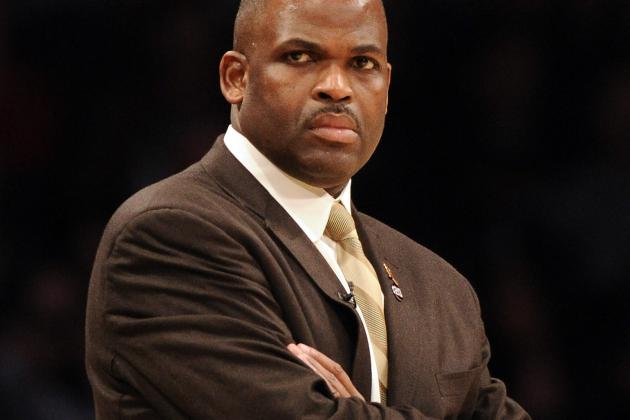 Harry How/Getty Images
Nate McMillan's tenure in Portland could be over before this season concludes.
Of all the current NBA head coaches the one that might be most likely to be removed, first is Portland Trail Blazers head coach Nate McMillan.
Unlike Mike Brown, McMillan's team is not on pace to make the playoffs. Worse still, at times the team appears have little interest in exerting any sort of effort on the court. Last Friday, the Blazers fell to the Boston Celtics in a game that was nothing short of abysmal.
The Celtics led by as many as 43 points. The Blazers were outscored 38-13 in the second quarter and showed almost zero interest in competing.
It's one thing to lose, but it's another thing to not try or even worse, not care. That may or may not be the case in Portland, but games like last Friday's coupled with a 19-21 record that has Portland on the outside looking in on the NBA Western Conference playoff picture puts enormous pressure on the McMillan.
"That was an unprofessional approach," Portland coach Nate McMillan said. "There was no basketball being played out there tonight. We can play harder than that. We can play better than that." - Blazers Head Coach Nate McMillan 3/9/12
McMillan may very well be right, but Portland Trail Blazers management may be wondering if McMillan is the man who can get the Blazers to play better.
McMillan will get a touch more leeway in lieu of the Blazers' continued injury issues. Before the season began, one could have made the case that the two most pivotal players on the roster were former No. 1 overall pick Greg Oden and former All-Star shooting guard Brandon Roy.
Oden has once again lost an entire season to injury and it's unknown if he'll ever have even a shadow of the career he was thought to have had potential for. Roy retired before the season started in reaction to his chronic knee problems, which have plagued him for years.
At some point, those excuses will run out of gas and that's when McMillan's tenure in Portland may as well.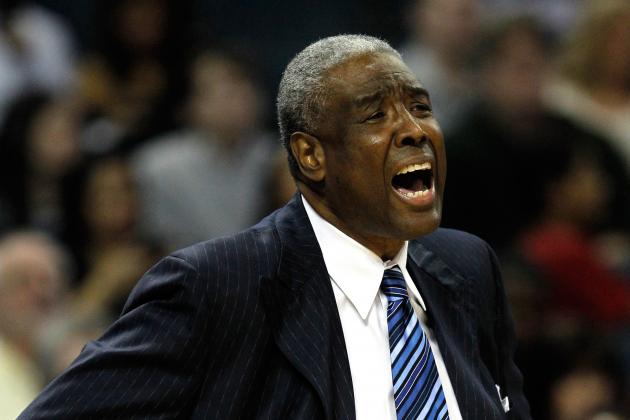 Streeter Lecka/Getty Images
No one expected miracles in Charlotte this season, but the team has still not met expectations.
To be fair, there was not a groundswell of chatter proclaiming this season would be one that featured NBA playoff games in Charlotte.
That doesn't mean that a 5-34 record would be acceptable, either.
The Bobcats are a team progressing at a deliberate pace to build for the future. The "future" is apparently not too soon.
The Bobcats are the worst team in the league and not only do they lose almost all of their games, but most of them aren't even close. The Bobcats average 13.6 points per game less than their opponents. That's by far the worst in the league, with the Washington Wizards (who have already fired the coach they started the season with) second worst with a minus-8.4 differential.
The Bobcats probably will stick with Silas until the team has enough talent to expect more than just minor improvements. Once that happens, Silas will be under more pressure to win and his boss (who goes by the name of Michael Jordan) is known to be fairly intolerant of losing.